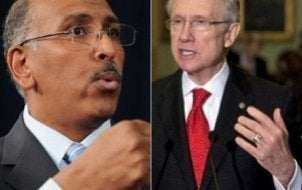 Michael Steele called on Sunday for Senate Majority Leader Harry Reid (D-Nev.) to step down for racially insensitive comments, even as the RNC Chairman brushed aside talk that he should resign for using an epithet of his own.
"I think he should," said Steele. "There is a standard where Democrats think they can say these things and apologize when it comes from the mouth of their own. But if it comes from anyone else, it's racism. It's either racist or it's not. And it's inappropriate, absolutely. So if the standard is the one we saw with Trent Lott as leader at the time, then I think this absolutely falls in that category here. ... Remember, this is the same leader who just a few weeks ago was talking about health care in the context of slavery. Clearly he is out of touch."
The follow-up question to Steele's statement was obvious from the onset. The RNC Chairman, this past week, had been chastised by members of both parties for using the phrase "Honest Injun" to tout the Republican party's platform. Combined with other gaffes, was this too grounds for resignation?
"No, absolutely not," he said. "Why should I Chris [Wallace]? I'm pushing the ball. I'm raising the money. I'm winning elections. I have got the base fired up."
"If [the comment] is [offensive] I apologize for it," he added. "I wasn't intending to say a racial slur at all. The reality is that's not the same as what we were talking about before."
Steele, of course, has had more flare-ups this past week then just the "Honest Injun" remark. And Wallace pressed him to address several others, including news that he was doing a book tour with the knowledge of his own staff and predictions that the GOP wasn't ready to win or govern the House of Representatives.
"There is too much focus on me because that's what Washington wants to focus on," Steele confessed. "I'm very passionate about what I do. I'm very passionate about winning. ... So I bring that to the table. And yeah, I get a little bit hot headed."