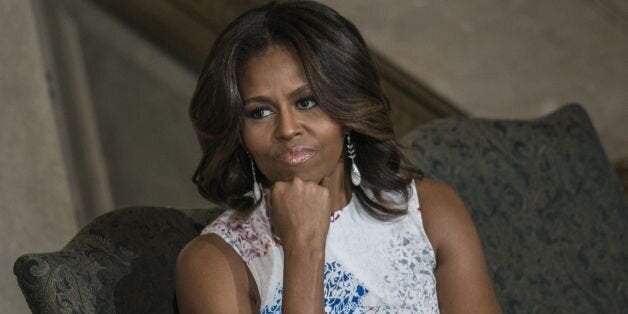 First Lady Michelle Obama highlighted how gender pay equity is still a major issue that many women may not think about, using herself as an example.
Obama and her husband, President Barack Obama, opened up about their past economic struggles in an interview with Parade magazine. When Michelle Obama was asked if she thought she had been "paid less than your male coworkers" while working at a law firm, the first lady admitted she -- like many other women -- didn't think enough about her salary.
"You know, I didn't really think about it. Because—and I think this is one of the challenges women face—we don't think about salary enough," Obama said. "When I got hired in my firm, I was grateful. There wasn't even a thought of negotiating at all. I thought I was there to do a good job."
Obama said she now realizes fighting for gender pay equity is a big challenge for women.
"We don't negotiate for ourselves. We don't negotiate hard. And I realized that again later on when I had Malia, my first child," Obama said. "After a while, I asked for part-time work [at the University of Chicago]. And I did the same job, part time. Essentially, I just got paid less. That was the first time I realized I would never again work part time, because that's not a good deal for women."
The Obamas also opened up about their kids in the interview, saying they want daughters Sasha and Malia "to get a taste of what it's like to do that real hard work" and understand what it means to live on minimum wage.
Calling all HuffPost superfans!
Sign up for membership to become a founding member and help shape HuffPost's next chapter
BEFORE YOU GO
PHOTO GALLERY
First Ladies Through The Years