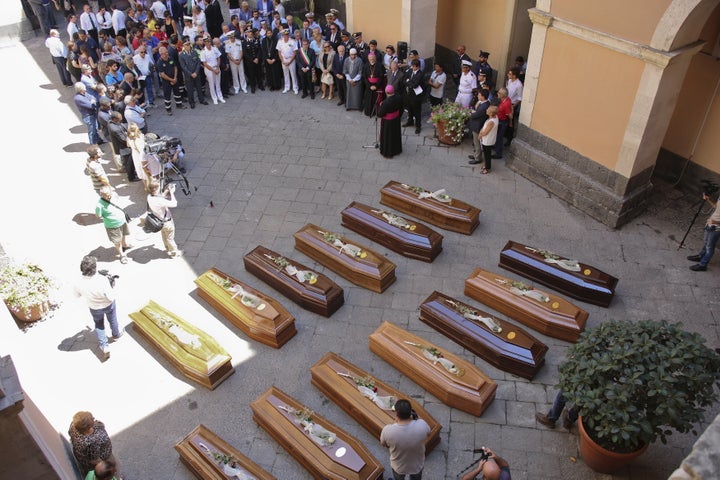 On the anniversary of one of the deadliest migrant shipwrecks in the Mediterranean Sea, hundreds of people are reported to have drowned trying to reach Europe.
Survivors of this week's shipwreck, who were rescued by a cargo ship on Saturday in the sea between Libya and Italy, said over 400 people had died when their boat sank a few days earlier.
"The boat was going down, down ... all the people died in a matter of minutes," an Ethiopian man named Mohamed told the International Organization For Migration (IOM). "I saw my wife and my two-month old child [die] at sea, together with my brother-in-law."
"After the shipwreck we were drifted at sea for a few days, without food, without anything," he told IOM after rescuers brought him and 40 other survivors to the Greek city of Kalamata "I [thought] I was going to die."
The new tragedy in the Mediterranean highlights how Europe's refugee crisis has come full circle in one year.
The mass drowning drew expressions of sympathy from European leaders as the refugee crisis spiraled. "The situation in the Mediterranean is dramatic. It cannot continue like this," the European Council's president, Donald Tusk, said at the time. Europe pledged more funds to rescue migrants at sea and crack down on smuggling, but human rights groups said it was not nearly enough and criticized leaders for focusing on deterring migrants rather than resettling refugees.
As summer approached, the most common route for refugees and migrants fleeing to Europe shifted east. Previously, most people left from Libya trying to reach Italy. During 2015, most left from Turkey trying to reach Greece.
Experts offer several possible explanations for the shift: It became even harder to get to Libya while the land route through the Balkans became easier, and above all, the seemly interminable nature of Syria's war pushed ever more Syrians to flee.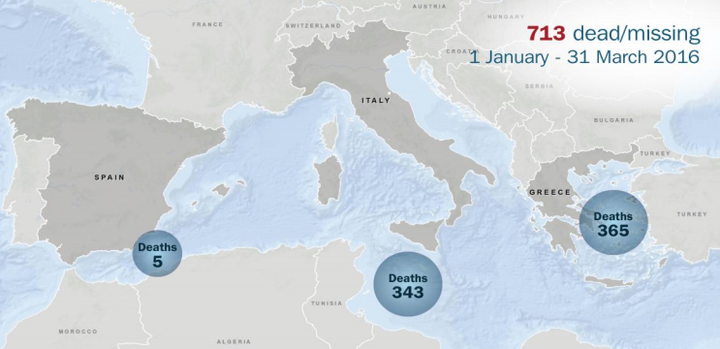 The Balkans route is now closed, and thousands of refugees and migrants are stranded in Greece. Hundreds have been returned to Turkey under a controversial deal with the EU. The number of people arriving in Greece has plummeted.
Refugee agencies are concerned that the route will now shift back to the sea crossing between Libya and Italy, as well as other possible passages to Europe.
It's too early to tell whether this has started, as the EU-Turkey deal is only a few weeks old. Europe's border agency Frontex said there's no evidence migrants have shifted routes, as most people leaving Libya are from African countries like Nigeria, Somalia and Gambia, rather than the Middle East.
"We have not seen any evidence of this happening yet, although we are following the situation closely," U.N. refugee agency (UNHCR) spokesman William Spindler told The WorldPost.
What is clear is that the number of migrants making the journey to Italy has soared. Last month, 9,676 people reached Italy via the Mediterranean Sea -- more than double the number of arrivals in February and three times the number who arrived in March 2015.
The rise is likely due to better weather and the horrific conditions in which migrants are held in Libya, said IOM's Leonard Doyle. "People are trying to get the hell out of Libya as soon as there's an opportunity to," he said.

The latest mass drowning is a reminder of just how deadly this route is.
While the crossing between Turkey and Greece takes several hours, the passage between Libya and Italy can take several days in more turbulent seas. Even before the latest shipwreck, 1 in 69 people were killed on the route to Italy, compared to 1 in 408 on the route to Greece, according to IOM figures.
It is also a reminder of how hard it is to verify shipwrecks on this stretch of the Mediterranean, and thus how dangerously little is known about the tragedies taking place on the frontiers of Europe.
Smugglers tend to pack migrants into larger vessels to cross the seas from north Africa, leading to huge death tolls when one sinks. The distance between the shores makes it harder to find and rescue survivors and recover bodies.
"We've had cases before that are impossible to confirm, with no survivors and no bodies found," IOM spokesman Joel Millman said. In many cases of shipwrecks off Libya, "people aren't necessarily hearing about it until days later," he said.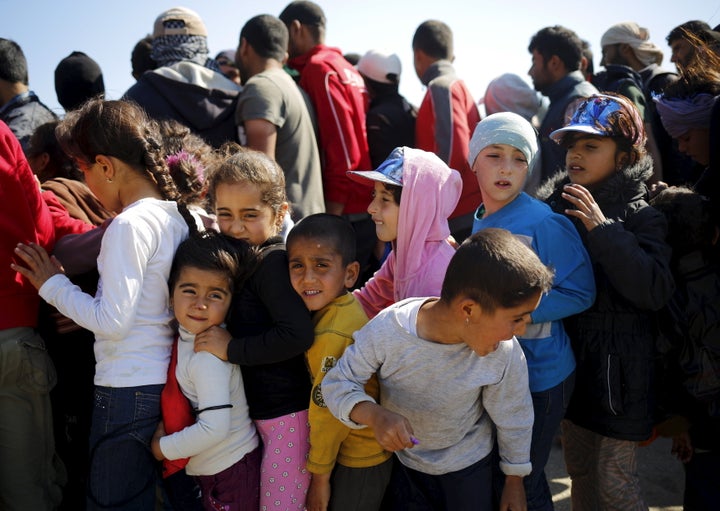 That was certainly the case this week. Details of the recent shipwreck took several days to emerge. The BBC first spoke to the survivors in Kalamata on Sunday, and relayed their harrowing account of 500 people dying at sea. Somali officials reported that between 200 and 300 Somalis were among the dead. But Libyan and Italian officials were not able to confirm the shipwreck.
There was some confusion as to whether the boat departed from Libya or Egypt, but that may be because two boats were involved -- around 200 people who left Libya were transferred at sea to a larger ship with 300 people already on board, which promptly sank. The few who survived were still on the smaller boat or managed to swim back to it.
On Wednesday, the UNHCR and IOM confirmed the survivors' accounts, although no wreckage or bodies have yet been found.
The survivors, who include three women and a 3-year-old child, hail from Somalia, Ethiopia, Egypt and Sudan. They now join the thousands of migrants stranded in Greece.
As Europe keeps it borders closed, formal resettlement procedures remain inadequate and wars continue to rage in the Middle East and Africa, experts worry that more tragedies are on the horizon.
"That's what troubles us," Millman said. "We can expect even bigger embarkments, but we just don't know what's going to happen."
Read More On The Refugee Crisis:
Before You Go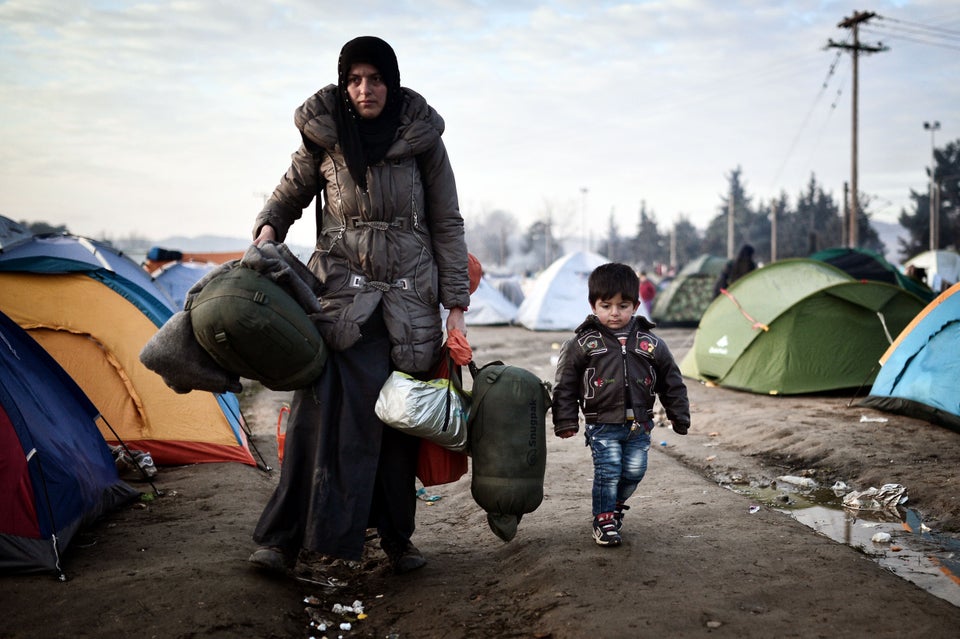 Migrants And Refugees Stuck At The Greek Border
Popular in the Community