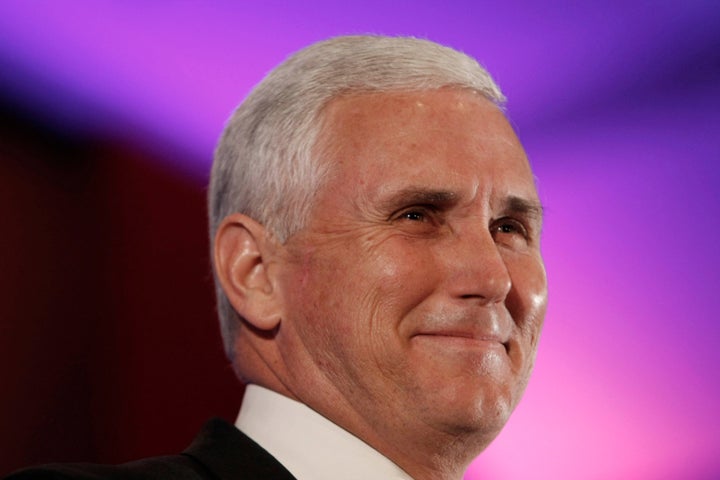 The weekend of April 8th was a heady time for Mike Pence. On Friday, the Indiana congressman and soon-to-be candidate for governor nearly brought the government to a halt with his measure to defund Planned Parenthood, earning him darling status among social conservatives.
On Sunday, he told talk show hosts he wasn't sure if he'd be willing to sign off on a compromise reached to keep the government's lights on.
On Monday night, he dined in New York City with some of the Republican Party's most prolific donors and power players. It was an intimate, off-the-record dinner party hosted by conservative magazine The American Spectator, held for roughly 50 guests in a private room at Brasserie 8 ½, a sleek French restaurant in midtown Manhattan.
The previously unreported gathering is a window into the interwoven worlds of conservative fundraising, media and politics.
Dubbed "The Saturday Evening Club," these monthly affairs are described in a 2010 American Spectator annual report as "bringing together 25 to 30 leading journalists for off-the-record, roundtable discussions over dinner with a significant public figure."
But according to the event's guest list, obtained by The Huffington Post, surprisingly few of the attendees at the Pence dinner were actually journalists.
Instead, the majority were New York-based Republican political donors who, as of the appetizers, had yet to become donors of Pence's. The most prominent among them was the controversial billionaire and Tea Party-backer David Koch, who was seated at Pence's right hand for dinner, a position equal to his stature: Koch's family foundation is one of the largest donors to The American Spectator, which operates as a 501(c) 3 non-profit. The contributions to the Spectator are tax-deductible, meaning the dinner itself was subsidized by taxpayers. To Pence's immediate left was Bob Tyrrell, founder and editor-in-chief of The American Spectator.
The fact that only approximately one fifth of the attendants were journalists relative to donors at the dinner raises questions about the real purpose of the "Saturday Evening Club," but representatives of The American Spectator declined to respond to numerous emails and phone messages seeking comment.
Pence's choice of aides for the evening also suggests the event wasn't purely dedicated to intellectual pursuits: The lawmaker arrived with fundraiser Lisa Spies, director of his political action committee, and his chief counsel, Josh Pitcock. He also brought GOP pollster Kellyanne Conway, to whom his campaign paid $23,000 last year for market research.
Reached for comment, Pence's spokesman Matt Lloyd told The Huffington Post, "Mr. Pence was in town for a number of meetings. He was accompanied at these meetings by staff."
"The dinner on April 11th was exactly as it was billed – a meeting of journalists, opinion makers and business leaders," Lloyd added. "No money was raised during that dinner and Mr. Pence was not a candidate for Governor at that time."
The fundraising distinction Lloyd makes is critical. In early April, Pence was facing a unique challenge when it came to shoring up funds for his upcoming gubernatorial race. Indiana state law bars candidates for statewide office from directly fundraising while the state legislature is in session. Pence, like any other statewide office-seeker, was forced to wait until the legislative session adjourned in late May before he could accept donations to his gubernatorial campaign.
Lloyd said that Pence used his House fundraising account, the Mike Pence Committee, to pay for his travel.
Also traveling from Washington for the dinner were Republican party power brokers Grover Norquist, president of Americans for Tax Reform, and Alfred Regnery, the publisher of The American Spectator and founder of Regnery Books, which publishes works by conservative authors.
Seated around the table were dozens of GOP donors: From Wall Street came Steve Grasso, director of institutional investing at Stuart Frankel; private wealth manager George F. Russell, Jr.; former Republican National Committee staffer-turned-hedge fund manager Mina Nguyen; corporate lawyer Mario Kranjac, whose small firm won a lucrative contract to advise the Special Inspector General for the Troubled Asset Relief Program ("SIGTARP"); and Thomas Lehrman, the co-founder of the Gerson Lehrman Group and a former George W. Bush administration appointee.
Lehrman has personally donated more than $238,000 to various GOP candidates and committees, and Kranjac has given nearly $10,000. Grasso donated $5,000 to the Democratic Senatorial Campaign Committee in 2008, but then gave $1,500 to Rep. Paul Ryan's (R-Wisc.) PAC in 2009. Clearly, these financiers have deep pockets, but according to FEC records, at the time of the dinner none of them had donated money directly to Pence.
Also at the dinner were two one-time Republican candidates, former New York Lieutenant Gov. Betsy McCaughey, and investment adviser David Malpass. Malpass mounted an unsuccessful GOP Senate primary bid last year for Sen. Kristen Gillibrand's (D-N.Y.) seat. Both Malpass and McCaughey have donated to Republicans, but not to Pence.
Two politically generous heiresses in attendance stood out from the crowd. Mitzi Perdue, the widow of chicken-magnate Frank Perdue, is a major GOP donor in her own right. FEC records show that another guest, Annenberg heiress Elizabeth Kabler, has contributed almost evenly to both Republicans and Democrats. Like the other guests, they were not Pence donors at the time.
K Street was represented at the table by communications group Porter Novelli's Peter Pitts, a senior partner in the Global Health Practice, as well as Andy Antrobus and Ken Cole, two Pfizer lobbyists. Cole was a longtime General Motors lobbyist who joined the pharmaceutical giant last year. Pfizer's political action committee has consistently contributed to Pence's campaigns, and already gave him $2,500 this year. Pfizer also sponsors The American Spectator, having donated more than $10,000 in 2010.
An Indiana-based lobbyist Charlie Hiltunen of Third Way Advocacy was also in attendance. Hiltunen gave Pence $300 last year, according to FEC records.
One of the most interesting guests was conservative book agent Alex Hoyt, whose firm Alexander Hoyt Associates serves as the exclusive domestic rights agent for Regnery Books. Pence's spokesman denied that Pence is planning to write a book, but if he does, Hoyt would be a natural choice to represent him. Hoyt's newest client is Rep. Michele Bachmann (R-Minn.)--much like Pence, a politically ambitious, conservative House member. Hoyt was reportedly shopping Bachmann's upcoming book to New York publishers in late May.
Other notable dinner guests included representatives of two conservative New York think tanks--the Manhattan Institute and the Hudson Institute--whose constituencies and fellows overlap. Manhattan Institute scholars at the dinner included Myron Magnet, Heather MacDonald, and Brian Anderson. American Spectator's editor-in-chief, Bob Tyrrell is an adjunct fellow at the Hudson Institute. Betsy McCaughey is a former fellow at both the Manhattan Institute and the Hudson Institute. Another guest, Charles Brunie, is former chairman of both the Hudson Institute and the Manhattan Institute. Koch's family foundation has supported both institutes.
The journalists in attendance all represented conservative outlets: Approximately a half-dozen guests were employees of Fox Business Network, as well as The Wall Street Journal writers John Fund and Robert Pollock, and syndicated Scripps Howard columnist Deroy Murdock.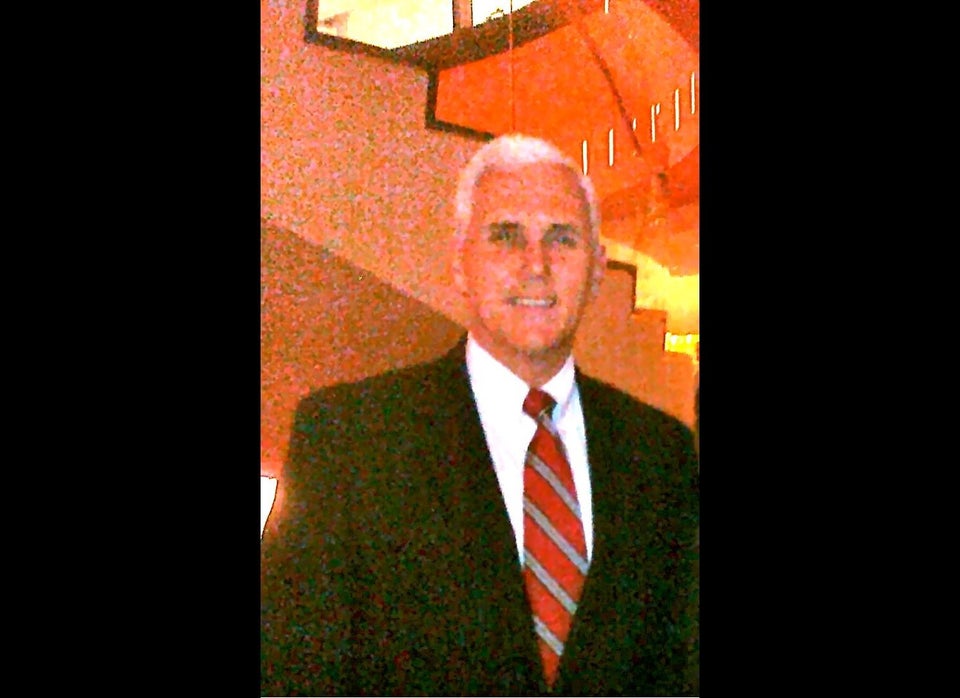 Mike Pence Dines With GOP Donors in New York
Popular in the Community