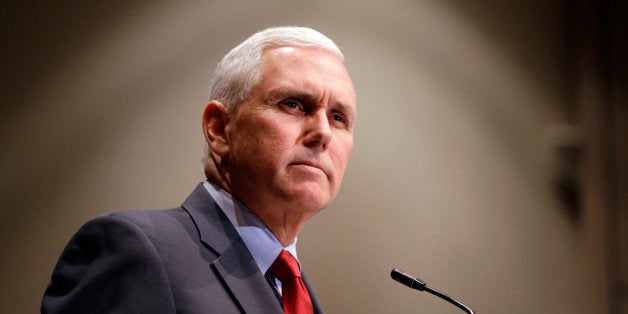 NEW YORK -- When the Indianapolis Star broke the news Monday night that Indiana Gov. Mike Pence, a possible 2016 Republican contender, was planning to launch a "state-run news outlet" to compete against local media outlets, journalists widely took umbrage on Twitter over an idea that seemed more likely to come out of an authoritarian country than a Midwestern state.
Indiana journalists took particular offense at the idea of taxpayer dollars funding a service that would publish reports presumably favorable to Pence's administration, under the guise of authentic news stories. (Monday's report indicated that the outlet will be helmed by former Indianapolis Star reporter Bill McCleery.)
"Every professional journalist in Indiana should join me in denouncing Gov. Pence's state-run 'news service," Indianapolis Star investigative reporter John Russell tweeted Monday night. And the paper's opinion editor Tim Swarens urged Pence on Tuesday to "do the right thing and pull the plug on this horrible, terrible, really no-good idea."
Now, amid the rising backlash, Pence may be backtracking on his plans for the news service, called Just IN.
Matthew Tully, a political columnist at the Star, suggested Monday night that Pence didn't grasp the First Amendment. "When creating our government, our founders put freedom of the press into the constitution," Tully wrote. "Right there in the First Amendment. Now Pence is acting as if he thinks the press should be our government."
Pence apparently heard the criticism: The governor called Tully on Tuesday morning and walked back his administration's plans for Just IN.
Tully tweeted that Pence had vowed to make sure Just IN was "just a clearinghouse" for news releases. (Pence himself said in a Monday night tweet that Just IN would be merely a spruced-up version of the Indiana state government's current calendar of press releases.)
The columnist told The Huffington Post that his impression after speaking to Pence was that the governor is not planning to go forward with the version of the news service that had triggered criticism from journalists. Tully also noted that Pence told him "he had little knowledge of what the staffers were working on."
Kara Brooks, press secretary for Pence, did not respond to requests for comment.
According to Tully, Pence also made clear his "strong affection for a free and independent press."
Pence, a former talk show host, has been more vocal than many politicians on the issue of press freedom. He has pushed for shield laws to protect journalists from being compelled in court to reveal confidential sources. And when he represented Indiana's Sixth Congressional District in the U.S. House of Representatives, Pence was a staunch opponent of the Fairness Doctrine. The doctrine, before it was struck down in 1987, allowed the government more control over political speech on the airwaves. "The American people cherish freedom, especially freedom of speech and of the press," Pence said in 2011, following calls by some Democrats to consider reinstating the Fairness Doctrine. Such regulation, Pence said, "would amount to government control over political views expressed on the public airways."
But even though Pence has made these supportive comments, it's not surprising that he, like most politicians, would consider ways to outflank the traditional press corps. These days, politicians can go directly to constituents and voters through social media, and cut out state political reporters by turning to talk radio hosts or partisan bloggers who are likely to be more sympathetic. The Obama White House has circumvented Washington reporters over the years by breaking news on Twitter, detailing policy initiatives on on whitehouse.gov, and, recently, publishing the State of the Union address in full on Medium.com and giving three YouTube stars access to the president.
But what Pence's administration was planning, according to Monday's report, would go beyond simply bypassing the media filter. Rather, Just IN would be a media competitor -- one with an inside track to the governor and a pro-administration agenda.
In the Indianapolis Star report, Tom LoBianco reported that the outlet would "break news" -- which goes beyond Pence's description of a service that just published press releases. LoBianco also reported that "one target audience for the governor's stories would be smaller newspapers that have only a few staffers."
Such a strategy, while anathema to many journalists, could be effective. The Indiana press corps, like those in statehouses around the country, has diminished in recent years as newspapers have either shuttered or scaled back resources in response to declining print revenues.
Mary Beth Schneider, who worked at the Indianapolis Star for 35 years and spent much of that time covering the state government, told HuffPost on Tuesday that there were probably three times as many reporters in the statehouse when she started covering the legislature in 1991. Schneider, who left the paper last year, expressed concerns that some smaller Indiana publications, which don't have a reporter in the statehouse or can't afford news wires like The Associated Press, would consider running state-generated articles.
"There will be a temptation to pick up these so-called new stories," she said. "They're not news. They're press releases."
UPDATE, 3:05 p.m. -- Gov. Pence's office sent out a press release Tuesday afternoon providing "clarification" about Just IN. The site, according to the release, will serve as "a one-stop-shop news resource website that will house press releases from the Governor, Lt. Governor and the agencies they lead."

"Each weekday, up to six press releases will be featured in the 'Top Stories' section of the website," the release read. "All other press releases for the day will appear further down on the Just IN homepage, separated by category. Members of the media will continue to receive press releases via email."
Pence's office said a managing editor and an assistant managing editor will oversee Just IN, and that members of the communications team will help constitute the site's editorial board. There will also be a "Reporters Resources" section, requiring a login, where journalists can obtain government information and photographs.
Related
Popular in the Community