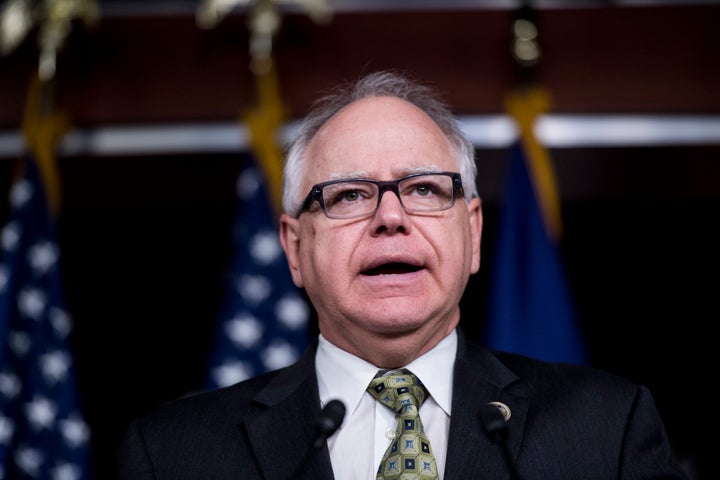 Rep. Tim Walz won the Democratic nomination for governor of Minnesota on Tuesday, defeating two other main opponents in a closely contested primary in the race for an open seat.
The Minnesota congressman triumphed over state Rep. Erin Murphy and state Attorney General Lori Swanson. He'll square off in November's election against former state Rep. Jeff Johnson, who competed for the Republican nomination in Tuesday's vote.
Gov. Mark Dayton, a Democrat, is retiring after two terms in office.
Walz, a moderate lawmaker and former teacher, first won his House seat in his Republican-leaning district in 2006. In the gubernatorial primary, he positioned himself as the Democrat most likely to win the general election in a state that Donald Trump nearly won in the 2016 presidential election. But Walz faced criticism from progressives over such issues as gun control ― he once received an "A" rating from the National Rifle Association ― and his 2015 vote against resettling Syrian and Iraqi refugees in the United States.
Murphy, a former nurse, sought to rally progressive voters by running on a Medicare-for-all platform and a focus on health care. As a relative newcomer to Minnesota's political scene, she was initially seen as an underdog in the race. But her campaign was boosted by endorsements from both Dayton and the state's Democratic-Farmer-Labor Party.
Swanson has served as the state's attorney general since 2007 and announced for governor in June ― later than her main competitors. She cast herself as apolitical and touted her successful record at prosecuting companies that have broken various laws. But her campaign suffered last week after reports by The Intercept and other publications detailed how she had used position as attorney general for political purposes, including pressuring employees to do her bidding.
All three Democrats called for boosting education funding in the state, traditionally a top priority for Minnesota voters. But Walz, who worked for 20 years as an educator, placed perhaps the biggest emphasis on the issue, unveiling a plan to improve state schools that would account for inflation in future education budgets.
"The inflationary game has got to stop. That is a gimmick. It is unfair," Walz said.
As in several other governor's races this year, national officials for both parties can be expected to focus on the battle in Minnesota. Most of the governor's winning four-year terms in November will have the power to approve or veto the congressional and state legislative districts that emerge from fights over the new political maps after the 2020 census.
GOP hopes of winning back Minnesota's governorship rest in part on Trump coming within less than 2 percentage points two years ago of winning the state ― which no Republican presidential candidate has carried since 1972. But a recent poll showed Trump's approval rating in Minnesota at just 38 percent, with 51 percent disapproving of the job he is doing. Dayton, on the other hand, received a 53 percent approval rating earlier this year.
Popular in the Community