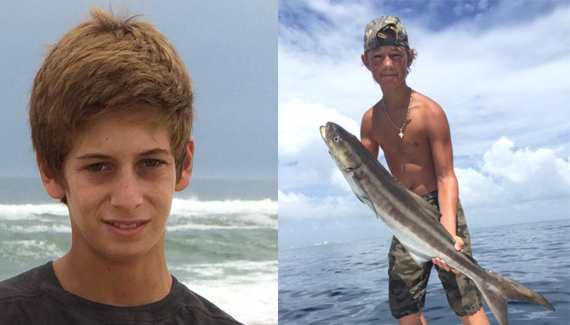 The search for two Florida teens missing at sea intensified Monday after the U.S. Coast Guard found their capsized boat on Sunday.
Perry Cohen and Austin Stephanos, both 14, were last seen Friday afternoon as they set out on a fishing trip from Jupiter, Florida. Family believes they were heading to the Bahamas, where they'd vacationed before, according to the Palm Beach Post.
After finding the capsized vessel, Coast Guard officials said the search area off the coast of Daytona Beach was about 33,500 square miles, roughly the size of Maine. In a news conference Monday, Coast Guard Petty Officer 1st Class Stephen Lehmann said the search area has expanded farther north, off the coast of Jacksonville.
A Coast Guard aircraft spotted the boys' white, single-engine, 19-foot boat 67 nautical miles (77 miles) from the Ponce De Leon Inlet. Rescue crews verified the boat belonged to the teens, but the boys were nowhere to be found.  
The teens' families and friends are holding out hope that they will be found. They are offering a $100,000 reward for their safe return.
Cohen's stepfather, Nick Korniloff, said in a news conference Sunday that he has confidence in the boys' abilities. Both are certified boaters that have been on the water regularly since they were little, family said. 
"[They] know what they're doing out there," Korniloff said. "We are positive that our boys are still out there."
"We just keep on praying, man," Namath said. "It's hard, it's so hard, but we've got to believe in their wherewithal."
This article has been updated to reflect that the search area has been expanded.
Calling all HuffPost superfans!
Sign up for membership to become a founding member and help shape HuffPost's next chapter