WASHINGTON -- As is often the case, we've been burying the lead as we dissect the leaked recording of Senate Minority Leader Mitch McConnell's private whack-a-mole strategy session.
Most of the talk, on the recording and in the media, has been about the cold-blooded, ruthless assessment of the alleged weaknesses of Democratic activist-actress Ashley Judd as a reelection challenger. Riveting if revolting stuff. But what caught my eye was the very last paragraph of the colloquy, in which the Kentucky Republican's staffers assure their boss that they are going to vet and figure out how to destroy "potential primary folks."
Specifically, they said they would investigate a wealthy Louisville, Ky., businessman Matthew Bevin, who has been willing at least to listen to some tea party types.
To understand what the Republican Senate leader is up to these days, you need to remember that he now lives in fear less of his home-state Democrats -- whom he has essentially neutered in his nearly 30 years in the U.S. Senate -- than of tea party and other Republicans who hate his grip on the GOP in Kentucky and his record of talking a better conservative game than he plays.
Working on that resentment is how now-Sen. Rand Paul managed to defeat McConnell's handpicked GOP candidate for junior senator from Kentucky in 2010. And even though Paul now pledges support for McConnell, and Paul's former campaign manager is now on McConnell's team, the five-term incumbent can't be sure that he is a lock in the May 2014 GOP primary.
That is one reason why McConnell took the unusual step (for a party leader) of joining a list of other senators who vowed to filibuster any and all new gun control legislation.
That is why McConnell hit the floor the other day to roundly denounce -- in far more caustic terms than those used by Speaker John Boehner (R-Ohio) -- the president's new budget.
McConnell and his minions have no proof of who was responsible for the recording and the gifting of it to Mother Jones. He may turn out to be correct.
But it is equally possible that the guilty party was a disgruntled Republican -- or even that someone on McConnell's team tried to emulate the tactic allegedly used by GOP strategist Karl Rove in a Texas gubernatorial race in 1986. Rove was widely suspected by the Texas press, and many Republicans, of having bugged his own office so that the device could be "discovered" and he could denounce the Democrats.
No device was found in the McConnell office, though no one apparently looked for one until this week, when the Mother Jones story broke.
Whatever the leak's provenance, McConnell rushed to the microphones in the Capitol on Tuesday, surrounded by his loyal Senate GOP followers, to denounce the recordings as an example of how the "left wing" was out to get him in Kentucky.
McConnell campaign manager Jesse Benton stepped up the hysteria level on Wednesday, saying on Mike Huckabee's radio show that the recording's release were evidence of "Gestapo kind of scare tactics."
Translation: Hey, Tea Party! You think I'm an unprincipled dealmaker with centrist tendencies? Look how the left wing hates me!
The idea that a Kentucky Republican might have gotten hold of the recording and leaked it is not so far-fetched in a state party that has begun to feel stale and discontented after decades of control by the Louisville-based McConnell.
"There is a lot of discontent in McConnell Land," said David Adams, who blogs in Kentucky and was Rand Paul's first campaign manager in 2010. "People aren't feeling like the Republican Party in the state is going in the right direction."
The relationship between McConnell and Paul -- who were ferocious enemies until the end of the 2010 primary -- is described by one Kentuckian on the Hill as merely "transactional." McConnell was the tea party's real target in that election, with his chosen candidate, Trey Grayson, just the stand-in.
Adams ticked off his major complaints about McConnell on the issues: "The bank bailout. The sum total of all the wasteful federal budgets he voted for, especially in the Bush years. The Patriot Act and the National Defense Authorization Act, for what they did to privacy and civil rights. All the pork barrel money he brings back and all the press releases he puts out it.
"Just all the years of him claiming that he cares about freedom and liberty when his long record shows otherwise.
"He's playing his own form of whack-a-mole. He pops out of every hole there is."
Before You Go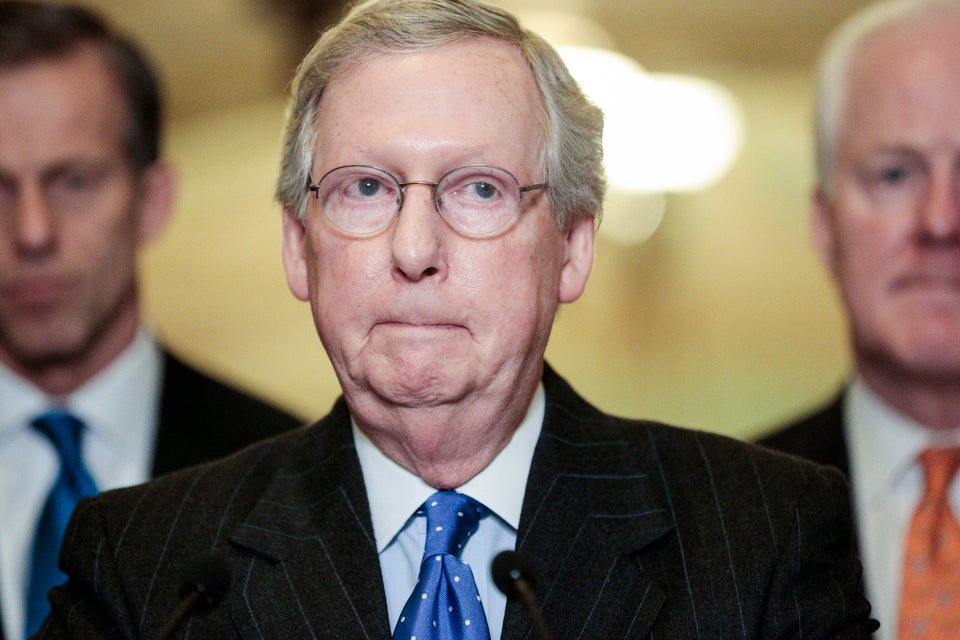 Say Cheese! Mitch McConnell Smiles
Popular in the Community