 Republican presidential nominee Mitt Romney used an admission by President Barack Obama just hours before that he could not "change Washington from the inside" against him Thursday at a rally in Sarasota, Fla.
"The President today threw in the white flag of surrender again. He said he can't change Washington from inside. He can only change it from outside. Well, we're going to give him that chance in November. He's going outside," Romney said to cheers. "I can change Washington. I will change Washington. We'll get the job done from the inside -- Republicans and Democrats will come together. He can't do it. His slogan was 'Yes, we can.' His slogan now is 'No, I can't.' This is time for a new president.
"He went from the president of change, to the president who can't change," he continued. "He says he can't change it from the inside. He has no plan to get our economy working again. Well, I have a plan. I have five steps that are going to get this economy going."
The new charge bookended otherwise standard themes in Romney's stump speech.
The speed with which the Romney campaign seized on Obama's comment -- interpreted in some quarters as a "gaffe" -- speaks to its urgent need to shift focus from the leaked video of Romney at a fundraiser.
Romney acknowledged that he had not personally seen the president's remarks but had heard about the reports.
Obama made the comment during a town hall in Miami with Spanish-language news network Univision, which will air Thursday night.
"I've learned some lessons," Obama said, reflecting on his first term as president. "Most important is you can't change Washington from inside, only from the outside. That's how some of our biggest accomplishments like health care got done -- mobilizing the American people."
The president went on to state that if he were to win a second term, he would want "to concentrate having a much more constant conversation with the American people so they can put pressure on Congress to move issues forward."
Though interpreted by his opponents as a contradiction to his first presidential campaign built on "hope and change," the language employed by Obama on Thursday is hardly new. The president has repeatedly made the case that public engagement is necessary in order to change Washington, dating back to his 2008 campaign.
During his speech at the 2008 Democratic National Convention, Obama told the crowd in Denver that "the change we need doesn't come from Washington. Change comes to Washington."
"Change happens because the American people demand it," he said. "Because they rise up and insist on new ideas and new leadership, a new politics for a new time."
The president reminded his convention audience in 2012 that the "change" was about his supporters.
So you see, the election four years ago wasn't about me. It was about you. My fellow citizens -- you were the change.

If you turn away now – if you buy into the cynicism that the change we fought for isn't possible ... well, change will not happen. If you give up on the idea that your voice can make a difference, then other voices will fill the void: lobbyists and special interests; the people with the $10 million checks who are trying to buy this election and those who are making it harder for you to vote; Washington politicians who want to decide who you can marry, or control health care choices that women should make for themselves.

Only you can make sure that doesn't happen. Only you have the power to move us forward.
Romney, campaigning against longtime Sen. John McCain (R-Ariz.) in 2007, took the opposite position . "So he certainly has political skill, but I believe that at this time, to change Washington, it would be helpful to have somebody who comes with more private sector skill, experience outside Washington. I don't think you change Washington from the inside. I think you change it from the outside."
Nevertheless, it was fresh fodder for Romney.
He closed, "I will change Washington and I will do so when you elect me on November 6."
Lis Smith, a spokeswoman for the Obama campaign, issued the following statement in response to Romney's remarks:
Once again, Mitt Romney is trying to take the heat off himself by taking the President's words wildly out of context. That's twice in just 48 hours, which sets a new record in desperation. What the President said today is no different than what he has been saying for many years – that change comes from outside Washington, not inside. When Americans came together and stood up to special interests, we reformed health care, cut taxes for the middle class and put in new rules for Wall Street. And, that's why we have elections. Mitt Romney apparently doesn't believe that change comes from the American people. Maybe that's because he has written off half the country in this election, and has repeatedly demonstrated that he's incapable of standing up to the extreme right wing of the Republican Party—even if it's in our national interest.
Before You Go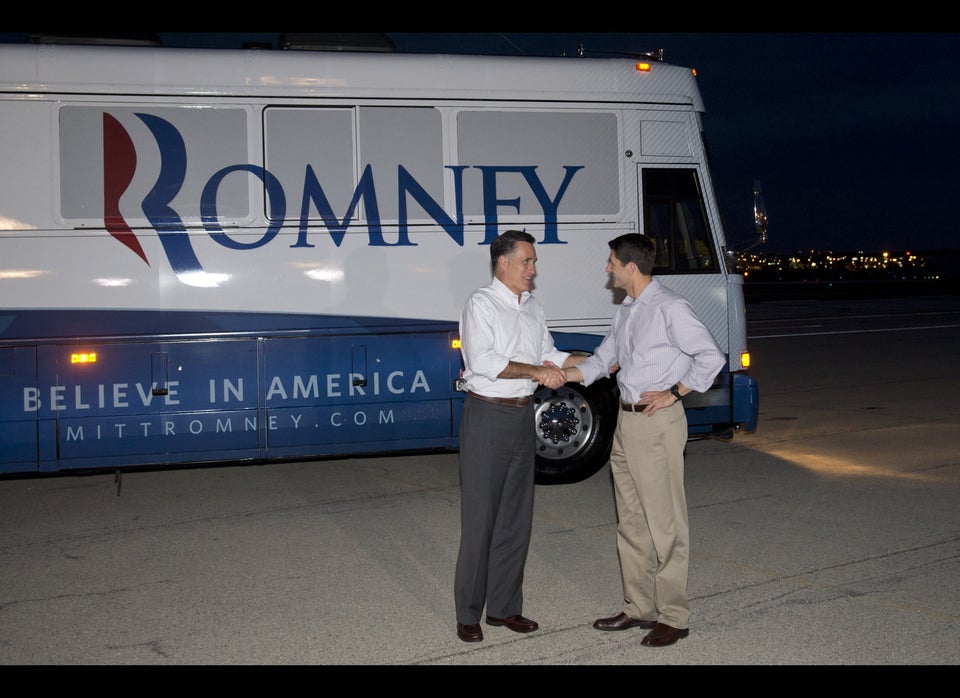 Romney-Ryan 2012 Soundtrack
Popular in the Community