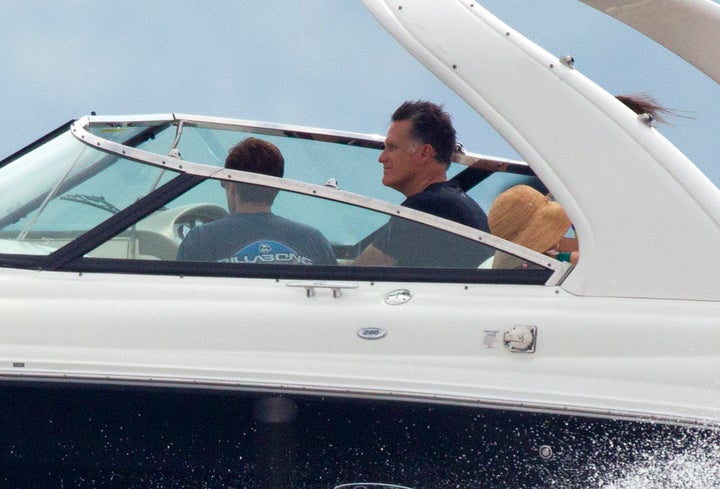 BOSTON -- Mitt Romney's campaign seized on a poll out Wednesday evening showing the presumptive Republican nominee leading President Barack Obama nationally by one percentage point -- a statistical dead heat -- despite a full week of bad press for Romney.
The Romney campaign sent the poll to reporters, touting it as evidence that the Obama campaign's attacks on the Republican have failed. A senior Romney campaign official made the point more explicitly to The Huffington Post, stressing that voters consider issues not related to the economy to be distractions.
"The economy is a great riptide that is taking Obama out to sea. And they're going around pouring sand all over the beach, but they're not teaching him how to swim," said the Romney aide, spoke about the campaign's strategic thinking on the condition of anonymity. "Until they start talking about what this race is about, its all chaff."
A few hours after Romney himself said he found calls for him to release more than two years of tax returns "amusing," the campaign official said continued news coverage of the tax return issue doesn't worry them.

"This race is not controlled by what's in the news," the adviser said. Voters, the adviser said, are most concerned with the economy, and if media coverage doesn't speak to that, then they tune it out. "You don't turn on CNN to see how the war is going," the campaign aide said.
The New York Times/CBS News survey released late Wednesday backed up that interpretation to some degree. The economy and jobs were "extremely important" to 54 percent of the 1,089 adults surveyed, the highest percentage of any issue. Second, at 46 percent, was health care, followed by the federal budget and deficit at 43 percent.
The survey showed Romney leading Obama head-to-head, 47 percent to 46 percent.
More importantly, the poll showed that the sluggish economy -- which has ground to a halt after modest growth earlier in the year -- is dragging down Obama's job approval and overshadowing the relentless and withering broadsides against Romney over the past week by the Obama campaign.
Opinions of Obama's handling of the economy have gone south since April, with approval dropping five percentage points from 44 percent to 39 percent, and disapproval rising from 48 percent to 55 percent. In addition, those surveyed said they trusted Romney to do a better job on the economy and jobs, 49 percent to 41 percent.
And even after a week of nonstop news coverage of Obama campaign attacks on Romney's career at Bain Capital and loud calls for the Republican to release more tax returns, three out of five respondents said Romney's private equity career made no difference to their vote, while only one out of five said it made them less likely to vote for Romney.
REAL LIFE. REAL NEWS. REAL VOICES.
Help us tell more of the stories that matter from voices that too often remain unheard.
BEFORE YOU GO
PHOTO GALLERY
Mitt Romney's Greatest Hits