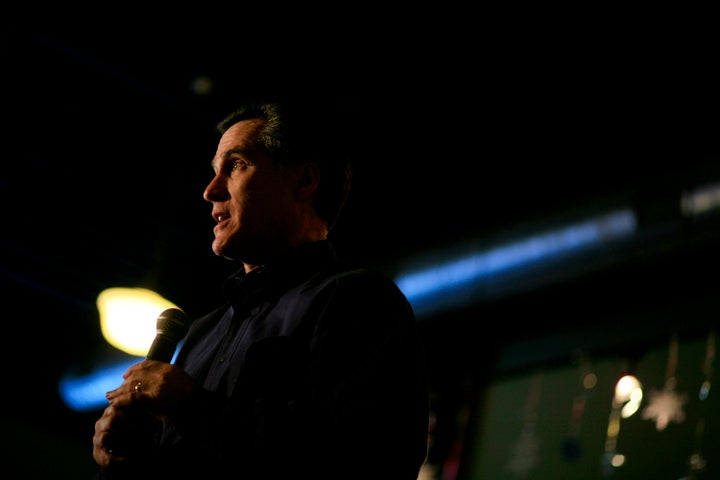 BOSTON (Reuters) - Republican Mitt Romney, who is raising money to run for the White House in 2012, criticized President Barack Obama on Monday over the country's debt problem but soon found himself under attack on another front.
An opinion piece by the former Massachusetts governor focused on last week's threat by an influential ratings agency to cut the U.S. credit rating.
That message was quickly drowned out by backlash after Romney referred to Obama's stimulus programs as "one of the biggest peacetime spending binges in American history."
In doing so, Romney neglected to acknowledge the U.S. wars in Iraq and Afghanistan and current involvement in Libya.
The New Hampshire Democratic Party and progressive-leaning veterans group VetVoice pounced.
"Romney is forgetting that we have troops in harm's way in three different theaters is astonishing," Richard Allen Smith of VetVoice said in a statement, noting that 36 U.S. service members had been killed in action this month alone.
Romney representatives said he meant to write "since World War Two" to frame the extent of Obama's spending.
The column in New Hampshire's Union Leader newspaper followed Standard & Poor's warning on April 18 that it might downgrade the United States' prized AAA credit rating unless the Obama administration and Congress find a way to slash the $1.4 trillion annual federal deficit within two years.
The warning has given Republicans another opening to attack Obama's policies at a time the U.S. economic recovery seems to be losing steam.
"S&P's action is a significant marker of our country's deteriorating economic position," Romney wrote. It's "a giant wake-up call."
Romney criticized Austan Goolsbee, one of Obama's top economic advisers, for downplaying S&P's move, and Obama himself for embarking on a "weeklong campaign swing" even as the S&P warning prompted officials in Washington and on Wall Street to discuss the debt problem.
Romney warned that the United States could be in for "reduced growth, chronic high unemployment and a lower standard of living." The only way to avert a crisis "is to take action that is rooted in the need to reduce spending," he said.
Romney, an unsuccessful U.S. presidential contender in 2008, said this month he has formed an exploratory committee to raise money for a challenge to Obama.
He is considered a well-funded early front-runner among Republicans and is particularly favored in the early-voting state of New Hampshire.
Romney, 64, was nearly even with Obama in a McClatchy-Marist poll last week that asked U.S. voters who they would support if the two men ran against each other in 2012.
(Editing by Doina Chiacu)
Calling all HuffPost superfans!
Sign up for membership to become a founding member and help shape HuffPost's next chapter