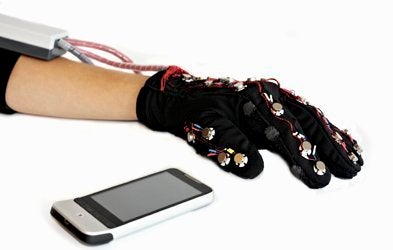 By: InnovationNewsDaily Staff
Published: 04/07/2012 09:45 AM EDT on InnovationNewsDaily
So far the products produced using remote-touch technology, such as hug shirts and kiss phones, may seem creepy, but here's one that sounds helpful instead. The Mobile Lorm Glove, a prototype created by a lab in the University of Arts Berlin, transmits the touch alphabet used by some people who are both deaf and blind, called Lorm.
In Lorm, the speaker strokes the listener's hand, using different patterns to communicate different letters and punctuation marks. Obviously, people have needed to be physically next to each other to use Lorm--until now. A speaker wearing a Mobile Lorm Glove can stroke the letters into the glove, which contains sensors all over the fabric. A Bluetooth device worn about halfway up the forearm transmits the letters to the speaker's cell phone. The phone then sends a text message to the listener's cell phone.
The Lorm Glove worn by the listener will receive the message from the phone. The glove has tiny vibrating nodes all over the back, which transmit strokes to the back of the listener's hand.
Several listeners can receive the same Lorm message at the same time, and because the glove can work in concert with other Mobile Lorm Gloves and with cell phones, it lets deaf-blind people text with anyone who has a cell phone. Any listener who possesses sight can read the text message on his or her cell phone and text back.
The researchers noted that because their device lets someone send a Lorm message to many people, teachers could use it to address a class.
"It empowers deaf-blind people to engage with a wider social world and further enhances their independence," the Mobile Lorm Glove's developers wrote on their website.
Watch the glove in action:
Lorm was developed in Czechoslovakia, where there's a Czech Lorm Society, and the researchers are based in Germany. Marketing their glove in the United States may be more difficult, however, because Lorm is relatively uncommon among the U.S. deaf-blind community. Both Peggy Malloy, research librarian at the National Consortium on Deaf-Blindness, and Anindya Bhattacharyya, technology specialist at the Helen Keller National Center for Deaf-Blind Youths & Adults, said they could not think of any Americans who use that language. Bhattacharyya says he uses American Sign Language, and Braille on his iPhone, but has a friend in Germany who uses Lorm.
Copyright 2012 InnovationNewsDaily, a TechMediaNetwork company. All rights reserved. This material may not be published, broadcast, rewritten or redistributed.
Support HuffPost
The Stakes Have Never Been Higher
Related
Popular in the Community