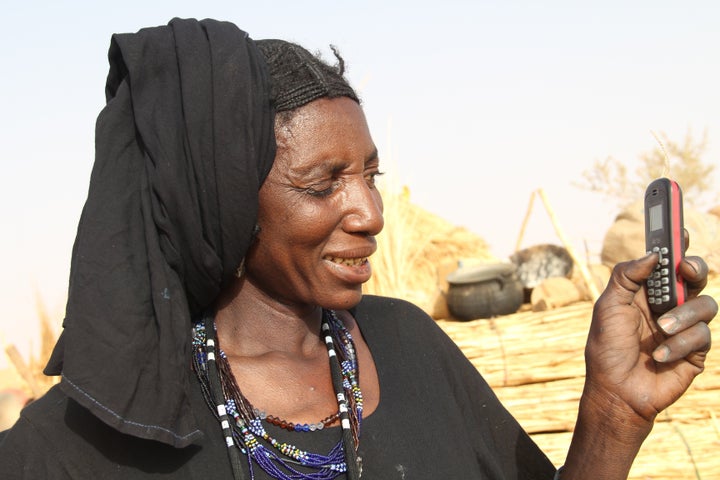 This blog is part of a series organized by The Huffington Post and the NGO alliance InterAction to call attention to the crisis in the Sahel, a region in sub-Saharan Africa where more than 18 million people face starvation and 1.1 million children under the age of 5 are at risk of dying from acute malnutrition. Click here to read more of HuffPost Impact's coverage of the Sahel and here to find out what InterAction members and others are doing in the Sahel.
Some five billion people worldwide were using mobile phones in 2010, according to the International Telecommunication Union, with the strongest growth taking place in developing countries. Africa is the fastest growing mobile market. In the past six years, the industry estimates that the number of subscribers has grown nearly 20 percent each year. At this rate, we can expect to see some 735 million cell phone users in Africa by the end of 2012.
The surge in mobile technology in Africa not only creates an opportunity for mobile phone companies -- it also gives communities a powerful tool to connect with their kin who have migrated and provides them with a vital lifeline in times of crisis.
Mobile phone technology can also make a difference in the ballooning food crisis in the Sahel, a vast continental belt of arid and semi-arid land stretching across Africa, south of the Sahara Desert. A drought, which led to poor harvest and rising food prices, has pushed 18 million people to the brink of crisis. One million children under five years old are now at risk of severe acute malnutrition.
Extremely poor people, who often live on $1.25 or less a day, are the most affected. These families typically have meager food stocks to begin with and, as they deplete, are forced to purchase their food in local markets. In Tahoua, Niger, one of the worst-affected areas in this year's crisis, food prices have skyrocketed by as much as 71 percent compared to the same period last year. For extremely poor people, this means that food falls farther and farther out of reach and more and more of their very limited household budget must go towards food. While the poorest people spend a greater proportion of their money on food, any food price increase has wide-reaching consequences. Children are often taken out of school; health care becomes an unaffordable luxury; and the very few assets that the family has are often sold, just to get by.
The cruel reality is that although food is not available in the most affected regions, it is often available in neighboring regions and countries. As extremely poor people are further impoverished by lack of income from crops or livestock, there is no cash, and thus no incentive for merchants to bring food to local markets. This is where cell phones can have a major impact.
In times of food crisis, organizations like Concern Worldwide often provide cash allowances over a defined period of time to help make sure that the poorest people can purchase food and do not slide further into poverty. This is traditionally done manually and people receive their cash at a central distribution point each month.
Cell phones have the power to make this process significantly more efficient -- for both the organization and the affected communities. With mobile money transfer (m-transfer) technology, cash vouchers can be delivered instantly by phone and turned into cash by visiting a local mobile phone agent. This means that the organization does not have to go through the logistics of moving from village to village to hand out cash, potentially compromising the security of their staff and the people coming to receive it. It also means that community members no longer have to travel to a central distribution point, which often means leaving children and work at home.
Concern has successfully implemented m-transfer programs during previous food crises in Niger and Kenya. In April 2010, Concern launched the first m-transfer program in French-speaking Africa with a leading mobile provider, Zain (now Airtel Niger). In response to annual hunger gaps, the program delivered approximately $38 for three months and $47 for two months to vulnerable households across 116 villages using Zain's m-transfer service, ZAP. In a study conducted with Tufts University, Concern then measured how the money was being used and the household wellbeing of those receiving cash via m-transfer against those receiving it manually.
The study found that m-transfer reduced the cost of receiving the money for beneficiaries, as it took less time to collect the cash from a local mobile agent than at a central distribution point. Beyond the time savings, the m-transfer households bought more diverse food items, consumed more oils and meats, and produced more types of agricultural crops, particularly those traditionally grown by women. These households also sold less of their food stocks and other non-durable assets -- a sign that they did not have to sell the few resources they had just to get by.
These impacts can be primarily attributed to m-transfer, not simply the mobile phones, because Concern also provided mobile phones to households who were receiving cash manually. They had access to all of the information-sharing that a cell phone provides -- they just didn't have the m-transfer system.
Understanding if m-transfer ultimately had an impact on nutrition levels is much harder to analyze. It appears that the transfer of cash on its own had no statistically significant impact on malnutrition among children under five years old. However, the cash, when combined with a program that delivered nutrition services at the community-level, did have an impact on acute malnutrition. While much more needs to be done to understand the influence of m-transfer on malnutrition, these results are promising, particularly because it is clear that when families have access to cash, they are able to proactively prevent malnutrition in their households and not resort to other measures that would drive them further into poverty.
In 2011, when warning signs indicated that another food crisis was emerging in Niger and the Sahel, Concern launched an early intervention program that included cash transfers, reaching some 44,500. The majority received their cash through m-transfer. We found that, when combined with community nutrition services, villages that received cash transfers had a malnutrition rate that was three percent lower than those that did not. The difference was even larger among girls. We also found that recipients purchased more livestock, particularly chickens, and women were more likely to be involved in household decision-making about agriculture and education.
However, these benefits do not come without significant challenges. Illiteracy poses a huge challenge in countries like Niger, where the literacy rate is only 29 percent. Niger also has one of the lowest cell phone penetration rates in the world, which means that few families have phones and, even if they are given one, it is often the first time that they are using one. Because mobile systems are often new, particularly in remote areas like Tahoua, systematic glitches, such as problems with the mobile network itself or small-scale mobile agents not having enough cash to meet demand, can also occur and reduce the effectiveness of the m-transfer approach.
Mobile money transfers will never be a silver bullet in preventing malnutrition and fostering food security, but they can be a powerful weapon in the fight against hunger -- especially if they are paired with interventions that detect and treat malnutrition and build long-term food security. There is no single answer on how to respond to hunger emergencies or on how to deliver cash to those most affected, but this experience shows that, in the right context, the benefits of using technology are worth the effort.
Concern Worldwide is an international, non-governmental humanitarian organization dedicated to reducing extreme poverty, with more than 3,200 personnel working in 25 of the poorest countries in Africa, Asia, and the Caribbean. Concern Worldwide targets the root causes of extreme poverty through programs in health, education, livelihoods and microfinance, HIV and AIDS, and emergency response, directly reaching more than 8.5 million people. To learn more, visit concernusa.org, like us on Facebook, or follow us on Twitter.