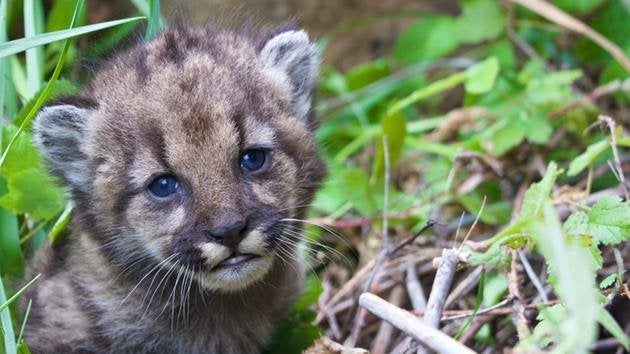 Meet southern California's newest star: a four-week old mountain lion kitten that the National Park Service has already tagged.
The little female (P-54) was tagged while she was alone in her den while her mother was out hunting somewhere in the Santa Monica Mountains. She's the baby of the popular mountain lion P-23. The kitten's dad could be P-23's half brother, P-30, ABC-7 reported Wednesday. The two adults were seen hanging around together for three days three months before the kitten was born. 
The mating underscores one of the problems of the mountain lion population in the area. It's difficult for the animals to travel longer distances because highways hem them in, so they tend to inbreed. So far, veterinarians haven't spotted any physical problems in the population due to inbreeding.
A team of experts traveled to P-54's den while mom was away and sedated the young kitten, took blood and tissue samples, tagged her ear, and planted a tracking device in her abdomen, ranger Kate Kuykendall, of the Santa Monica Mountains National Recreation Area, told the Los Angeles Daily News. Veterinarians sent a sample of the kitten's blood to the University of California, Los Angeles, for genetic testing to determine if her father is P-30. If so, P-54 would be the young male's first known offspring.
The new kitten mark's P-23's third time being a mom. Only one other previous cub (P-53) survived, however, and was fitted with an adult tracking collar last summer. Littermates were eaten by other animals.
This is a video of P-53, earlier surviving kitten of P-23, "chirping":
Last fall, a mother and two of her three cubs were killed over the space of a few weeks as they tried to cross a freeway.
Plans are underway now to construct a wildlife corridor bridge that would allow the animals in the Santa Monica Mountains to head north into far larger public lands. The bridge would cross the eight-lane Highway 101 in the Los Angeles suburbs to connect the Santa Monica Mountains and the Simi Hills.
Calling all HuffPost superfans!
Sign up for membership to become a founding member and help shape HuffPost's next chapter