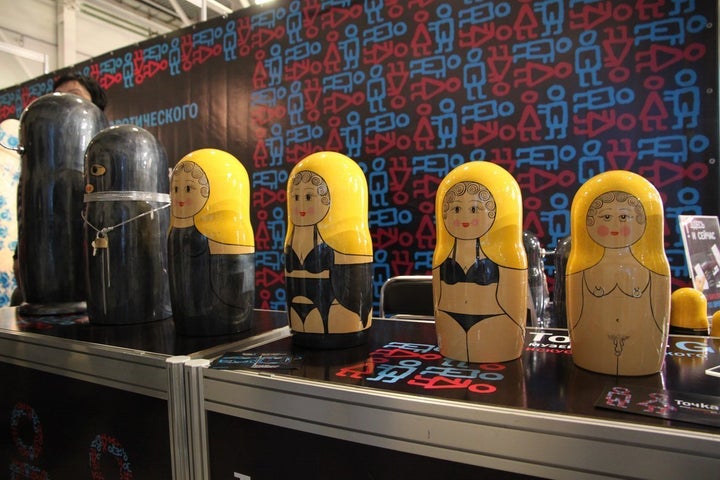 The Times report cites a Facebook message written by Donskoi, in which he says the group "attacked" the museum carrying a brick. The museum was open at the time of the visit, and the receptionist fled out of fear for her life, joined by other staffers, according to Donskoi.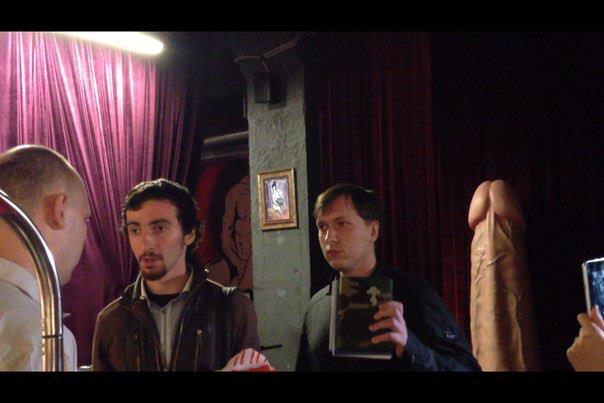 An image of the two pro-church activists (R and C) who visited the Museum of Erotic Art.
The stunt's organizer, Dmitry Enteo, told RIA Novosti that he led his group of so-called "Orthodox missionaries" to the museum simply "to preach." Their grievances include the museum's advertisements, as well as its open policy toward gay patrons and its public support of Pussy Riot. "Little ones see their leaflets and ask their parents what a G-spot is. We couldn't tolerate it," Enteo told RIA Novosti.
Enteo, a 23-year-old student of economy and theology, said the brick was meant not as a weapon, but as a "reference to the capstone for a better life mentioned in the Bible." The museum's surveillance footage reveals no violent behavior from the crowd.
Footage of the Orthodox activists at the aMuseum of Erotic Art.
"No one has the right to impose its will by threatening the life of the people," wrote Donskoi on his Facebook page Wednesday. "Today the Orthodox militia punish us for supporting Pussy Riot, threaten our lives and tear off the clothing of ordinary passersby, and tomorrow they will go to destroy the temples of other faiths and stab atheists. This is pure extremism, we therefore ask the investigating authorities and personally Vladimir Vladimirovich Putin, the guarantor of the Constitution, to stop the movement of the Orthodox militia and their rejection of a secular state."
Related
Popular in the Community