Her stride is fast, her energy seems boundless, she seeks reforms, she's bold, she's articulate, she's young, and she has her own newspaper in Yemen to use as a platform for action.
If being publisher/editor in chief of the Yemen Times bi-weekly isn't enough, Nadia Al Sakkaf manages to juggle being a wife - her Jordanian husband is CEO - a mother, and has the makings of a politician with a mission to fix things from the inside.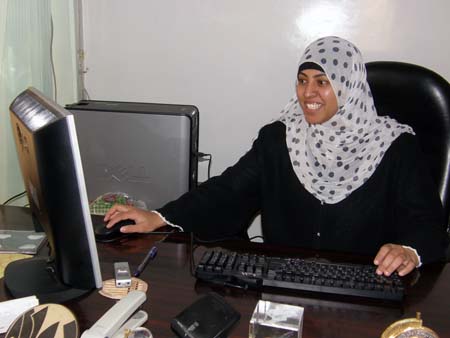 Nadia Al Sakkaf (Abu-Fadil)
It's not easy in a country of about 30 million at the southern tip of the Arabian Peninsula where illiteracy is estimated at between 60% to 70% (depending on whose figures one believes), where women are a minority in the job market, where the tribe takes precedence over the government, and where the president has been in power for close to 30 years.
But Al Sakkaf, who turns 31 in March, is undaunted by the responsibility.
"Change is good, and the current system is too faulty to remain in power, but change that comes by force and through bloodshed is not good, and it will only take us to an even worse situation," she wrote in a recent editorial describing political and tribal divisions within her country.
Yemen, one of the poorest Arab nations, is difficult to govern. Weapons are plentiful. A northern region has been racked by unrest by a group fighting the government. And one of its claims to fame is that Osama Ben Laden's family hailed from there before moving to Saudi Arabia.
"My late father used to tell me 'Just do your job and the pieces will fall into place,'" she said looking at the wall behind her desk and a picture of Abdulaziz Al Sakkaf, a lecturer in economics at Sana'a University, who founded the paper in 1991 during the political spring that followed Yemen's unification and first steps towards democracy.
He was hit by a car in 1999 and died shortly thereafter. His son Walid handled the paper's affairs before Nadia took charge in 2005.
Within a year of taking over, she had replaced 50% of her unproductive staff. She constantly questions the Yemen Times' mission statement with her reporters and editors.


Yemen Times logo
It's difficult to operate in Yemen with no real freedom of information and limited access to basic data. Despite that, Al Sakkaf and her team have been instrumental in getting unfair Yemeni laws rescinded thanks to hard-hitting reports.
"I'm very proud of that," she told me smiling in her Sana'a office, adding that she has not been harassed for her bold coverage of controversial stories. "People deal with us as an institution, not as a person."
Al Sakkaf's editorials can be biting. Her pointed answer to a questioner about how to fix things in Yemen was "ensuring the rule of law."
It's a tall order in a country where legislators are either corrupt or ignorant, she wrote, and where not all Yemenis enjoy equal citizenship.
"In Yemen, the family name, the tribe, the bank account, and the relatives in positions of power mean everything," she said, noting that intelligence, talent, and a good character could become a curse.
Her solution: fix the judiciary and law enforcement system before anything else and the rest will follow smoothly.
A gargantuan task for an English-language cross between a broadsheet and a tabloid targeting mostly expatriates in Yemen, and with a view to increasing readership within the local population. The Yemen Times' print run is 7,000 but readership is 1:5.
"We need to do a survey, but it's expensive," she said, adding that 60% of the hard copy readers were foreign and 40% Yemeni. "More people read it online."
Al Sakkaf plans to introduce a new look and a youth supplement in 2009 in the newspaper noted for emphasizing human rights and democratic values.
The Yemen Times (www.yementimes.com) is among the strongest in influencing the government and in reflecting public opinion. It was the first Yemeni paper to go online in 1997.
Nadia Al Sakkaf impressed me when she visited Lebanon to receive the first Gebran Tueni Award in December 2006, marking the first anniversary of the assassination by car bomb of the Lebanese publisher of the leading daily An-Nahar.
The award honors an editor or publisher from the Arab region who has shown courage in defending press freedom and demonstrated excellence in leadership, managerial and professional standards.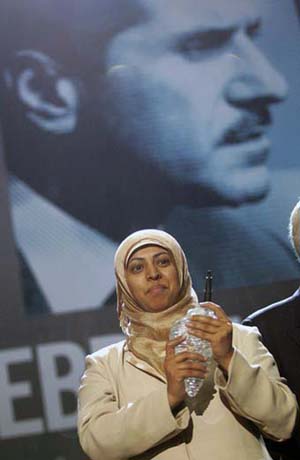 Al Sakkaf receives Gebran Tueni Award (Barrak-AFP)
The award, granted during the "Press Under Siege" conference co-organized in Beirut by An-Nahar and the Paris-based World Association of Newspapers (WAN), has become a tradition honoring brave Arab journalists shaking up the status quo and fighting repression in their respective countries.
She came to Lebanon with her husband and baby daughter to demonstrate that a Yemeni woman could be seen, heard, read and could make a difference.
Al Sakkaf earned an engineering degree in computer science from India and a master's degree in management information systems from the United Kingdom. She is a member of the board of the World Editors Forum, an arm of WAN.
Calling all HuffPost superfans!
Sign up for membership to become a founding member and help shape HuffPost's next chapter