WASHINGTON -- House Speaker John Boehner (R-Ohio) has no plans to negotiate with House Democratic Leader Nancy Pelosi (D-Calif.) after her caucus torpedoed a trade deal backed by President Barack Obama and Boehner, a GOP leadership aide told The Huffington Post on Monday.
Without talks between Boehner and Pelosi, it's difficult to see how Obama's trade agenda can be revived.
The Senate has already passed a trade measure that includes a provision to put future trade deals on a fast track -- known as trade promotion authority, or TPA -- through Congress, and also has set aside funds -- trade adjustment assistance, or TAA -- for workers dislocated by those same deals.
The House needed to pass both provisions for the overall measure to make it to the president's desk. Republicans were unwilling to vote to support the money for workers, but Democrats realized if they, too, rejected the support for workers, the entire package would go down.
On Thursday night, Pelosi and Boehner, who'd been hammering out details of the two packages for days, met on the House floor to swap notes. Pelosi asked Boehner how many votes he could deliver for the funding for dislocated workers. He guessed roughly 100.
"How about 150?" she said, according to sources in both parties.
Just before Friday's vote, Pelosi went to the House floor and stunned her colleagues by saying she would be voting no -- and then her caucus largely voted with her to sink the bill. While her decision swayed some members, it was clear that most had already made up their minds to oppose the measure. Pelosi said afterward that passage of a "robust" highway bill may ease the path to finding the votes needed, but she and Boehner have not been engaged in negotiations, and won't anytime soon.
"After negotiating in bad faith for 3 days and successfully getting the process she demanded for consideration of TAA and TPA, Leader Pelosi turned around and screwed the President and the Speaker. No one will be negotiating with Leader Pelosi on a path forward," a House Republican leadership aide said in a statement to HuffPost.
A Democratic leadership aide scoffed at the idea that Republicans can just cut Pelosi out of talks.
"Republicans have 246 Members, but their leadership can't take their socks off and count their toes without Nancy Pelosi helping them," the aide said. "You can't block House Democrats out of the process of writing TPA itself and then expect us all to stand up and salute. You do have to talk to someone other than [Democratic trade proponent Sen.] Ron Wyden if you want significant House Democratic support."
For now, House Republican leaders simply don't have the votes to pass the trade package and need more time to find them. They plan to take a procedural vote on Tuesday to give themselves until July 30 to come up with a way forward.
"We remain committed to getting TPA done, and this will give the president more time to communicate the consequences of not moving forward with his party," said Boehner spokesman Kevin Smith.
As frustrated as they may be, proponents of the trade deal conceded they may need Pelosi to get it over the finish line.
"You'll have to ask her," grumbled Rep. Ron Kind (D-Wis.), when asked Friday why he thinks his party leader voted against moving the trade package, before adding: "Obviously it's going to be hard to get a TAA bill done without her support."
Boehner's count of 100 was slightly optimistic. At one point during the TAA roll call, Republicans had 93 members voting yes. Once it became clear it was going down, seven switched and voted no. Theoretically, Republicans could pass TAA on their own and assure passage of the TPA bill they desperately want, but many aren't willing to swallow the TAA piece. That means that to get to the 218 votes needed to pass, Democrats would need to provide 125 votes. They only produced 40 votes Thursday.
White House press secretary Josh Earnest downplayed the seriousness of last week's setback, calling it a "legislative snafu" in the House, in what The Wall Street Journal described as "typically oblivious aplomb." He said that the president and others in the White House have been in regular talks to find a way forward.
One of those administration officials making calls was White House chief of staff Denis McDonough, who spoke to Pelosi on Monday. Neither the White House nor Pelosi's office gave details about their conversation.
House Minority Whip Steny Hoyer (D-Md.) told reporters on Tuesday that the vote was punted because the support isn't there.
"Most of the discussion that occurred in the last few days had to do with cobbling together enough votes for TAA. I never thought that was going to be a very successful effort, and I think it proved not to be. So ... it has now been abandoned, essentially," he said, according to a transcript of his remarks that was provided to HuffPost.
"The thought was if we could cobble together the votes to get enough [for] TAA that they would vote for it, and then send TAA and TPA to the president," Hoyer continued. "But, I mean, that clearly ‑‑ I never thought that was going to work. And I think clearly they have concluded it wasn't going to work because they couldn't get sufficient votes from the Republicans. I don't think they are going to get a lot of Democrats to change on TAA. There were 40 of us that voted for TAA, which meant the Republicans would have needed 100 and what, 78? And I don't think there are 178 votes on the Republican side, as we saw, to vote for TAA."
"It gives the Republicans time to figure out what they're going to do," Hoyer said of extending the vote deadline to July 30.
Hillary Clinton, meanwhile, backed Pelosi's approach to the trade deal during a Sunday speech in Iowa. Clinton said that if the president can't come to terms with House Democratic leader, there should be no deal.
"Here's what I think should happen now," Clinton said. "The president should listen to and work with his allies in Congress, starting with Nancy Pelosi, who have expressed their concerns about the impact that a weak agreement would have on our workers, to make sure we get the best, strongest deal possible and if we don't get it, there should be no deal."
Earnest dismissed the idea that Clinton was out of step with the White House push on trade.
"I think what Secretary Clinton articulated over the weekend is a view that she is neither reflexively in favor of trade agreements nor reflexively against them," said the White House spokesman. "She indicated that her test would be to examine an agreement and determine whether or not it was in the best interest of our national security, and to determine whether or not it was in the best interest of American workers."
A re-enactment of Earnest's statements over the last few days is below.
This article has been updated to include comment from a Democratic aide and Hoyer's remarks on Tuesday.
CORRECTION: This story previously suggested that the vote deadline may be moved to June 30. The date in question is July 30.
Support Huffington Post journalism by signing up to get an email when reporter Ryan Grim publishes a new story.
Before You Go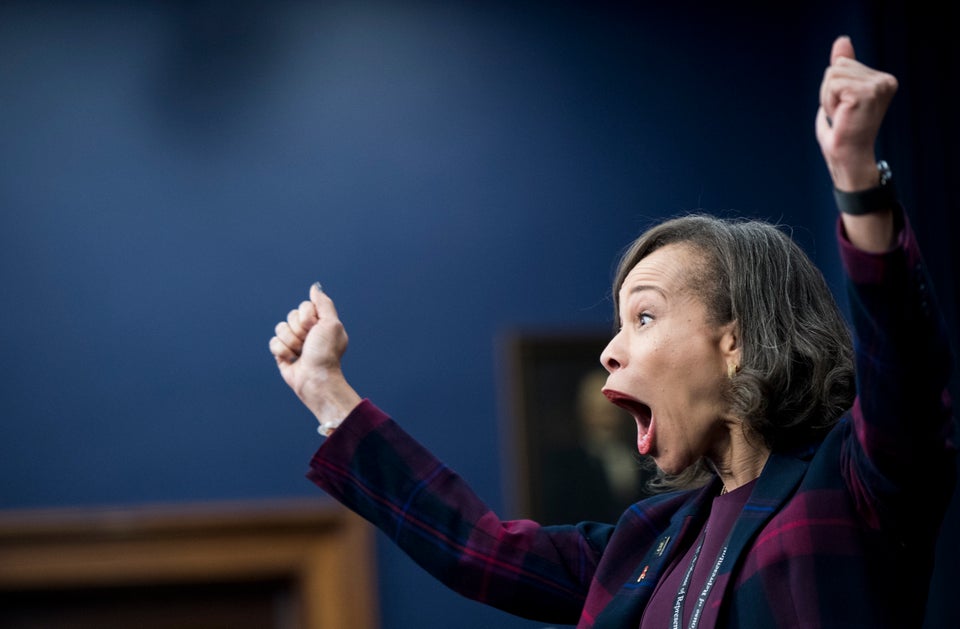 Scenes From 114th Congress And Capitol Hill
Popular in the Community