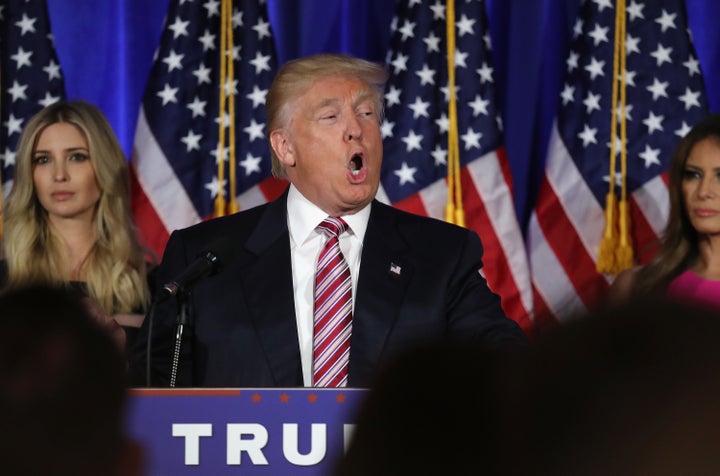 Donald Trump's electoral chances don't look great right now, but he could attract some working-class Americans who typically vote Democratic. Americans are less worried about the Zika virus than they were about Ebola. And we explain why not every poll gets included in our charts. This is HuffPollster for Thursday, June 30, 2016.
FIVETHIRTYEIGHT'S FORECAST GIVES TRUMP A 1-IN-5 CHANCE - Nate Silver: "Giving Trump a 20 percent or 25 percent chance of becoming president means that Clinton has a 75 percent to 80 percent chance. That might seem generous given that, under ordinary circumstances, the background conditions of this election (no incumbent running and a mediocre economy) would seem to suggest a tossup. Are Clinton's high odds justified on the basis of the polls? Or do they require making heroic assumptions about Trump, the same ones that got everyone, emphatically including yours truly, in trouble during the primaries? The short answer is that 20 percent or 25 percent is a pretty reasonable estimate of Trump's chances based on the polls and other empirical evidence….Our polls-only model has Trump with a 19 percent chance of beating Clinton as of early Wednesday afternoon. (The forecasts will continually update as new polls are added.) Our polls-plus model, which considers economic conditions along with the polls, is more optimistic about Trump, giving him a 26 percent chance. Still, Trump faces longer odds and a bigger polling deficit than John McCain and Mitt Romney did at the same point in their respective races." [538]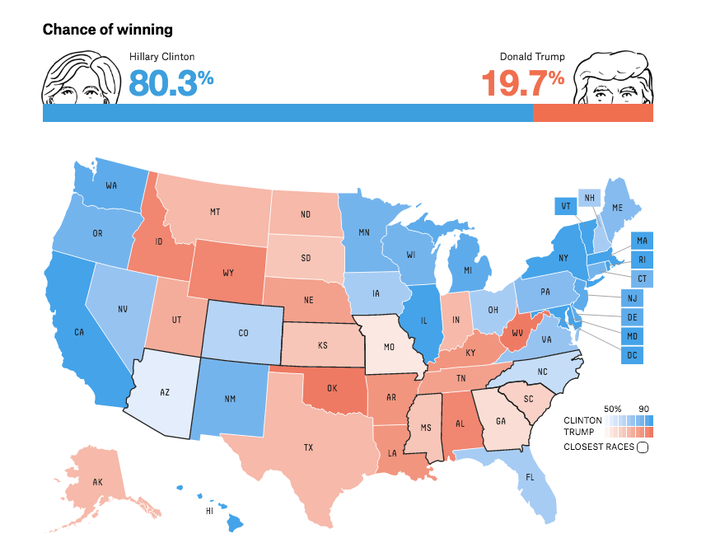 There are two models, "polls-only" and "polls-plus" - More from Silver: "The model we call polls-plus abides by the principle of 'stick with what works.' It's pretty much the same model that we used to successfully forecast the 2012 election, blending polls with an index of economic performance. As the election approaches, the weight assigned to the economic index will fade to zero, meaning that polls-plus and polls-only will converge….For the time being, however, polls-plus assumes the race will probably tighten somewhat. That's because it shows the economy as being almost exactly average and assumes there's neither an advantage nor a penalty to the incumbent party in a year like this one, when an incumbent president is retiring….Polls-only's maxim is 'keep it simple, stupid.' This is often a good strategy when faced with novel situations; instead of adding new assumptions, you should remove questionable assumptions. Historically in presidential elections, for instance, polls tend to converge toward the fundamentals down the stretch run. Usually that means they tend to tighten as Election Day approaches." [538]
TRUMP'S CAMPAIGN COULD REALIGN SOME VOTERS - Nate Cohn: "For decades, Republicans argued for lower taxes, fewer regulations and a smaller welfare state. Democrats took up the opposite view, and voters split along familiar lines. Whatever you think of Donald Trump, it is clear that this election has the potential to reshape the allegiances of many white working-class voters who have traditionally sided with the Democrats, and many well-educated voters who have sided with the Republicans….Mr. Trump currently trails in most polls. But according to a 2014 study by Pew Research on political polarization, positions like those held by Mr. Trump on trade, immigration, guns and the environment have considerable support from white working-class Democrats….The potential for Mr. Trump to break through among white working-class voters isn't merely theoretical. Recent public opinion surveys — even those showing Mr. Trump trailing Mrs. Clinton by a wide margin — all show him leading Mrs. Clinton by a wider margin among white voters without a college degree than the margin by which Mitt Romney led President Obama in 2012....We will not know until November whether Mr. Trump will attract these traditionally Democratic voters. Even if he does, he might fall far short of winning the presidency, as current polls suggest." [NYT]
But it's not because of 'The Apprentice' - Mark Blumenthal: "Relatively few voters say they regularly watch Trump's reality shows, The Apprentice or Celebrity Apprentice, either now (4%) or in the past (7%). And while a third (33%) say they've watched occasionally, the majority (54%) say they've never seen either program. Interestingly, self-reported viewership of The Apprentice shows very little relationship to Trump's job rating in business. The differences between people who have never seen the show, regularly watch it, or occasionally watch it are modest. But the biggest surprise of all may be that Hillary Clinton wins voters who say they are or have been regular viewers of the Apprentice—and by a 23-point landslide (59 to 36%). Trump does best but still trails (47 to 44%) among voters who have watched the show only occasionally. Odd? The demographics and partisanship of The Apprentice's audience can explain a lot of it. Trump does worse among regular viewers because they are more likely to identify or lean Democratic (53%) than occasional viewers (44%) and those who have never seen the show (46%). " [SurveyMonkey]
NEW BATTLEGROUND POLLS GIVE CLINTON BIG LEADS - Tal Kopan: "Hillary Clinton leads Donald Trump across the board in a new poll of battleground states. According to Ballotpedia's battleground poll, Clinton leads Trump [by between 4 percentage points and 17 percentage points across seven states]. Her leads held at nearly the same margins when Libertarian Party nominee Gary Johnson was included in the poll. And Clinton led Trump 48% to 37% when all states were factored together. With Johnson included, Clinton led Trump 44% to 34%, with Johnson at 13%." [CNN]
Why we're not putting these in the HuffPost Pollster charts - For our election matchup charts, HuffPost Pollster only uses polls that present answer options that are consistent with how they will appear on the ballot on election day. Ballots usually label candidates by partisanship but don't generally include job titles, so we have a long-standing policy that we don't include questions in our presidential charts if the answer options use titles in front of candidates' names. We are unable to include the Ballotpedia poll because they did a split sample in which half of respondents got "Former Secretary of State Hillary Clinton," and the other half just got "Hillary Clinton." That has the potential to skew responses by cuing Clinton's experience, especially since Donald Trump wasn't given a title.
AMERICANS ARE LESS WORRIED ABOUT ZIKA THAN THEY WERE ABOUT EBOLA - Brady Dennis, Lena H. Sun and Scott Clement: "The global spread of the Zika virus and its links to severe birth defects have yet to worry most Americans, and few are taking measures to limit their exposure to the mosquito-borne disease, according to a new Washington Post-ABC News poll. Two-thirds of Americans say they are 'not too' or 'not at all' worried about Zika infecting them or a family member, while one-third are at least 'somewhat worried.' Fewer Americans are concerned about Zika infections today than were worried about the deadly Ebola epidemic at its height….The biggest danger of the Zika virus lies in its ability to cause severe birth defects in developing fetuses...The poll finds concern about Zika is no higher among groups that may face greater personal risk, including women in their prime child-bearing years. Sixty-four percent of women ages 18 to 39 say they are not too worried about themselves or a family member being infected, and 73 percent are waiting to see whether personal prevention efforts are necessary." [WashPost]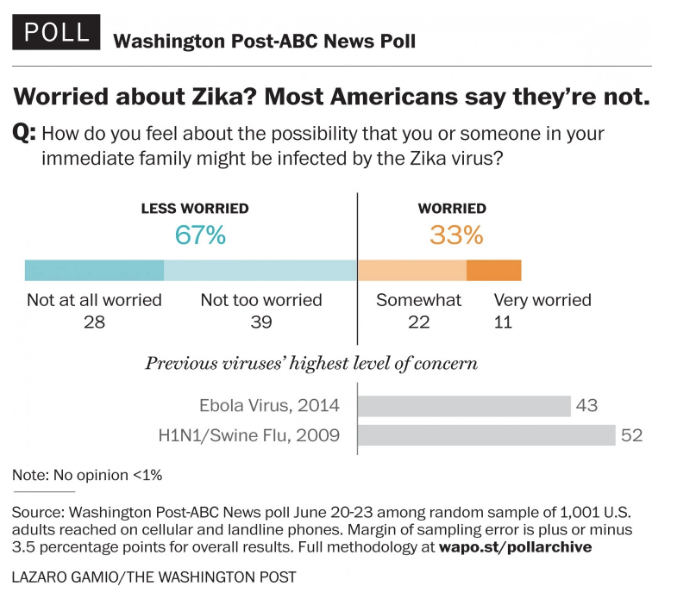 HUFFPOLLSTER VIA EMAIL! - You can receive this daily update every weekday morning via email! Just click here, enter your email address, and click "sign up." That's all there is to it (and you can unsubscribe anytime).
THURSDAY'S 'OUTLIERS' - Links to the best of news at the intersection of polling, politics and political data:
-Sean Trende tests whether there really is a discrepancy between Donald Trump's support in national and state polls. [RCP]
-A Fox News poll finds that 89 percent of Americans think Trump is "hot-headed." [Fox]
-Donovan Harrell explains why it's worthwhile for Trump to campaign in Democratic-leaning Maine. [Politico]
-Half of Trump supporters describe African Americans as more violent and more criminal than white people. [Reuters]
-About one in two Hispanics in the U.S. says they've experienced discrimination. [Pew]
-Forty-two percent of Americans have a favorable view of the Affordable Care Act this month. [KFF]
Calling all HuffPost superfans!
Sign up for membership to become a founding member and help shape HuffPost's next chapter