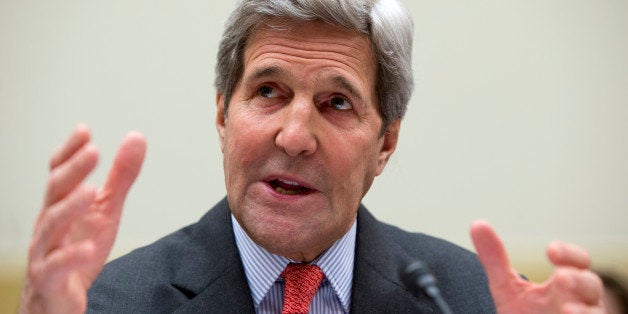 WASHINGTON -- Secretary of State John Kerry on Sunday sought to downplay the growing diplomatic rift between the United States and Israel, telling ABC's "This Week" that Israeli Prime Minister Benjamin Netanyahu is "welcome to speak in the United States," and that the U.S. has "a closer relationship with Israel right now in terms of security than at any time in history."
As Kerry spoke, Netanyahu was en route to Washington, where he will deliver a controversial address to a joint session of Congress on Tuesday. The speech was arranged by Netanyahu and Republican House Speaker John Boehner without informing the White House, and will take place just two weeks before Israelis vote on whether or not to reelect the prime minister. For this reason, President Barack Obama has said he will not be meeting with Netanyahu during his three-day visit.
"Obviously, it was odd, if not unique, that we learned of [the speech] from the speaker of the House and that the administration was not included in this process," Kerry said Sunday. "But the administration is not seeking to politicize this." In his speech, the prime minister is expected to criticize the Obama administration's ongoing negotiations with Iran and other world powers over Iran's nuclear program.
Instead of focusing on Netanyahu, however, Kerry underscored how much America has done recently to help its longtime ally in the Middle East -- a not-so-subtle reminder to Israel of how much it relies on the U.S. "We have intervened on Israel's behalf, in the last two years, more than several hundred -- a couple of hundred times in over 75 different fora in order to protect Israel," Kerry said, adding, "I talk to the prime minister regularly, including yesterday. We don't want to see this [visit] turned into some great political football."
For many in Washington and Tel Aviv, however, Netanyahu's upcoming speech is already overtly political. Specifically, it offers Republicans a chance to jab the president by putting one of Obama's most powerful critics on a major podium. It also gives Netanyahu a ready-made campaign ad with which to woo voters back home, where he faces a strong challenge from the left.
"We want to recognize the main goal here is to prevent Iran from getting a nuclear weapon," Kerry said, "and on that, Israel and the United States agree."
Netanyahu is expected to preview his speech to Congress on Monday, when he is slated to speak before a friendly crowd at the annual meeting of AIPAC, the American Israel Public Affairs Committee.
BEFORE YOU GO