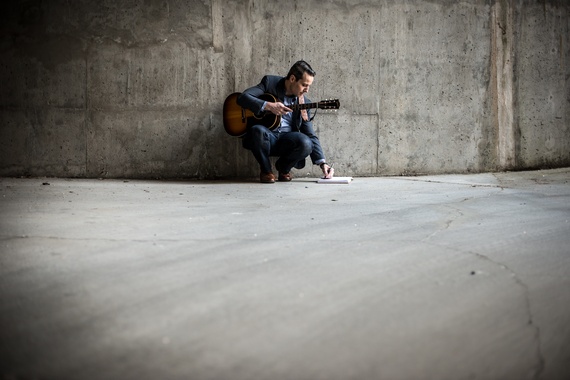 There is something nostalgic about Americana roots music that whisks you away to a bygone era of singing guitars and rock stars. Before people could escape through internet, video games and smartphones, there was blues and rock 'n' roll. One of the artists who is keeping rock alive is singer/songwriter Andre Chrys. Hailing from Vancouver, Chrys crafts unique Americana-inspired roots rock, which also has moments of blues and country. Chrys has already accumulated many accolades on his journey having had tracks placed in feature films, playing massive festivals such as 2007's Music West Festival, and opening for artists like The Watchmen.
His sultry guitar licks and howling voice drip with the salty sweat of the American South. Though his music is haunted by this southern soul, Andre Chrys began his career in Winnipeg, Manitoba, the antithesis of the South. He began his ascent up the totem pole by touring across Canada in hardworking bands, playing clubs and festivals and living life on the road. Since then, Chrys has experienced many loves, lifetimes, and adventures which eventually led him to Canada's West Coast where he recorded his newest album, Window to Nowhere.
The many narratives of Window to Nowhere tell tales of love, loss, bliss and pain, as we meet several colorful characters along the way. With a deep appreciation for the rich history of music, Chrys wrote Window to Nowhere on his 60-year-old Gibson acoustic, blessing each song with the soul of that guitar. Andre explains the inspiration for the title track:
I have a room at home where I do most of my writing and recording. It has a window that looks out onto the wall of the house right next to mine. It's East Van, and the houses are built really close to each other. I'm not even sure why they put the window in the room in the first place. It's literally a window to nowhere. I'm trying to capture that desperate, out-on-a-ledge feeling you get when the walls are closing in around you. I'm sure that most people who live in shoebox-sized digs in Vancouver can relate.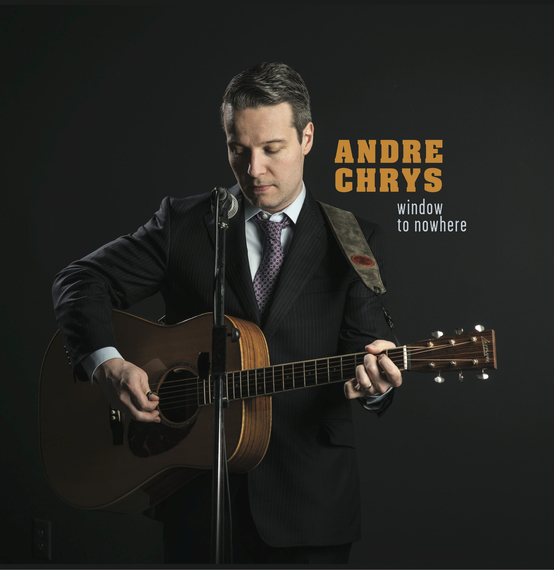 Window to Nowhere opens with the twangy track "Get Away With it," a song about a wily hustler who "slithers through the cracks." "The Velvet Rut" follows with swinging melodies, catchy arrangements, a whining fiddle and would feel right at home in a Coen Brothers film. Other songs include the swampy, folk-noir "Don't Disappear on Me," and "Old Volvo," an homage to Chrys' 1979 Volvo that saved his life when he was rear-ended by a delivery truck. "I knew the accident was bad when the auto insurance adjuster looked at the Volvo, then looked at me and asked me if I was a religious man," says Chrys. "He said I'm lucky to be alive."
Chrys' musical manifestation, Window to Nowhere, is set for release on vinyl, CD and digital download on October 15th, 2015. It was recorded and mixed by John Raham at Vancouver's Afterlife Studios using vintage analog recording equipment. Andre Chrys was accompanied on this album by long time bandmates Jeff Younger (guitar), Bill Briscall (bass), and Mike Magnusson (drums). Guest musicians lending their talents to the record include Aiden Briscall from the indie pop band Wake Owl on violin, and Tyson Naylor on organ and accordion who is also a member of Canadian folk artist Dan Mangan's band.
Window to Nowhere is powerful and charismatic as Chrys offers a very distinct style that is gritty, raw, and evocative. It is a new record with an old soul as he sings on the darker side of reality, a part of life some choose to ignore, but cannot deny exists. Bringing to the front any and all types of emotions, Window to Nowhere plays to the human pathos creating an undeniable connection to his deeply emotive music.
Popular in the Community