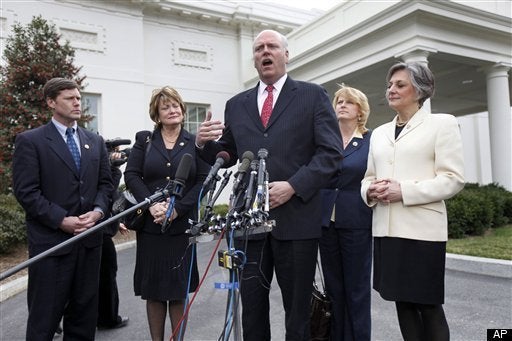 JPMorgan Chase, Goldman Sachs, and Credit Suisse lobbied New Dem Reps. Mike McMahon (D-N.Y.) and Melissa Bean (D-Ill.) "to expand the ways the legislation allows dealers and major investors to trade the contracts," according to Bloomberg.
The result of the banks' lobbying effort seems to be draft legislation that could actually exempt most financial firms from a wide swath of derivatives regulations. The discussion draft put forth by House Financial Services Committee chairman Barney Frank (D-Mass.), Bloomberg reported Thursday, would not regulate derivatives used by financial companies for the rather ambiguous purpose of "risk management." (Check out HuffPost's Jason Linkins' take on the wild world of derivatives here.)
At stake in the legislation could be a significant portion of the tens of billions of dollars that commercial banks make in the largely unregulated derivatives market each year. U.S. banks made $5.2 billion in the second quarter of 2009, a 225 percent increase from the same period last year.
New Democrats praised Frank last week for the bill. New Dem chairman Rep. Joe Crowley (D-N.Y.) said in a statement, "I congratulate my fellow New Dem Members, 15 of whom serve on the Financial Services Committee, for their work with Chairman Frank to reform our financial system to provide greater protections for American consumers and businesses while ensuring continued access to valuable tools to manage risk."
At a Wednesday hearing on the legislation, administration officials called Frank's plan too weak. Gary Gensler, the chairman of the Commodity Futures Trading Commission, said the bill would allow financial firms too many exemptions from regulation.
Derivatives, despite their role in the near-collapse of the entire world economy, were not important enough for a some members of the House agriculture committee to sit through a hearing on their regulation in September. Instead, Reps. Blaine Luetkemeyer (R-Mo.) and Kathy Dahlkemper (D-Pa.) skipped out for fundraisers.
Check out Bloomberg's awesome story here.
Support HuffPost
The Stakes Have Never Been Higher
Related
Popular in the Community