Lots of headlines would have you believe that New Hampshire's first-in-the-nation primary will be a "do-or-die" moment for the various presidential hopefuls. Even The Huffington Post's front page has framed Tuesday's contest as some kind of "Hunger Games"-style death match among the GOP candidates.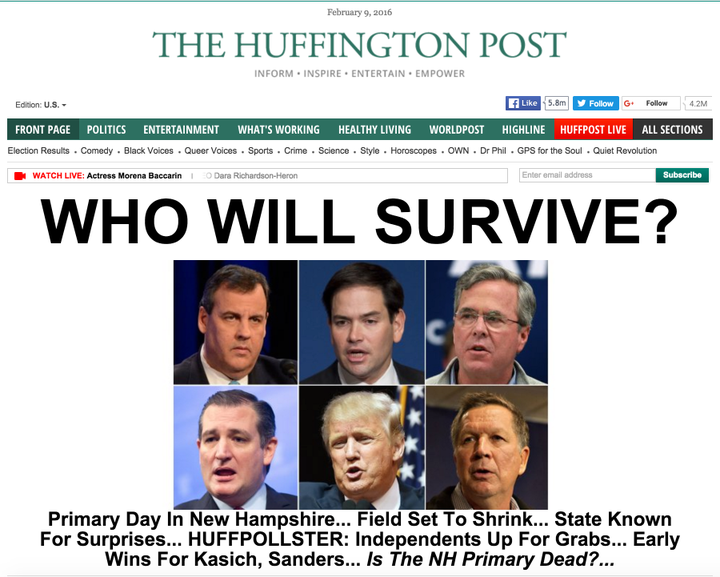 But once the dust settles in New Hampshire, we probably won't know much more about either party's nomination contest than we did before. The New Hampshire primary is an imperfect predictor at the best of times, and this year that goes double. With a very crowded Republican field and a near-home-state advantage for Sen. Bernie Sanders (I-Vt.) on the Democratic side, the results of Tuesday's primary will tell us what people in the Granite State think, but not much besides that.
The state does better than Iowa at picking eventual nominees, but its record is still mixed. In four of the last six open GOP races, dating back to 1980, New Hampshire voters have picked the eventual nominee. In the last six open Democratic races, they've picked the eventual nominee half the time. Hillary Clinton won New Hampshire's Democratic primary in 2008, but Barack Obama was the nominee that year. John McCain won the state's primary contest in 2000, but the GOP candidate that year was George W. Bush.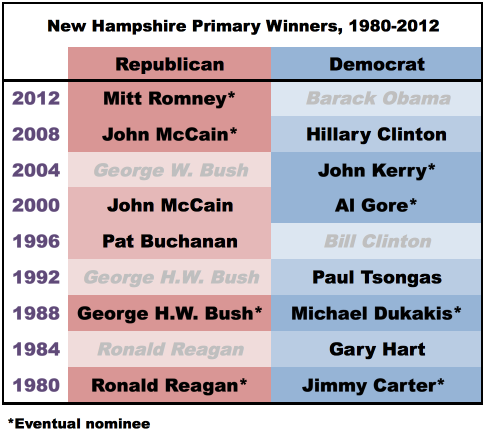 Notably, in the 1996 Republican primary -- when there were nearly as many major candidates as this year's nine contenders -- the New Hampshire electorate did not hand the victory to the eventual nominee, Sen. Bob Dole (R-Kan.), but instead chose political operative and commentator Pat Buchanan. The race was extremely close, and Buchanan won with just 27 percent compared to Dole's 26 percent.
We could see a similar situation this year. The GOP primary winner could get less than 30 percent of the vote, and up to five candidates could get more than 10 percent. No one really knows what would happen next in such a scenario, but one possibility is that those five candidates could continue much farther into the primary season than expected. Drop-outs are widely anticipated after the New Hampshire primary, but there will be fewer campaign suspensions if long-shot contenders are able to reach 10 percent.
Absent any major upsets Tuesday night, Sanders seems set to win New Hampshire's Democratic primary, and Donald Trump will most likely be the GOP victor. A win would obviously be a boost to either man's campaign, but it wouldn't mean that they've locked down their party's nomination. It wouldn't even necessarily give them an advantage going forward. For this year, at least, a victory in New Hampshire will just be a victory in New Hampshire -- no less, but almost certainly no more.
Calling all HuffPost superfans!
Sign up for membership to become a founding member and help shape HuffPost's next chapter