The month of May promises to be a time of great royal fanfare with the coronation of King Charles. Meanwhile, Netflix is getting in on the action with some regal additions to its film and television catalog.
The streaming service is due to add more than 100 titles in May, including "Queen Charlotte: A Bridgerton Story." A prequel to the steamy Regency-era drama "Bridgerton," this new six-episode series will focus on young Queen Charlotte's love story and rise to power.
Other royal-themed additions include the 2009 film "The Young Victoria," as well as a new original movie "Royalteen: Princess Margrethe" and docuseries "Queen Cleopatra."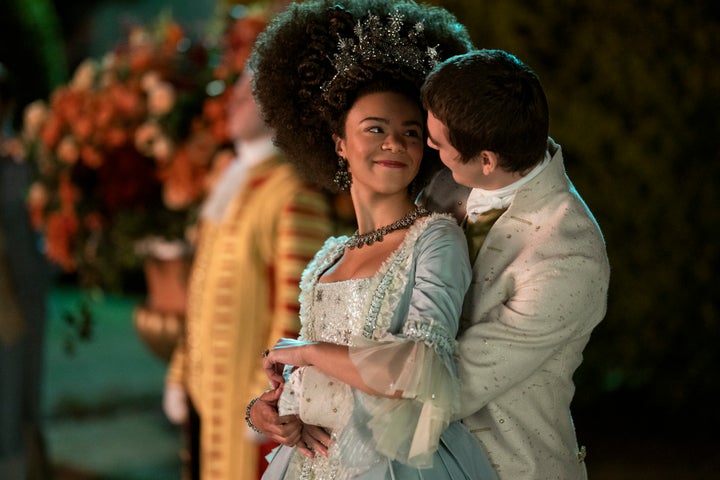 Another buzzy spinoff making its debut in May is "XO, Kitty," which follows the titular little sister character from "To All The Boys I've Loved Before" as she embarks on her own romantic adventure in South Korea. "XO, Kitty" has the distinction of being the first Netflix show spun off from a Netflix film.
The new month will also bring another season of Tim Robinson's sketch comedy hit, "I Think You Should Leave," as well as stand-up specials from Wanda Sykes and Hannah Gadsby. Long-time hits like "Queer Eye" and "Selling Sunset" are also returning with new seasons.
Check out the full list of May movies and shows below.
And if you want to stay informed about everything joining Netflix every week, subscribe to the Streamline newsletter.

May 1
"Austin Powers in Goldmember"
"Austin Powers: International Man of Mystery"
"Austin Powers: The Spy Who Shagged Me"
"The Curious Case of Benjamin Button"
"Lemony Snicket's A Series of Unfortunate Events"
"Rainbow High" (Season 3)
May 2
"Love Village" (Netflix Series)
"The Tailor" (Netflix Series)
May 3
"Jewish Matchmaking" (Netflix Series)
"Great British Baking Show: Juniors" (Season 7, Netflix Series)
May 4
"Larva Family" (Netflix Family)
"Queen Charlotte: A Bridgerton Story" (Netflix Series)
"Sanctuary" (Netflix Series)
May 6
May 8
"Justice League" (Seasons 1-2)
"Justice League Unlimited" (Seasons 1-2)
"Spirit Rangers" (Season 2, Netflix Family)
May 9
"Documentary Now!" (Season 4)
"Hannah Gadsby: Something Special" (Netflix Comedy)
May 10
"Dance Brothers" (Netflix Series)
"Missing: Dead or Alive" (Netflix Documentary)
"Queen Cleopatra" (Netflix Documentary)
May 11
"Royalteen: Princess Margrethe" (Netflix Film)
"Ultraman" (Season 3, Netflix Anime)
May 12
"Black Knight" (Netflix Series)
"The Mother" (Netflix Film)
"Mulligan" (Netflix Series)
"Queer Eye" (Season 7, Netflix Series)
May 13
May 16
"Anna Nicole Smith: You Don't Know Me" (Netflix Documentary)
May 17
"Faithfully Yours" (Netflix Film)
"La Reina del Sur" (Season 3)
"McGREGOR FOREVER" (Netflix Documentary)
"Rhythm + Flow France" (Season 2, Netflix Series)
"Working: What We Do All Day" (Netflix Documentary)
May 18
"Kitti Katz" (Netflix Family)
"XO, Kitty" (Netflix Series)
"Yakitori: Soldiers of Misfortune" (Netflix Series)
May 19
"Astérix & Obélix: The Middle Kingdom" (Netflix Film)
"Kathal - A Jackfruit Mystery" (Netflix Film)
"Selling Sunset" (Season 6, Netflix Series)
"Young, Famous & African" (Season 2, Netflix Series)
May 22
"The Batman" (Seasons 1-5)
"The Creature Cases: Chapter 3" (Netflix Family)
May 23
"All American" (Season 5)
"MerPeople" (Netflix Documentary)
"Victim/Suspect" (Netflix Documentary)
"Wanda Sykes: I'm An Entertainer" (Netflix Comedy)
May 24
"Hard Feelings" (Netflix Film)
"Mother's Day" (Netflix Film)
"The Ultimatum: Queer Love" (Netflix Series)
May 25
May 26
"Barbecue Showdown" (Season 2, Netflix Series)
"Blood & Gold" (Netflix Film)
"Tin & Tina" (Netflix Film)
"Turn of the Tide" (Netflix Series)
May 30
"I Think You Should Leave with Tim Robinson" (Season 3, Netflix Comedy)
May 31
"Mixed by Erry" (Netflix Film)
Date TBA
"Siren: Survive the Island" (Netflix Series)