In his two years driving for Lyft and Uber in Los Angeles, George has scrambled to adapt while the ride-hailing companies have frequently adjusted their rates, policies and technology.
The constant change has led George, who asked to go by a pseudonym for fear of retaliation, to help build a network of activists fighting for higher pay and more control over their work.
A new study from researchers at the University of California, Los Angeles (UCLA) suggests that many of his fellow drivers are ready to chip in — eight of 10 Los Angeles ride-hailing drivers said they would like to join an organization that would help them press for better pay and working conditions.
The study offers encouragement to drivers who are experimenting with different ways to organize for better treatment, but legal hurdles and other obstacles continue to pose a significant challenge.
George, 48, never intended to spend most of his waking hours ferrying passengers about Los Angeles, but he found himself locked into the job after his work as an office services consultant and test car driver became less reliable.
He's far from alone. Only one-quarter of the 260 people who responded to the UCLA survey — which is just a small fraction of ride-hailing drivers in Los Angeles — expected driving to become their main source of income. But nearly half said the work was their only job, while two-thirds reported depending on it as their main source of income.
The study concluded that, at least in Los Angeles, ride-hailing services are "neither supplemental nor temporary."
And the job can be a grind. Drivers earn an average of $10.87 an hour nationally, after expenses and Medicare and Social Security taxes — less than the local minimum wage in some big cities, according to a separate study by the Economic Policy Institute.
The UCLA study added some texture to this picture. Nearly one in five respondents rely on public assistance, while almost half struggle to pay work-related expenses and feel like they aren't receiving all the money that they have earned. In addition, nearly one-third said they fear they will be deactivated if they receive bad reviews from disgruntled passengers or turn down ride requests.
George said he's been suspended twice for canceling rides, including on one occasion when he said an Uber rep admitted that the company had miscalculated his cancellation rate.
"You're dealing with these invisible hands," he said.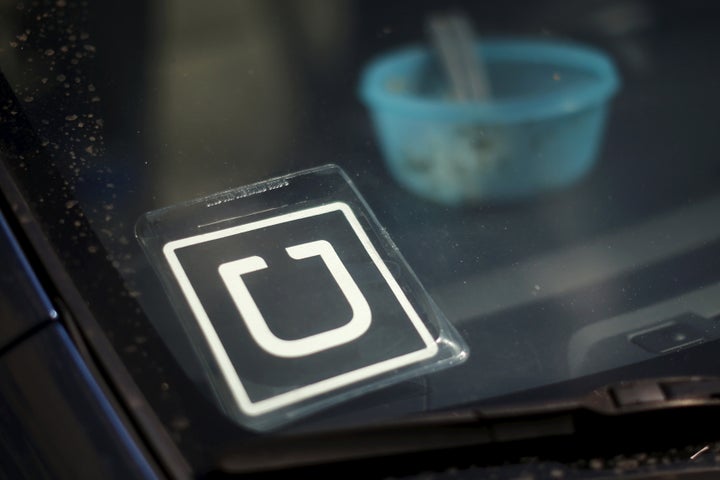 Saba Waheed, one of the researchers who worked on the report, said the freedom Uber and Lyft tout "is pushing up against all of the things you're losing in the process," including minimum wage protection, employer-provided health insurance and workers' compensation.
Almost all survey respondents said they want employee-type benefits, while more than half said they would like to be actual employees, rather than independent contractors.
An April California Supreme Court ruling that will make it more difficult for companies to classify workers as independent contractors raised the odds that these drivers will eventually get their wish. But George and some of his colleagues aren't waiting for that to happen, and have joined two recent protests over low wages at Los Angeles International Airport. Uber and Lyft have since increased fares, George said, but it's still hard to make ends meet.
The rallies were organized by the Rideshare Driver's Association, a group that has since gone dormant, in part, George said, because its leader is trying to start a ride-hailing company that pays drivers better.
George and some other drivers are now trying to pick up where the old group left off, reaching out to labor advocacy groups across the country for help, while cooking up ways to wring concessions from ride-hailing companies. Peppering officials and ride-hailing managers with complaints, sabotaging driver recruitment and even mounting a one-day strike are all on the table, he said. Among other demands, George wants a guaranteed minimum payment of $25 for airport pickups, a base rate of $15 for all other rides, and better ways to filter ride requests.
He also says Los Angeles should regulate the rates and work conditions ride-hailing companies impose on drivers, much like the city governs the taxi industry. Right now, ride-hailing companies are mostly regulated at the state level.
But building an effective pressure group will be an uphill battle. One reason is that labor law lacks a framework under which independent contractors can formally unionize.
In contrast to employees, the National Labor Relations Act doesn't protect independent contractors from retaliation for organizing or engaging in other "concerted activity," notes Rebecca Smith, director of work structures at the National Employment Law Project. Nor does it provide them with a way to form a bargaining unit with which an employer is required to negotiate, she said.
Treated as business owners, independent contractors also may be vulnerable to charges of price-fixing if they try to collectively negotiate a raise.
Drivers who are classified as independent contractors — typically the case with both cabs and ride-hailing drivers ― have adapted by forming groups that generally focus on pressuring local and state governments for regulation that improves working conditions for drivers, sometimes by staging protests or strikes.
The National Taxi Workers Alliance (NTWA), which has affiliates in New York City, Los Angeles, Philadelphia, Austin, Maryland's Montgomery County and San Francisco, has made inroads with this strategy.
NTWA secretary Biju Mathew considers the organization to be a union, even though it lacks formal union status. It was granted membership to the AFL-CIO, the American union federation, in 2015, according to NTWA's website. NTWA's goal, Mathew said, is to "put the the state into the middle and force the state to create conditions akin to collective bargaining."
For example, NTWA's New York City affiliate, which counts 5,000 ride-hailing drivers among its 18,000 members, has won higher rates for cab drivers, caps on their car-leasing fees and a "driver bill of rights" that has "effectively blocked a lot of avenues for wage theft in the industry," said Biju Mathew.
The New York City chapter is also fighting for regulation that would benefit its ride-hailing members, including a rate floor that would apply to all for-hire drivers (not just cab drivers), as well as a cap on the total number of for-hire vehicles.
NTWA's Los Angeles affiliate isn't recruiting ride-hailing drivers at the moment, but is "available as a resource anytime" and is open to teaming up with groups of ride-hailing drivers, Mathew said.
Another model that Uber and Lyft drivers across the country could push for is that of the Independent Drivers Guild, a New York City affiliate of the International Association of Machinists and Aerospace Workers union.
The guild has secured an appeals process for drivers who have been deactivated, along with meetings where members can discuss concerns with Uber management. IDG has also successfully pressured Uber to add a tipping option and is fighting for higher driver pay, said spokeswoman Moira Muntz.
Yet IDG has come under fire for receiving funding from Uber, as well as for making an agreement with the ride-hailing organization to refrain from unionizing members, from encouraging drivers to strike and from advocating for drivers to be classified as employees until at least 2021.
Members also reportedly can't bargain a contract that stipulates wages and benefits, although the IDG said in a statement that it is regularly "negotiating over wages." Ryan Price, the organization's executive director, added that the guild would seek a collective bargaining agreement if legislatures or courts decide that drivers are misclassified.
"Drivers are fired up about taking ride-hail companies to task to win fair pay and better working conditions and we see that enthusiasm in our large and quickly growing dues paying membership," Price said in a statement.
Though open to partnerships, George said he is leery of outsourcing representation to an established union. He's heard of cases where "they didn't really take up or support [ride-hailing] drivers' interests."
One chapter of the International Brotherhood of Teamsters, Local 986, doesn't appear to have to sustained a ride-hailing advocacy group in Southern California that affiliated with the union in 2014.
But another Teamsters affiliate that represents workers across Washington state, Local 117, has had more luck. It backs Seattle's App-Based Drivers Association, formed in 2014, and pioneered what has been seen as one of the most promising strategies for hard-pressed ride-hailing drivers: winning legislation that offers a way for them to formally unionize.
The Seattle ordinance would require employers to bargain with Local 117 if drivers voted in the union. But a federal appeals court recently ruled that the ordinance was subject to further legal challenges under antitrust law, marking the latest twist in a yearslong legal battle that has kept the ordinance from going into effect.
Still, the decision left open the possibility that Washington or other states, rather than municipalities, could grant collective bargaining rights to drivers, said NELP's Smith.
Leonard Smith, a strategist at Local 117 who helped build the App-Based Drivers Association, ticked off other challenges to organizing ride-hailing drivers: a glut of part-time workers, high turnover and anti-union propaganda from Uber and Lyft, among others.
Part-time drivers often have less skin in the game and may be more likely to worry that a union would threaten their scheduling flexibility. (While Smith said ride-hailing companies have pushed this narrative, he doubts unionized drivers would bargain away the ability to set their own hours.)
"The more part time you are, the less interested you'd be in organizing," added NTWA's Mathew. "For you, it's just coming out when you can."
The flow of part-timers in and out of the industry also helps explain why so many groups of ride-hailing drivers pop up and disappear within months. Mathew said he seems to meet with a new group every time he visits California.
Indeed, while the UCLA study exposes a rising desire to organize among ride-hailing drivers, it probably underestimates the prevalence of part-time drivers, according to Mathew, who served as a consultant for the study.
Lyft's Los Angeles general manager, Allen Narcisse, pointed to an in-house survey of 37,000 drivers across the country that found that 93 percent of its Los Angeles drivers clock less than 20 hours a week in a statement reacting to the UCLA study. That would suggest that part-timers represent a much larger share of the ride-hailing workforce than the UCLA study indicates. Uber declined to comment on the record.
Such discrepancies are common among studies of the gig economy. Part of the problem is that platform companies can be stingy with their internal data, forcing researchers to try to come up with their own estimates, said Katie Wells, a postdoctoral fellow at Georgetown University who is studying ride-hailing drivers in Washington, D.C.
The size of the gig economy overall remains hazy, with estimates ranging from well under 1 percent to nearly 40 percent of the workforce. A widely anticipated Bureau of Labor Statistics survey released on Thursday found that about 10 percent of the workforce engaged in alternative work arrangements in 2017. That's down from roughly 11 percent in 2005, calling into question the view that gig work has exploded in recent years. But the figure also only applies to a person's main or sole job, likely leaving out many who take on gig work part-time.
Much of the variation boils down to differing definitions of gig work, noted Louis Hyman, a labor professor at Cornell University. The highest estimates include all workers who perform some kind of nonstandard work, while the lowest only count people who work for online platforms like Uber or Lyft, he said.
Hyman is helping manage a new website, the Gig Economy Data Hub, that aims to bring clarity to research on the gig economy. The site is a partnership between The Aspen Institute and Cornell's School of Industrial and Labor Relations, and brings together reports from think tanks, companies, business lobbies, government departments and other sources.
"The idea was to, 'Well, let's just expose those disagreements, and let's expose those agreements as well,'" Hyman said.
Even for part-time workers in the gig economy, there could be interest in organizing to advocate for better treatment. Nicole, a Los Angeles part-time driver who asked only to use her first name, said she depends on income from Lyft to pay her mortgage.
"It's very hard. Something's gotta give," she said, adding that she's drawn inspiration from the UCLA study. "I think the only way we'll have a stronger voice is if we work together."
This story has been updated with information about and comment from the Independent Drivers Guild.
Related
Popular in the Community