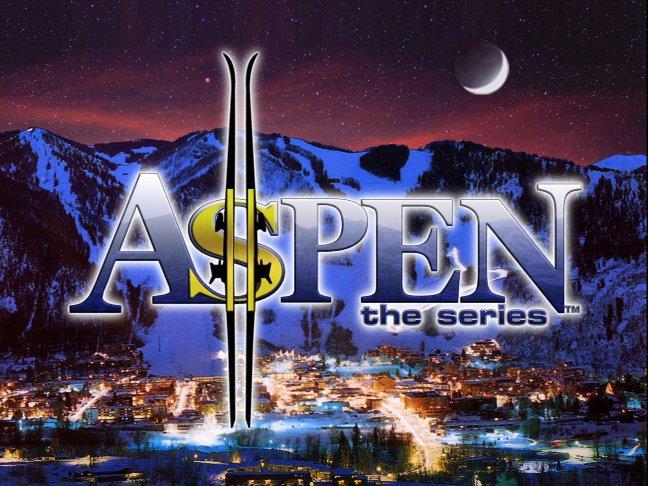 Logo: Animated for A$PEN the Series Show opening credits-GTS Productions
In full production, this hybrid independent scripted 30 minute Sit-com has been long awaited by SAG/AFTRA actors and Hollywood working unions who have been suffering from a non-stop influx of Reality Show programming. And what does Paris Hilton, Carmen Electra, Tracy Bingham, Playmates Cassandra Lynn, Tamara Whitmer, Tina Gordon and Alpine Ski Champ Bode Miller, have to do with it? Stay tuned.
Recently I was invited to a private (dailies) screening of a new 30 minute situation comedy at the Los Angeles residence of it's executive producer Gregory T. Simmons of GTS Productions. The content was just shot over a three or 4 week shooting schedule and there were others in the room directly involved with the production. So with a cocktail in hand and some scattered appetizers I sat back and settled in. Within seconds music filled the room, and a huge animated graphic show-logo appeared on the screen morphing into a pair of snow ski's, a huge dollar sign, a mountain winter resort and a zipper unzipping. The R&B rappish music, the graphics and the continuing opening credits infused extreme sports, hot scantily clad snow bunnies, visions of wealth and power, unzipping sexuality, and recognizable celebrities playing themselves -- all coming at me at once. And this was just the opening credits. I was hooked. Welcome to A$PEN the Series.
A$PEN the Series is in fact the full title. The dollar sign in the word Aspen is not a typo. The show logo and title, spelled with the dollar sign, is a registered trademark. www.aspentheseries.com
A fun and comically witty TV series set in Aspen, America's winter playground for the rich and famous, has been developing in the mind of it's creator Greg Simmons for a number of years. He has residency in both Los Angeles and Aspen, a community he has grown in for many years. Simmons knows the time is right to portray Aspen as a setting for the shenanigans of really cool young and beautiful people within another socio-economic environment which are mainly- wealthy spoiled brats who play hard, have huge bank accounts and deal with trust fund babies within their midst. He is one of them. You can see him driving around in his A$PENized Black Hummer both in Aspen and in Los Angeles. Simmons is an experienced Aspen man who knows the town both politically and for it's environmental beauty. Simmons is not quite sure that any TV production about Aspen will be pleasing to it's full timers. Most anyone who is anybody in celebrityville in Los Angeles has a home in Aspen-owned or leased. For decades Aspen is where they come to party in the winter. There is no shortage of private clubs, restaurant bars, spas, boutiques and ski resorts in Aspen Colorado. It is a town that Simmons feels the TV viewing demographic for his show, 18 to 34, will hook on to once they see it. So what's it all about Alfie?
A$PEN, The Series is written to follow Walter Montgomery, a 40 year old guy who made his fortune creating an energy drink with his family's cranberry business then lost it all, and seven other characters as they live together in a mansion on Red Mountain in Aspen. Walter's super model girlfriend decides to give him a reality series for his 40th birthday gift in an attempt to rebound Walter's career. The eccentric characters ranging from his sexy Internet entrepreneur niece, Macy, to Madison, a movie star just out of rehab, to Ducky, the trust fund baby and party guy, combined with the beautiful scenes of Aspen, make this show intriguing and captivating, leaving you wanting more.
Although the talented cast are not big TV stars, this ensemble was cast in a painstaking audition process seeking, the right Aspen look, comedic timing, and even comedy club performance experience. You will recognize some of them from other shows and motion pictures but not their names. Pat Finn (It's Complicated) stars as lead main character Walter Montgomery, the retired billionaire cranberry king. Heidi Mueller (Passions) as January Beck super-model, Bodhi Elfman (Mercuring Rising and spouse of actress Jenna Elfman) plays actor Lenny Markowitz, Amelia Rose Blaire plays young internet porn vixen Macy Hartman, Erin Cahill (Power Rangers) plays Madison Hartman the rehab Oscar winning movie star, Bruce Nozick (Tuesdays with Morrie) plays the Hollywood agent, Bill Dawes (Sex and the City) actor/stand up comedian, plays the trust fund baby Donald "Ducky" Livingston III, and Kalani Queupo (Bones), plays James the hot young ski instructor.
The writers for A$PEN, The Series are headed up by Lawrence H. Levy, WGA Award winning, two-time Emmy nominated Seinfeld writer, Stanley Wilson, Juilliard graduate and producer of Kelsey Grammer's Down Periscope, David Garber, writer and supervising producer for Saved by the Bell and David Litt writer for King of Queens. They are backed up with input from at least 5 other WGA pros who form a creative script writing pool not seen in a long time. Levy's writing credits reads like a who's who in television comedy. Besides Seinfeld and Roseanne there is Who's the Boss, Facts of Life and one hour shows like Aron Spelling's Seventh Heaven and Savannah. He is a seasoned treasure with the written word in Hollywood. Levy says:
My main bent is comedy. I like to find the humor in even serious situations; because life isn't simple, and humorous moments happen in the most tragic instances.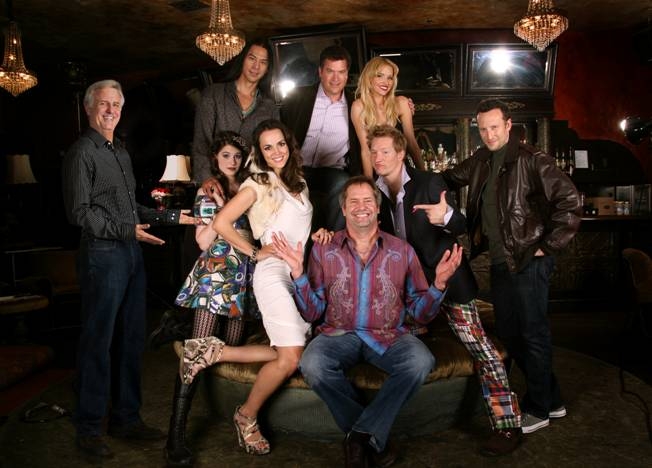 Photo: GTS Productions
A$PEN the Series Cast Photo: Left to Right: Standing- Larry Levy-writer, Front Row left to right: Amelia Rose Blaire, Erin Cahill, Greg T.Simmons-Producer (seated), Bill Dawes, Bodhi Elfman. Back Row: Kalani Queupo, Pat Finn, Heidi Mueller
Greg Simmons created A$PEN the Series, because of his obsession with comedy and because of what he learned as a patron of the HBO U.S. Comedy Arts Festival in Aspen over the last decade. Simmons saw the connection of a happy beautiful resort with a successful comedy festival and the hundreds of comedians he has met and nurtured over the decade. It was time to capture this in his own TV sit-com Hollywood style. This show would be the real deal. He then brought in the pros, including entertainment lawyers, writers, comedians, marketing pros, casting agents, viral marketing experts and most importantly- demographic marketing pollsters including a major well known national TV ratings company.
Simmons has been running marketing tests, using questionnaires, trailer screenings, and comedian seminars for feedback. An insider on the A$PEN team says,
In all my years in TV series development I have never seen a producer test the demographic (18 to 34) as does Greg Simmons. He wants to make sure the networks that are interested will know that the market demand is right on target with this show.
As a matter of fact, the night I was invited to the pilot screening there was a questionnaire on each seat asking the opinions on everything from the photography, lighting, castings, materials, costumes, extreme sports and even the nudity and it's various degrees of acceptance. On that note, readers should know there are tons of sexuality, sexual innuendo, sexual tension, and sexual humor throughout. In other words, normal sit-com programming especially made to compete with the sexual themes in reality programming.
Simmons is constantly tweaking the pilot to make it faster, funnier and unforgettable. Oscar nominated and Emmy nominated actors and screenwriting team Renee Taylor( The Nanny) and her husband Joe Bologna (Lovers & Other Strangers) say,
"It's 20 minutes of comedy uninterrupted with 10 minutes of commercials. That's a lot of pressure."
Both have shown interest in guest starring on A$PEN the Series as well as Aspen resident actor George Hamilton. His girlfriend and mother to his ten year old son, actress Kimberly Blackford, is a regular at Aspen and is hoping to audition for a part on the show as well.
The Director for the pilot was Rick Baren (The New Adventures of Old Christine).
As I watched the pilot at the private screening, I saw images of sexy young celebrities who play themselves shown in the opening credits. Although these celebrity beauties do not star in the show, their images playing in Aspen are licensed to the show for the on-line episode versions. They include a very obvious scantily clad Paris Hilton, and others including Carmen Electra, Tracy Bingham, Gisele, playmates Cassandra Lynn, Tamara Whitmer, and Tina Gordon. Also shown are Carrie Stroupe (Ms. America & Teen USA). Ashley Smith (Ms. Hooters International & Ms. Hawaiian Tropics International) as well as a hot Bode Miller, Olympic and World Champion gold medalist and two-time overall World Cup champion in 2005 and 2008. He is generally considered the greatest American alpine skier of all time. There are images of many of the hot shot skiers and snowboarders. Part of the attraction to this show is the exterior scenes shot on location including images of extreme sports skiing and snowboarding at one of the planets greatest ski resorts. Producer Greg Simmons states,
This is not a reality show. On the contrary. It's a scripted sitcom about not only creating and living in a reality show, but also about life and living the Aspen high lifestyle. Our story line has the girlfriend super model January Beck giving Walter the multi-millionaire his own reality show for his 40th birthday. Our marketing feed back has shown that if anyone is a fan of shows like Entourage, Sex and the City, or Californication, then they will love A$PEN the Series.
On that note, this writer would like to declare that I really despise reality shows and how it is decimating the careers of actors and TV episodic scripted dramas and comedies. The news this week that even the Discovery Channel has taken a new low buy green-lighting two knock-off reality shows from Survivor creator Mark Burnett, set in real prisons, is startling -- Talent Behind Bars and Dancing Behind Bars. Are they serious? Sadly yes.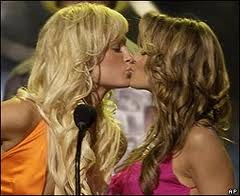 Photo: AP
Paris Hilton and Carmen Electra, a huge appeal to the 18 to 34 age fan base, appear in the A$PEN the Series Show Credits Opening
The music score for A$PEN the Series is original and quite honestly, terrific. CJ Vanston who scored the show says,
We wanted show theme music to be cutting edge , however we also wanted it to tell a story like the show themes of the classic sitcoms that actually tell a story.
Shows like the Beverly Hillbillies, Gilligans Island or The Nanny come to mind.
For A$PEN, I wanted something like a combination of the Black Eyed Peas meets Green Acres.
Music and dancing combined is not that common in today's sit-coms. While watching the final scenes of the A$PEN series, I suddenly see the actors begin singing and dancing with pro-dancers that were seen first as extras in the night club setting. This writer loves hot dancers and rock'in music and the combination here was more than cool. The same for the hot bodies of Paris Hilton, Carmen Electra and the other stars mentioned in the cameos in the shows opening credits.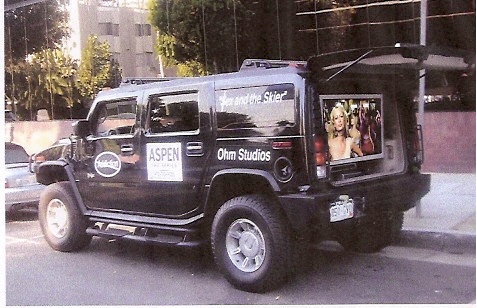 Photo: GTS Productions
The A$PEN the Series House Hummer shown here with digital screens during production
The Annual Television Critic's Association (TCA) expo to Los Angeles is just winding down with their month long press junkets financed by the networks. Their 26th Annual TCA Awards was a big success. I was able to meet and socialize with a few of the TV critics. The Hollywood Reporter promoted their special TCA issue with these words.
" We'll take a look this year (and next) at what it takes to make these (TV)critics and journalists giggle, chuckle, laugh and - yes, sometimes shed a tear."
I would have to state that when A$PEN the Series gets it's schedule next year, it will most definitely have what it takes.

Popular in the Community