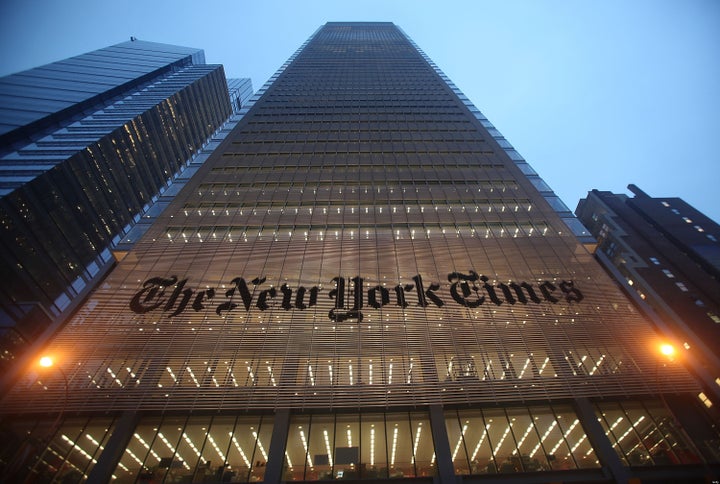 NEW YORK -- New York Times staffers in the editorial and news departments have been working for several months to reinvent the paper's "Week in Review" section, a Sunday staple for more than 75 years. And so far, the Times has kept a tight lid on what readers should expect, including when the new section will launch and if its name will remain the same.
But The Huffington Post has now learned that the Times plans to launch its revamped weekly section next month and is even considering renaming it the "Sunday Review."
Major weekly news magazines have increasingly tried to move away from the perception that they simply summarize the previous week's news -- a model that looks out of step with today's 24/7 news cycle. Similarly, the Times is striving to create a Sunday section that's seen as looking forward, not backward.
Editorial page editor Andy Rosenthal declined to comment on upcoming changes but, in conversations with Times staffers, some details have emerged beyond the possible name change.
Star columnists like Nicholas Kristof and Maureen Dowd will soon have the opportunity to write long-form pieces jumping off the front page of the relaunched section. (Most weeks, the columnists will continue writing standard 800-word opinion pieces.)
That marks a significant departure from the long-running "Week in Review" model, whereby Times reporters and editors penned analytical, non-opinion pieces in the front of the section and Times columnists and outside op-ed writers filled up the back pages.
Presumably, columnist Tom Friedman and reporter John Burns could have pieces on the Middle East side-by-side on the front page of the redesigned section. While longtime Sunday subscribers may clearly know which is opinion and which is analysis, casual Times readers might not see the distinction.
The "Week in Review" has traditionally included work from both the news and editorial section of the paper. Such collaboration has continued over the past few months, with staffers from each side hashing out ideas at meetings. But with an uptick of opinion in the section, it's clear the editorial side will exert more control. Indeed, op-ed editor Trish Hall is heading up the project and reports to Rosenthal.
Times watchers see the new section as an opportunity for Rosenthal to assume a bigger role within the paper. Rosenthal, a favorite of Times publisher Arthur Sulzberger Jr., is on the shortlist -- along with managing editor Jill Abramson and Washington bureau chief Dean Baquet -– to succeed executive editor Bill Keller when he hits mandatory retirement age in about three years.
(In related Times Kremlinology: Observers wonder how Rosenthal's opinion section will stack up against Bloomberg View, the forthcoming Bloomberg News opinion page helmed by Rosenthal's ex-deputy David Shipley and featuring two Times editorial alums.)
In a February memo to staff, Keller and Rosenthal noted that the revamped "Week in Review" project is being "done in parallel with, and in some sense as part of, a big expansion of online Opinion."
Times staffers expect Virginia Heffernan and Mark Bittman -- two newish members of the opinion stable who primarily write online -- to contribute more to the Sunday section. Bringing in Heffernan and Bittman, who write about pop culture/Internet and food policy respectively, would shake up a section in which regular columnists focus more on politics, foreign affairs and economics.
But that's not the only way opinion pages in the new Sunday section might look a bit different. In recent months, staffers have engaged in more philosophical discussions about opinion's role, pondering the idea of featuring point-of-view journalism from outside contributors. Should the redesign include New Republic-style pieces that often fuse traditional reporting with opinion?
That question, along with several others -- such whether or not to keep running syndicated cartoons in the section -- remain up in the air as editors continue tinkering before next month's launch.
Related
Popular in the Community