 WASHINGTON -- The polling trends of the last week, both nationally and in South Carolina, indicate that the race for the Republican presidential nomination has taken another dramatic shift. At face value, these trends suggest that Newt Gingrich has moved into the lead in South Carolina and now stands a good chance of winning the state's primary on Saturday.
But now may be a good time to consider the limitations of the polls themselves. Voters in South Carolina are making up their minds in the aftermath of events that a report published on the front page of the state's largest newspaper described as analogous to "a plugged-in toaster ... dropped into what had been the relatively placid waters of the South Carolina presidential primary."
Unforeseen late events can shape voter preferences in unexpected ways. Telephone polls interrupt voters in the middle of other activities and ask them to make a decision as if "the election were held today." But many real voters are still mulling their choices, particularly in the rush of recent events, so caution is in order in interpreting the latest poll results.
Nationally, the Gallup Daily tracking poll released on Friday shows another narrowing of the margin between Mitt Romney and Newt Gingrich. What had been a 23-point Romney lead over Gingrich on Sunday has dropped to just 10 percentage points (30 to 20 percent), prompting Gallup's Frank Newport to note that "clearly things are collapsing" for Romney nationwide.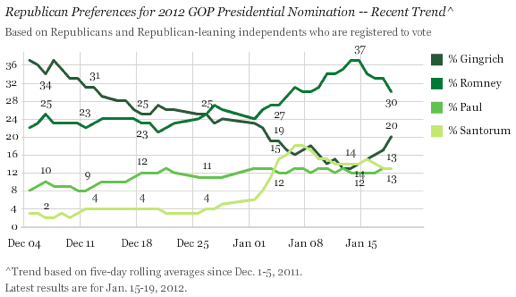 In South Carolina, six of the seven most recent surveys conducted this week now show Gingrich running slightly ahead of Romney. The just-released Clemson University Palmetto Poll, conducted on Wednesday and Thursday nights, shows Gingrich leading Romney by a 32 to 26 percent margin, with Ron Paul and Rick Santorum running far behind (at 11 percent and 9 percent, respectively).
The HuffPost Pollster chart, based on all available public polls, shows a 13 percentage point jump for Gingrich in the last week. He now runs ahead of Romney by nearly five points (33.9 to 29.0 percent), followed by Paul running a distant third (at 13.9 percent).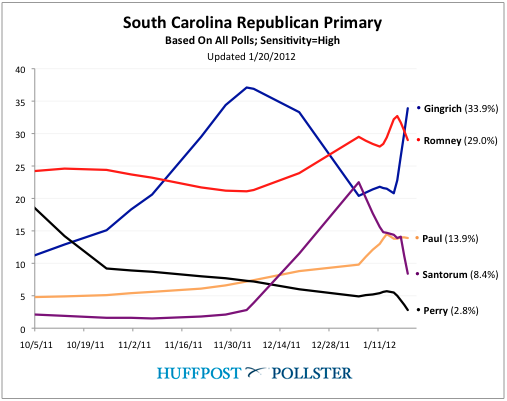 The chart also shows support for Santorum plummeting about as much as support for Gingrich has increased, from a high of more than 22 percent just after the Iowa caucuses to just 8.4 percent now.
Can we take these numbers at face value? The history of polling in the last presidential election suggests some caution. Most who follow politics will remember the similarly strong trend favoring Barack Obama in the week before the 2008 New Hampshire primary. The polls got Obama's vote about right, but underestimated the vote for Hillary Clinton, winner of that primary, by an average of roughly eight percentage points.
Most now assume, with good reason, that Gingrich's recent momentum will carry through to voting on Saturday, especially if support for Santorum continues to fade. The latest Public Policy Polling (PPP) survey found, for example, that Santorum supporters choose Gingrich more often than Romney as their second choice (40 to 24 percent).
But the ongoing volatility in evidence in polling throughout the 2012 Republican contest should warn us that quick shifts are still possible. That unprecedented volatility has a fairly clear explanation: Though most Republican voters have long perceived Mitt Romney as their most viable general election candidate, a significant share of conservative Republicans have been searching for a more conservative alternative.
The challenge for Romney has not been hard-core opposition or an imaginary "25 percent ceiling." Most Republicans rate Romney favorably and most would readily support him against Obama. Results from this week's Politico/Tarrance Group survey illustrate the attitudes that Romney confronts: Only 10 percent of South Carolina's likely primary voters choose him as the most conservative candidate, yet two-thirds (69 percent) rate him favorably. While Romney's support lags far behind his favorable rating, only 6 percent of South Carolina Republicans say they could never support him for president.
The numbers have bounced around because conservative Republicans have failed to coalesce for long around a viable alternative. The reason conservative candidates like Michele Bachmann, Rick Perry, Herman Cain, Rick Santorum and Newt Gingrich have surged and declined in the polls (and in the case of Gingrich, surged again) is that the same Republicans have also found significant flaws in each.
The wild swings of the last week suggest that the uncertainty may remain unresolved.
And all of that brings us to Thursday, which The Huffington Post's Jon Ward described as "the most eventful day of the Republican primary season." It featured Rick Perry withdrawing from the race and endorsing Gingrich, Gingrich's former wife Marianne Gingrich taking to the airwaves to accuse the former speaker of seeking an "open marriage" to allow him to keep a mistress, and a nationally televised debate featuring some of the most raucous sparring yet among the candidates.
So while the recent surge in support for Gingrich is undeniable, the events of the last 24 hours have the potential to produce new and unexpected changes in voter preferences. There is some precedent for such shifts, including the events just prior to New Hampshire's 2008 Democratic presidential primary and a special congressional election in 2009 in New York's 23rd Congressional District.
The last 72 hours before the New York congressional election featured the withdrawal from the race of the Republican candidate, Dede Scozzafava, followed by her endorsement of the Democrat, Bill Owens. Three polls conducted on the eve of voting all showed Tea Party candidate Doug Hoffman surging ahead, with leads ranging from 5 to 17 percentage points. Yet, when the votes were counted, Democrat Owen had defeated Hoffman by a narrow margin.
The reasons for the polling snafu in that race remain murky, and a special congressional election is far from analogous to a presidential primary. Yet the central lesson of that race for those who follow polls is worth remembering: When something truly unprecedented occurs on the eve of an election, expect the unexpected.

Popular in the Community