Former U.S. Ambassador to the United Nations Nikki Haley wrote in her new memoir that two top White House aides tried to get her to undermine President Donald Trump to "save the country," The Washington Post reported Sunday.
In an interview with the Post, which obtained an advance copy of her book ahead of its Tuesday release, Haley said she was "shocked" when then-White House Chief of Staff John Kelly and then-Secretary of State Rex Tillerson told her about their efforts.
"Kelly and Tillerson confided in me that when they resisted the president, they weren't being insubordinate, they were trying to save the country," Haley reportedly wrote. "It was their decisions, not the president's, that were in the best interests of America, they said."
In her book, titled "With All Due Respect," Haley also says that Tillerson warned her that people would die if Trump was unchecked, according to the Post.
Haley disagreed, and writes that she believed administration officials had an obligation to carry out Trump's agenda since he was elected. She felt Kelly and Tillerson should quit if they strongly disagreed with the president.
Trump fired Tillerson, the former chairman and CEO of ExxonMobil, via tweet in March 2018. Kelly, a retired U.S. Marine Corps general, resigned as Trump's chief of staff in January.
Tillerson has declined to comment on Haley's allegations. Kelly told the Post that he's "guilty as charged" if "working against Trump" means providing the president with the "best and most open, legal and ethical staffing advice from across the [government] so he could make an informed decision."
The White House did not immediately respond to HuffPost's request for comment.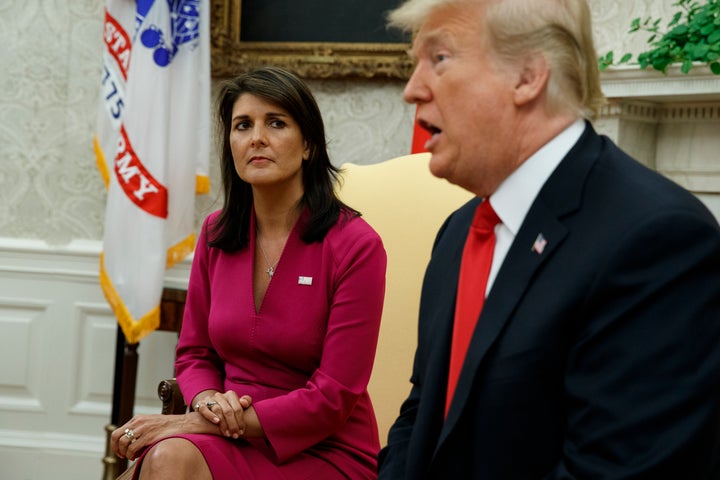 Trump announced his intentions to nominate Haley, a Republican and the former governor of South Carolina, to serve as the U.S. ambassador to the United Nations shortly after his election victory in 2016. She was sworn into office in January 2017 and resigned in December 2018.
Haley was critical of Trump during the election but was considered one of his most loyal administration officials. She is widely viewed by Republicans as a top presidential contender for 2024.
Asked about the ongoing House impeachment inquiry into Trump, Haley told the Post that she opposes the president's efforts to get Ukraine to launch political investigations, but said she doesn't believe his actions are impeachable.
"There was no heavy demand insisting that something had to happen," Haley said of Trump's requests for Ukrainian President Volodymyr Zelensky to commit to launching an investigation into former Vice President Joe Biden.
"It's hard for me to understand where the whole impeachment situation is coming from, because what everybody's up in arms about didn't happen," she continued.
Several current and former State Department officials have testified before House investigators that Trump used military aid and an invitation to the White House as leverage in his campaign to pressure Ukraine to probe Biden.
Trump released the aid only after Republicans pressured him to do so and a whistleblower filed a complaint alleging the president engaged in a quid pro quo with Ukraine. But Haley appeared to shrug off Trump's actions in her interview with the Post.
"Do I think it's not good practice to talk to foreign governments about investigating Americans? Yes. Do I think the president did something that warrants impeachment? No, because the aid flowed," she said. "And, in turn, the Ukrainians didn't follow up with the investigation."
Support HuffPost
The Stakes Have Never Been Higher
Popular in the Community