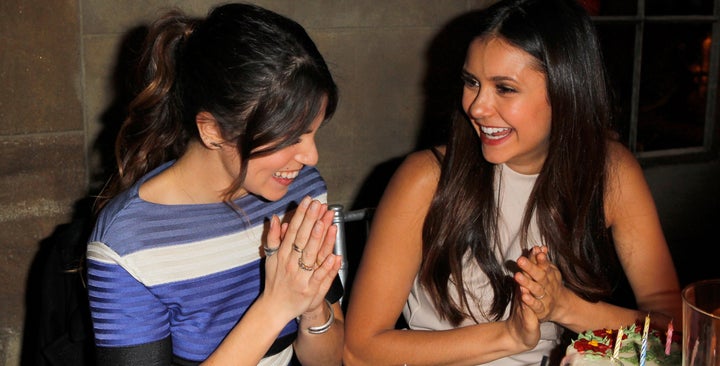 Well, Reed and Dobrev refuse to stay silent any longer. Reed, who married Somerhalder in April 2015, shared a powerful Instagram post Tuesday, taking aim at the "low-brow websites" and magazines that have perpetuated rumors about her supposed feud with Dobrev.
"For the last few years we thought addressing any baseless rumors with silence was the best way," Reed captioned a photo of Dobrev, Somerhalder and herself. "I now see that silence was taken as an opportunity to fill in the blanks with even more falsities, and juicer stories, and we, yes WE, believe we have a moral responsibility to young girls to end that narrative, because at the end of all of this, those young girls are the ones who lose."
Reed added that the dramatic headlines only promoted girl-on-girl hate to young, impressionable women.
"So here's to putting an end to all those fake stories of on set jealousy, betrayal, made-up-friendships lost & women hating women," Reed continued. "Because at the end of the day, that's what this is about: teaching girls that you have to hate other girls only breeds a generation of women who believe you have to hate other women."
Reed concluded her note ― which you can read in full on Instagram ― with a plea to stop spreading such damaging lies. Reed asked her followers to "shift what we put into the universe."
"Hopefully we will start to see a shift in the way we treat each other & view ourselves," Reed wrote.
Reed's husband was fully on board with the message, sharing his own photo on Instagram and applauding Reed and Dobrev's newfound friendship.
"After years of websites pretending these two badass ladies knew each other well and baseless, false information of back stabbing and hatred from low-brow websites filled the minds and hearts of fans...They finally were able to get together for their first real dinner," Somerhalder wrote. "Only love here- always has been always will be."
Dobrev had just one thing to add: "All ❤."