Though a new abortion-related bill introduced in the North Carolina State House is ostensibly meant to protect patient safety, one of the bill's co-sponsors said that a positive byproduct of the restrictions would be "a few more little taxpayers born."
WRAL reported Wednesday that House Bill 465 would triple the state's 24-hour waiting period for abortions to 72 hours and prohibit doctors at the medical schools of the University of North Carolina at Chapel Hill or East Carolina University from performing the procedure. A third provision would require that any physician performing an abortion be an obstetrician or gynecologist.
Republican state Rep. Pat McElraft pushed back on the idea that her fellow legislators would rather focus on less-divisive legislation.
"We are multi-taskers here in the General Assembly," McElraft said, according to WRAL. "I am absolutely an advocate for jobs, but we can do lots of the things. And actually, when we can have a few more little taxpayers born, why not?"
In a seemingly contradictory defense of the legislation, McElraft said both that the bill was meant to reduce the number of abortion procedures performed and that it wasn't an attempt to restrict the right to the procedure.
"There's no effort here to try to restrict a woman's right to have an abortion," she said. "What we're trying to do is make her care competent."
McElraft said she would prefer providers learn how to perform the procedure via "other options," rather than in university hospitals, arguing that taxpayers didn't want public funds to be used toward the training.
"There are opportunities for doctors to learn this," McElraft said, according to WRAL. "Abortion physicians learn from all kinds of training -- spontaneous abortions or miscarriages. Sometimes, you learn how to act in an emergency situation."
McElraft did not immediately respond to a request for comment from The Huffington Post to further explain aspects of the legislation.
Melissa Reed, a vice president of public policy for Planned Parenthood, called the extended waiting period an "arbitrary delay on a time sensitive procedure," and said the obstetrician/gynecologist requirement ignores "the rigorous training doctors currently undergo for an outpatient procedure," according to The News & Observer.
"In reality, these bills have nothing to do with patient safety and are just attempts by politicians to insert their own political agendas into medical care," Reed told Indyweek.
Three states -- Missouri, Utah and South Dakota -- mandate a 72-hour waiting period before the procedure. The most common duration of a waiting period is 24 hours, like North Carolina's requirement, according to the Guttmacher Institute. The bill in the North Carolina state House would not require two separate trips to the clinic, as other states do, allowing for patients to have the first conversation over the phone.
North Carolina Gov. Pat McCrory (R) campaigned on a pledge to not further restrict access to abortions before he was elected in 2012, but that promise has been tested by the Republican-controlled legislature, which passed a separate set of abortion-related regulations the next year.
The state is currently defending a 2011 law -- passed via an override of former Democratic Gov. Bev Perdue's veto -- that would require providers to perform an ultrasound, display the image and describe the fetus before the abortion can be performed. The Fourth Circuit Court of Appeals struck the law down in December, but the state is asking the Supreme Court to review that decision.
Before You Go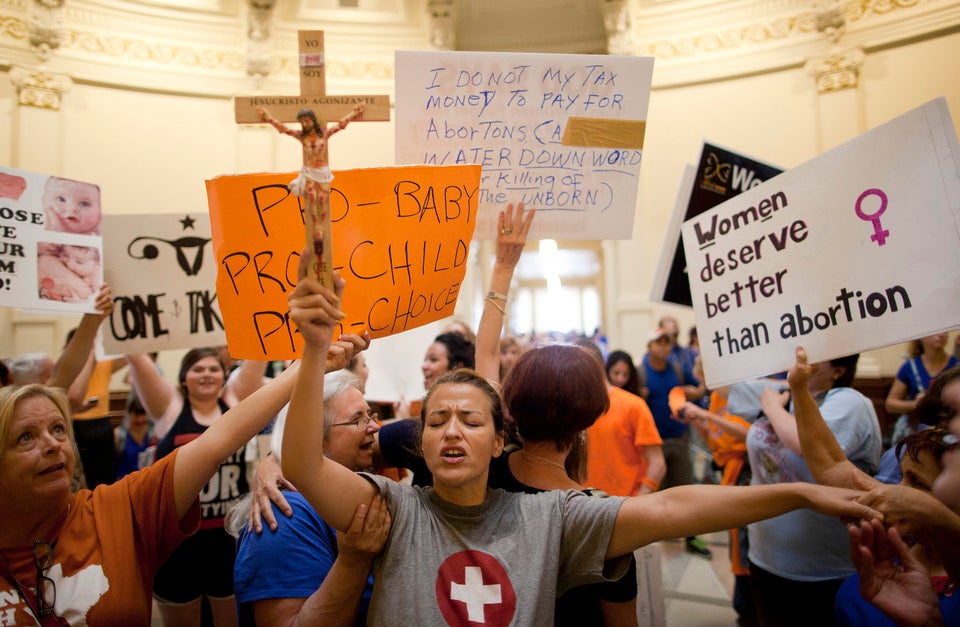 Abortion Protests Around The Nation
Popular in the Community