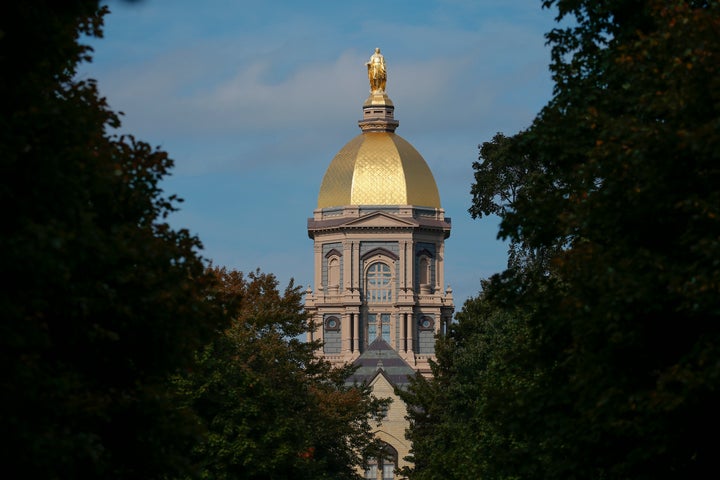 Less than a month after the Trump administration rolled back an Obama-era rule guaranteeing contraceptive coverage at no cost to women, the University of Notre Dame has announced its plans to stop covering birth control for all of its students and employees.
The Catholic university is one of the first high-profile employers to take advantage of the rule change, which allows any company claiming to have religious or moral objections to refuse to offer contraceptive coverage in its health insurance plans.
Previously, Notre Dame provided contraceptive coverage through a third-party service, an "accommodation" the Affordable Care Act made available to nonprofit religious groups. The university did not actually have to arrange — or pay for — contraceptive coverage for students and faculty, but nonetheless made it available to women enrolled in its health insurance plans at no cost to them. Notre Dame was one of several religious groups that sued to try to get out of the federal mandate. 
By way of explanation, an email to Aetna student health plan enrollees said the school "honors the moral teachings of the Catholic Church." A second email to faculty and staff explained that the medical plan will continue to allow prescriptions for birth control for "medical necessity," as demonstrated by a doctor.
A spokesperson for the university shared the emails with HuffPost, but declined to comment further.
Students say Notre Dame has made it challenging to get birth control in other ways. The Walgreens-managed pharmacy on campus does not provide birth control unless students demonstrated a medical need outside of pregnancy prevention, even for students who do not have insurance through the university.
"I use the campus pharmacy to refill prescriptions and when I first got here, I didn't know [I could only get a refill] if I had a doctor's note," Emily Garrett, 21, a senior from New York, told HuffPost. "I was very surprised. I was raised in a Catholic household, but I never knew that the policies at Notre Dame were so restrictive of women's health care."
The university's decision to drop birth control coverage has been harshly criticized by reproductive health organizations like Planned Parenthood. On Tuesday, the National Women's Law Center filed a complaint against the Trump administration's interim final rules on behalf of five women in Indiana, including three University of Notre Dame students.
"The idea here is that your employer can tell you how to use your insurance plan ... it's not really that different from them telling you how to use your salary," Adam Sonfield, senior policy manager with the reproductive health policy and advocacy organization Guttmacher Institute, told HuffPost. "For employers and employees, this is an earned benefit. And your employer should have no say." 
Sonfield said health policy experts would be watching with great interest to see how many employers would take advantage of the new exemption, which should start to become clear this month. October is when many organizations offer open insurance enrollment for next year's employer-based health care plans.
On the University of Notre Dame campus, the mood is mixed, students say. There has been some organized pushback. After the Trump administration changes were announced, graduate students organized a demonstration on campus they called the "March for Reproductive Freedom."
But senior Molly Burton, 21, told HuffPost that she worries some students are being complacent about the changes because they are on private insurance plans through their parents. Others, she said, are not surprised by the decision given the university has fought against the Obamacare mandate for years. 
Burton said that she loves Notre Dame and is proud to be a Notre Dame student, but she is upset with what she sees as unnecessary meddling in women's health.
"I think people are frustrated," she said, "with this continued attempt at denying us basic health care."
Calling all HuffPost superfans!
Sign up for membership to become a founding member and help shape HuffPost's next chapter
BEFORE YOU GO