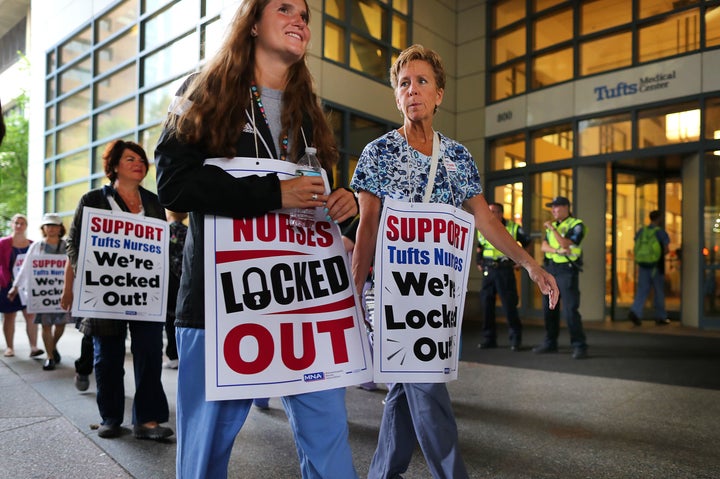 About 10 years ago, Elizabeth Scala was a young RN, working on a psychiatric floor of a busy Maryland hospital. She'd been in the role for two or three years, and she'd risen to a position of authority, coordinating her colleagues' activities as a charge nurse on the unit. From the outside, it looked like she had everything together, but inside she was so stressed out she was nearly falling apart.
"It was like Jekyll and Hyde," Scala said.
When she got off work, she said, she would go home and pick vicious fights with her boyfriend. She wasn't sleeping or eating well. She was constantly furious with her co-workers and supervisors. She remembers throwing a temper tantrum one night, flailing around on her bed like a 4-year-old.
Then the situation began affecting her ability to do her job.
"Eventually I just started to really resent going into work — dreaded going in — and actually didn't want to talk much with the patients," she said.
Scala finally left the job, shifting to a career in which she could use her nursing skills in administrative and research. She also wrote Stop Nurse Burnout, a guidebook for nurses who feel like she once did.
And that's a lot of nurses. A survey earlier this year by travel nursing company RNnetwork found that almost half of the nurses they asked were considering leaving the profession. About a quarter said they felt overworked, 46 percent said their workloads had risen and 41 percent said they'd been harassed or bullied by managers or administrators. Making matters worse, with the aging of the baby boom generation, demand for health care is rising at the same time that large numbers of experienced nurses are retiring. That could lead to the worst nursing shortage in generations within the next decade.
"It is absolutely concerning, given that we currently don't have enough nurses in the workforce," said Seun Ross, a former intensive-care nurse who is now director of nursing practice and work environment at the American Nurses Association, the nation's largest professional organization for registered nurses.
Ross said the problem of burnout goes beyond the issue of nurses leaving their jobs. By definition, nurses who are burned out have gone beyond stressed to the point where they can no longer function well at work.
"Nurse burnout really means that a nurse is now disengaged from her work, which is completely different from being stressed out," she said. "A burnt-out nurse doesn't care. She's cynical. She's irritable. She's angry. She's running out of the hospital before the end of her shift."
Ross said there are ways for hospitals and other health care facilities to address burnout, including making sure they have enough staff and adequate equipment, that there are supportive policies to help everyone work together smoothly and that nurses have a voice in decision-making processes. But, she said, in the face of nurse shortages, many hospitals instead put their money into signing bonuses, sometimes spending as much as $30,000 to lure a nurse from a neighboring facility.
Gerard Brogan, lead nursing practice representative at National Nurses United, a labor union representing RNs, said he's seen enormous change in how the industry addresses nurses' and patients' needs since the late 1980s, when he was a nurse at the University of California, San Francisco Medical Center.
"Prior to the '90s, the nurse-patient ratios were very good," Brogan said. "Yet today we find the UC System is emulating the for-profit system. It is seen as the thing to do — you must run a hospital now as a profit-making center."
In his job teaching classes for nurses around the country, Brogan said, he hears about stress and burnout all the time. He said one particular source of stress is the fact that nurses are responsible to their state boards of nursing if they make an error, but they often don't have the time and flexibility to make sure they're as careful as they need to be.
"Without exaggeration, when I'm in certain states, we have nurses weeping in those classes," he said.
As a national union and through its state affiliates, including the powerful California Nurses Association, NNU pushes for mandated nurse-staffing ratios, which ensure that each nurse has a limit on the number of patients he or she is responsible for. In some cases, nurses in a particular hospital negotiate the ratios in their contracts, while other times the union pushes for state legislation.
The union credits a strong staffing ratio law implemented in California in 2004 with bringing nurses who had left the profession back and with enticing nurses to move from other states. The typical turnover rate for RN jobs in California was 3.2 percent in 2015, compared with 8.8 percent in New York, 16.2 percent in Florida and 21.9 percent in Texas in comparable years, according to an analysis by the Texas Center for Nursing Workforce Studies.
NNU is also an outspoken advocate for single-payer health care, which it argues would remove the short-term financial incentives that drive hospitals' cost-cutting and, ultimately, nurse burnout. Brogan acknowledged that changing the health care system isn't a magic bullet. After all, burnout is also a serious problem in the government-funded British health care system. But he noted that the British system has been under pressure from austerity politics for generations and now spends only about 10 percent of its gross domestic product on health care, compared with more than 17 percent in the U.S.
NNU envisions a system that would shift incentives so that hospitals would spend more to increase staffing, reduce stress and give nurses more control over their work lives, Brogan said.
"Having a more humane system, that's the path to more providers enticing more RNs into the field and ensuring that they will stay there."
Support HuffPost
A No-B.S. Guide To Life
Popular in the Community