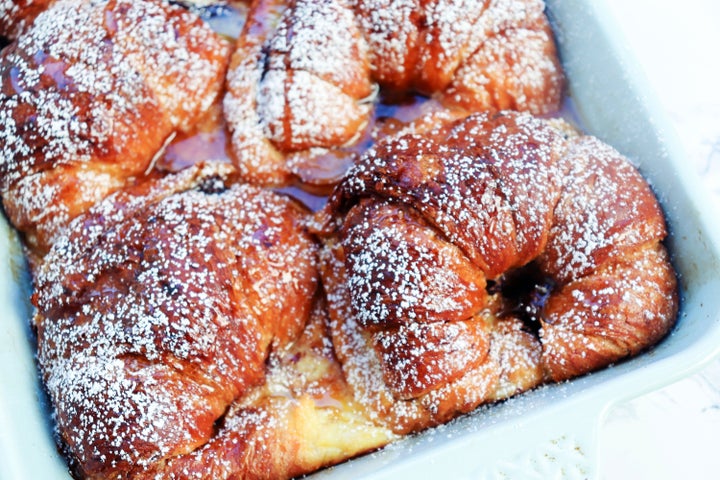 You should be warned from the start, if you came here looking for a healthy breakfast option, this is not the right place for you.
But after a long year of eating yogurt parfaits, egg whites with turkey bacon and avocado toast, why not treat yourself with something special? With just a little prep the day before, this decadent casserole comes together in no time.
Combining silky Nutella spread with the croissant, king of all French breakfast pastries, makes for an out-of-this-world delicious breakfast for all ages.
Unless you're brave enough to make your own croissants, which is admirable but ill-advised, the only knife work you will really have to do is slicing some bananas.
The croissants are stuffed with a generous helping of Nutella and sliced bananas, and then placed in a custard bath to sit overnight. When you bake it in the morning, the bottom part of the croissants turn into puffy, soft pillows of deliciousness. The tops get golden brown and crunchy, giving it a nice textural contrast.
The next time you're facing the Sunday scaries or some stressful house guests, think about making this over-the-top breakfast to please your palate and help ease your anxiety for the day ahead.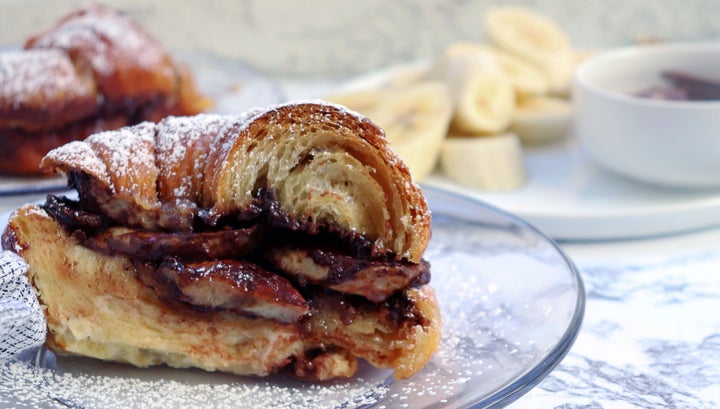 Nutella and Banana Stuffed Croissant French Toast Casserole
6 jumbo croissants (or 8 large), stale

3/4 cup Nutella

3 bananas, cut into 1/2-inch slices

6 large eggs, beaten

3 cups whole milk

1/4 cup sugar

1 tablespoon vanilla extract

1/4 teaspoon kosher salt

Powdered sugar, for garnish

Maple syrup, for serving
1. Grease a large casserole pan with nonstick cooking spray.
2. Cut croissants in half, spreading about 2 tablespoons of Nutella on both the bottom and top halves. Place banana slices on bottom half and cover with the top of the croissant. Place in a prepared baking dish. Repeat with remaining croissants.
3. In a large bowl, whisk together eggs, milk, sugar, vanilla and salt until blended.
4. Pour mixture over croissants, making sure all are covered with the milk-egg mixture. Press down to make sure each piece is submerged. Cover with plastic wrap and refrigerate overnight.
5. The next morning, preheat oven to 375 degrees Fahrenheit.
6. Remove plastic wrap and place in oven for 50 to 60 minutes, until the top is crispy and the center is no longer set.
7. Dust warm casserole with powdered sugar and serve with maple syrup on the side.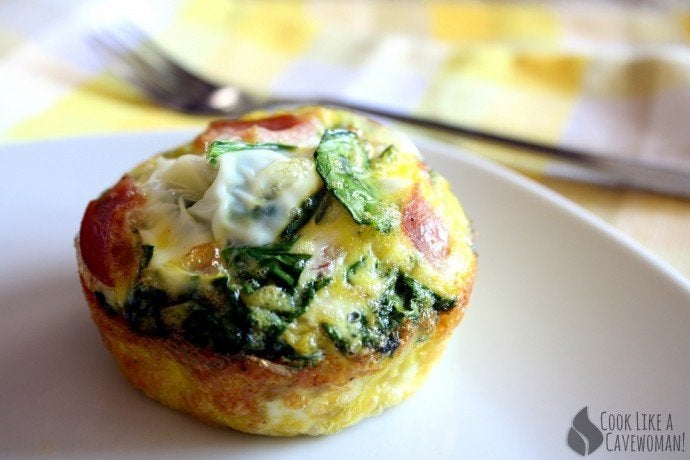 18 Healthy Breakfast Recipes