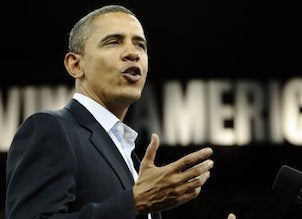 WASHINGTON -- Speaking to reporters in Seoul, South Korea, President Barack Obama sought to clarify his position on the expiring Bush tax cuts. In doing so, he hinted once more that a deal with Republicans is in the offing.
"Here's the right interpretation," Obama told a gathering of reporters on Friday. "I want to make sure that taxes don't go up for middle-class families starting on January 1st. That is my number-one priority for those families and for our economy... I also believe that it would be fiscally irresponsible for us to permanently extend the high-income tax cuts."
The president's comments were more guarded than those offered by White House Senior Adviser David Axelrod who, a day earlier, acknowledged that political realities were compelling the administration to cut a deal on high-end tax rates.
"We have to deal with the world as we find it," Axelrod told the Huffington Post. "The world of what it takes to get this done."
The two of them, however, were operating off the same assumption -- that the possibility of rates rising for the middle class after December 31 was too risky for the White House to make a grand stand by allowing cuts to expire for those families who earn $250,000 or more. High-income tax rates, in short, will be extended for some period of time short of permanent. Just how long and in what form is the major question.
Shortly after Axelrod made his remarks, Senate Minority Leader Mitch McConnell (R-Ky.) said he would be open to the idea of a temporary extension of the tax cuts, which are set to expire on December 31. GOP aides, in turn, clarified to CNN that they would push for a temporary extension of all tax cuts, middle- and upper-end alike. Presumptive House Speaker John Boehner (R-Ohio) struck a more defiant tone when he called for a permanent extension of the current tax rates in total. Summing up the Democratic response, Rep. Stephen Lynch (D-Mass.) complained that he was "getting mixed signals" from the administration.
There are, of course, nuances to the debate that have not been discussed much. While top Democratic aides on Capitol Hill confirmed what Axelrod suggested - mainly, that the party was likely to cut a deal on high-end tax rates -- they argued, persuasively, that major battles remain over the fine print.
In recent weeks, for instance, several senators have pushed for the party to adopt a legislative strategy that would "de-couple" the middle-class tax cuts and those for the wealthy. Under the plan, Democrats would pass a temporary extension of all tax relief (middle-class and high-end) to pacify Republicans. Immediately afterward, however, they would re-introduce a bill to make the middle-class relief permanent.
This would, as one Democratic operative notes: "force Republicans to vote against tax relief without the fallback that Democrats are raising taxes on anyone during a recession."