Obama has not shied away from supporting domestic drilling, especially for relatively clean natural gas, but in his most recent State of the Union speech he stressed the urgency of addressing climate change by weaning the country and the world from dependence on carbon-based fuels.
"We can choose to believe that Superstorm Sandy and the most severe drought in decades and the worst wildfires some states have ever seen were all just a freak coincidence," Obama said in the speech, last week. "Or we can choose to believe in the overwhelming judgment of science -- and act before it's too late."
But on his first "guys weekend" away since he was reelected, the president chose to spend his free time with Jim Crane and Milton Carroll, leading figures in the Texas oil and gas industry, along with other men who run companies that deal in the same kinds of carbon-based services that Keystone would enlarge. They hit the links at the Floridian Yacht and Golf Club, which is owned by Crane and located on the Treasure Coast in Palm City, Fla.
Carroll is the chairman of CenterPoint Energy, a public utility company based in Houston, Texas. He is not a major donor to political candidates, having given just $5,800 since 2007, including a $2,300 donation to Obama's first presidential campaign. CenterPoint Energy benefited from the 2009 federal stimulus law signed by Obama through its receipt of $200 million in federal grant money to upgrade its system to a Smart Grid.
CenterPoint is not Carroll's only connection to the energy industry. Both Carroll and Crane are directors at Western Gas Holdings, the managing partner of Western Gas Partners, a midstream energy provider created by Anadarko Petroleum, one of the largest publicly traded oil and gas companies. Western Gas Partners' main investment is in the booming field of natural gas exploration, transportation and manufacture in Texas, Oklahoma, Colorado and Wyoming.
Unlike Carroll, Crane has been more active in campaign funding circles. In 2012, he gave the maximum $5,000 to the Obama campaign and $30,800 to the Democratic National Committee (DNC). In 2010, he gave big to Democratic Texas gubernatorial candidate Bill White, with $125,297 in contributions. Crane's donations have exclusively flowed to Democrats since 2002. Before that, he made a few contributions to Republicans, including $5,000 to the Republican National Committee (RNC) in 2000, and to candidates such as former Texas Sen. Kay Bailey Hutchison and Texas Sen. John Cornyn.
Clark Stevens, a White House spokesman, reemphasized the president's commitment to confronting climate change in a statement Wednesday morning.
"The President could not have been clearer in both his second Inaugural address as well as his State of the Union address that continuing to confront climate change is a top priority. In fact the President has already taken historic action on this issue in the wake of Congressional inaction during his first term. This included establishing standards that will double how far our cars will go on a gallon of gas, doubling renewable energy generation from sources like wind and solar, and proposing the first national standard for carbon pollution from new power plants, among other steps. As the President said last week, if Congress will not take action on this important issue he will continue to build on the progress underway by his Administration to confront this threat."
Environmental groups have seen their policy priorities move up on the national agenda after Hurricane Sandy struck the East Coast, and many were excited by the president's pledge in his State of the Union address to take executive action if Congress fails to pass a climate bill.
But Tyson Slocum, director of Public Citizen's Energy Program, said the president's new rhetoric around climate change doesn't square with his choice of golf partners, or with what he called Obama's "all-of-the-above" energy strategy.
"A golf outing does not policy make, but it's clear that folks in the oil industry have access to the president," Slocum said. "The president has made very clear his firm commitment to not just the oil and gas sector, but to expanding the oil and gas sector by increasing production, by, as he said, cutting red tape, and expanding offshore drilling."
Other environmentalists contacted by HuffPost agree.
"Obama's got a choice to make: He can either side with Big Oil or he can join the more than 40,000 Americans who came to Washington last weekend -- along with the millions more clean energy supporters across the country -- and take us forward on climate change by saying no to Keystone XL," said Jamie Henn, a spokesman for 350.org, a climate advocacy group. "Young people may not be so good at golf, but we vote in record numbers, and we're overwhelmingly on the side of climate action."
Michael Brune, executive director of the Sierra Club, found Obama's golf outing less unusual than he'd like. "You can't throw a rock in Washington without hitting a deep-pocketed oil executive, which is why nearly 50,000 Americans had to come to the nation's capital to remind the president that the vast majority of Americans agree with his calls for climate action," he said. "There's an old adage that you're only as good as the company you keep, but we know President Obama can prove that saying wrong and do more for our children's future than any of his predecessors, or golfing companions, for that matter."
In some ways, Henn noted, a coastal resort in Florida is a peculiar place to try to avoid talk of climate change. If sea level rise continues, it will be among the first places to go.
This post has been updated for clarity.
Support HuffPost
The Stakes Have Never Been Higher
Before You Go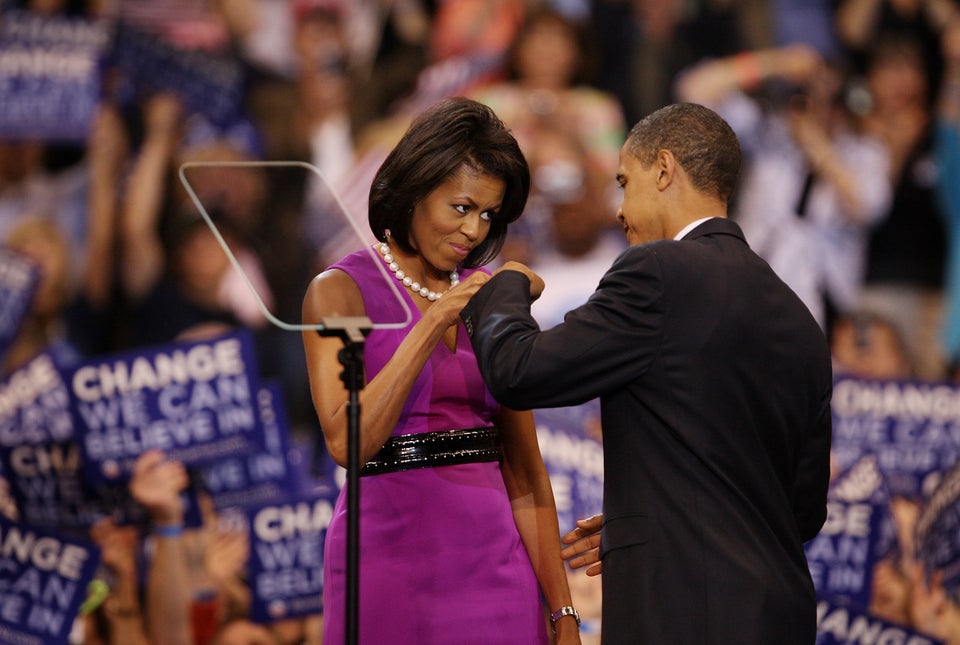 Obama's Fist Bumps
Popular in the Community