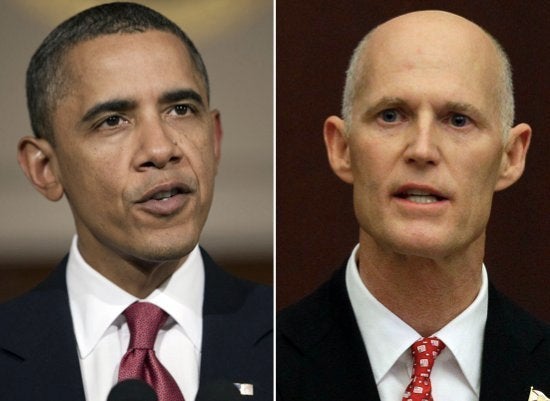 President Barack Obama says Florida Gov. Rick Scott was wrong to reject $2.4 billion in federal money to build a high-speed rail line from Orlando to Tampa.
During an interview Friday with WSVN in Miami, Obama signaled his belief that progress is necessary in the Sunshine State.
"Frankly, I think the governor was wrong on this," he said. "And that's not just my opinion. That's the opinion of folks in Tampa and Orlando, including a lot of Republicans up there."
Scott has said he didn't want to obligate the state to pay for potentially expensive operating costs.
A Florida Department of Transportation study shows the line could have had an operating surplus in 2015, its first year of operation. The Miami Herald reported on the findings earlier this month:
The study showed the line would have had a $28.6 million surplus in its 10th year.

The numbers are more optimistic than a 2009 study, which concluded the line would have not seen an operating surplus until 2021.

The $1.3 million study, conducted by the forecasting firms Wilbur Smith Associates and Steer Davies Gleave, shows the line would have had 3.3 million riders in its first year. The previous analysis predicted the line would have had 2.4 million riders in 2015.
Other states, like New York and California, have already expressed interest in taking the money for their own high-speed rail projects.
Popular in the Community