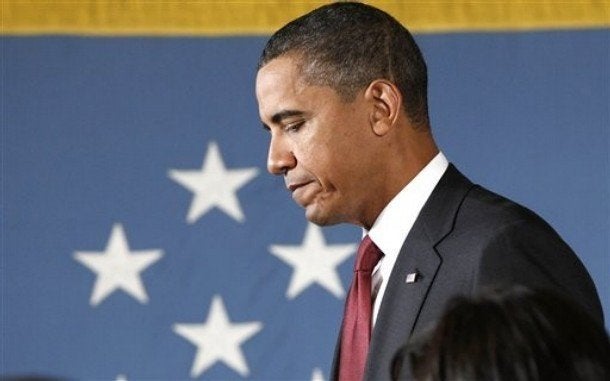 This story was updated at 10:00 p.m. ET to include additional information from a Treasury spokesman.
U.S. Housing and Urban Development Secretary Shaun Donovan said Wednesday that the Obama administration will attempt to protect homeowners and police the kind of paperwork fraud that led the nation's largest banks to temporarily halt foreclosures this month, but added that the administration had yet to find anything fundamentally flawed in how large banks securitized home loans or how they foreclosed on them.
"Where any homeowner has been defrauded or denied the basic protections or rights they have under law, we will take actions to make sure the banks make them whole, and their rights will be protected and defended," Donovan said at a Washington press briefing. "First and foremost, we are committed to accountability, so that everyone in the mortgage process -- banks, mortgage servicers and other institutions -- is following the law. If they have not followed the law, it's our responsibility to make sure they're held accountable."
He added, however, that the administration is focused on ensuring future compliance, rather than on looking back to make sure homeowners and investors weren't harmed during the reckless boom years. The administration is "committed to forcing institutions to change the way that they conduct business," Obama's top housing official said, "to make sure these problems don't happen again."
Donovan said HUD began a review earlier this year of the five largest mortgage companies it deals with on government-backed mortgages through the Federal Housing Administration. The review focuses on how the companies attempt to keep delinquent borrowers in their homes and how they transition homeowners who have been foreclosed on out of their homes.
"We are very focused on making sure ... steps are being taken early in the process is to keep people in their homes," Donovan said.
Within the foreclosure process, the probe examines how mortgage servicers -- firms that collect payments from homeowners with a mortgage -- handled the various affidavits employees were supposed to carefully review, sign and notarize in order to carry out a foreclosure in states that require a court's approval, and how the firms performed the final stages of a foreclosure.
Donovan said the administration had yet to complete its review, which began in May. Thus far, though, it had found "significant difference in the performance of servicers, and in particular, information that shows us there is not compliance with FHA rules and regulations around loss mitigation." Donovan said the findings were limited to firms that deal with FHA loans. He declined to single out servicers. Other HUD officials likewise declined, despite repeated requests.
When it came to the larger issue of what some legal experts describe as a fundamentally-flawed and fraud-ridden mortgage market -- fraudulently-underwritten loans that passed through a maze of institutions that failed to properly maintain basic paperwork or follow legal procedures in bundling, securitizing and ultimately selling those mortgages to investors -- Donovan said that, thus far, all is well.
"The primary issue that's been the focus of the moratoria is, is the foreclosure process being followed correctly? Are affidavits being filed correctly, and are notarizations and other things being done correctly? That is one set of issues," he said. "A second set of issues -- and we think this is very important -- that we look more broadly at, 'Are servicers taking steps to help keep people in their homes?'"
The lesser, third issue that has been raised, Donovan said, is whether the process underlying the securitization of mortgages is "in question."
"So that's the point that I'm trying to make, is that the issues that we are finding ... that we're focused on are, 'Are there particular servicers that are not following these processes?'"
Donovan added that "we have not found any evidence at this point of systemic issues in the underlying legal or other documents that have been reviewed."
That review, however, is fairly new. Experts in mortgage processes, housing law and bankruptcy say the practices employed by the big mortgage originators, securitizers and servicers is largely flawed, and that in some cases the basic process of how a loan came to be securitized and sold can be legitimately questioned. It's unclear how hard the administration looked into the matter prior to Donovan's diagnosis.
Meanwhile, several state officials have called for a foreclosure moratorium. All 50 state attorneys general -- Republicans and Democrats alike -- are investigating servicer behavior. Many have vowed to get to the bottom of the mortgage mess, and at least one has already launched a lawsuit. The state attorneys general say the large mortgage companies may be engaging in "deceptive" practices, a legally loaded term. Some large servicers voluntarily halted foreclosure sales.
Michael Barr, an assistant secretary at the Treasury Department and one of Timothy Geithner's top lieutenants, offered a clarification at the press briefing. "When the word 'systematic' or 'systemic' is used in this context, I think Secretary Donovan was referring to the safety and soundness of the financial system, not saying that there couldn't be significant real problems that affect real people in a very, very real way," Barr said. "We are seeing that, and that is why we are stepping up to the plate and making sure that those problems get corrected."
The officials announced that on Oct. 6 the Treasury Department sent a letter to all mortgage servicers participating in the Obama administration's Home Affordable Modification Program, reminding them that they must certify that all pre-foreclosure options, such as a modification or a short sale, have been exhausted before a servicer repossesses a home. Homeowner advocates have said that HAMP, under which more borrowers have been booted from their homes than have received permanent relief from their servicers, has shown that the companies rush to foreclose without first exhausting other options -- an act directly contravening the administration's promise to voters.
"Treasury did have a robust and does have a robust compliance system in place," Barr said of HAMP, which was the administration's main effort to help three to four million strapped borrowers stay in their homes. "When we have found problems we have ordered them to be corrected and they have been corrected."
A government audit this year found that servicers routinely made mistakes, and that those mistakes may have improperly booted thousands of homeowners from the program.
The Treasury Department now conducts quarterly "Second Look" reviews of HAMP servicers. The most recent review found that "fewer than 5% of loans sampled from large servicers were evaluated incorrectly by the servicer," documents show. "Where applicable, servicers are required to forestall foreclosure sales and reevaluate these homeowners under HAMP guidelines."
Treasury has no procedures in place for sanctioning servicers under the program. To date, not a single fine has been levied.
When pressed how much longer the government's review would take, Donovan estimated another nine weeks, placing its completion the week before Christmas. Barr had a less committal answer.
"This is not a problem for Secretary Donovan to fix," Barr said. "This is a problem for the banks and servicers to fix. They can fix it as fast as they feel like it."
Treasury spokesman Steven Adamske later told The Huffington Post that Barr meant to convey that servicers can not simply hide behind an additional nine weeks of review before fixing their respective problems. Rather, Barr meant to say that servicers should act now, Adamske said in an e-mail.
Business Writer William Alden contributed reporting.
*************************
Arthur Delaney is a staff reporter for the Huffington Post. He can be reached at arthur@huffingtonpost.com.
Related
Popular in the Community