WASHINGTON -- President Barack Obama on Friday drew a sharp line in the sand before the next big battle over funding the government, pledging his opposition to any bill that does not alleviate the spending cuts scheduled to become law this fall.
"I will not," the president said in an interview with The Huffington Post, when asked if he would put his signature to legislation that allowed for sequestration to come back in October this year.
"And I've been very clear. We are not going to have a situation where, for example, our education spending goes back to its lowest level since the year 2000 -- since 15 years ago -- despite a larger population and more kids to educate. ... We can't do that to our kids, and I'm not going to sign it," Obama said.
Those comments, coming in the week that House and Senate Republicans unveiled their respective budgets, foreshadow a bitter and difficult funding fight. Under current law, sequestration is scheduled to return in October, with caps imposed on both defense and non-defense accounts. According to the White House Office of Management and Budget, discretionary spending overall would be reduced more than $90.4 billion, compared to pre-sequester caps. Spending on defense would level off at $521 billion; for non-defense, it would be $492 billion.
The Huffington Post's Sam Stein with President Barack Obama (Photo: HuffPost/Damon Dahlen)
Were that to happen, it would constitute a major setback for Obama's domestic priorities. He has called for an estimated 7 percent increase in discretionary spending, with large investments in items like child care, infrastructure, research and development, and education. Republicans have tried a different tack, pushing aggressively austere budgets that also include billions of dollars more in defense spending.
The federal budget plan is ultimately just a set of guidelines within which congressional appropriators are asked to operate. But considering the vast differences in approach, it is difficult to see the pathway for bipartisan agreement. Lack of agreement on a future path raises the likelihood that lawmakers would simply pass a continuing resolution in order to keep the government open. Should that happen, sequestration would return on Oct. 1. Since the president has now said he won't sign a bill that allows sequestration to return, it would raise the possibility of another government shutdown.
The president is banking on the legislative process never getting to that point. Congressional Republicans are invested in seeing the Defense Department spared from sequestration cuts (some of the more hawkish senators have even embraced the idea of raising taxes to pay for that). And party leaders on both sides of the aisle have already shown they can find enough areas of commonality to put off sequestration for at least a short period.
The current spending deal that runs out in the fall, which was put together by Rep. Paul Ryan (R-Wis.) and Sen. Patty Murray (D-Wash.) in 2013, included $63 billion in sequestration relief over two years.
"If we can find some common ground around that, and if we can recognize that given the economic growth, given the reduction in deficits, now's the time for us to make sure that we are making the investments we need to continue to grow and to keep our country safe, then we can do what Senator Murray did with Congressman Ryan, and plus-up both the defense and non-defense budgets," said Obama on Friday.
Reprising a Murray/Ryan-type deal may prove trickier, however, in the new Congress, where Republicans control both chambers. In a statement provided to The Huffington Post, House Speaker John Boehner (R-Ohio) noted that the sequester originated in the White House, as the president's advisers tried to craft a deal to avert a debt ceiling default in the summer of 2011.
"If President Obama is now serious about stopping his sequester," Boehner added, "he should put forward a plan to replace it with smarter cuts and reforms. Reckless threats, like the president's past pushes for tax hikes, only undermine genuine efforts to help create the jobs and opportunities middle-class families need."
Though Boehner's statement pushes it, one thing the president is unlikely to agree to, even in hopes of avoiding sequestration, is some variation of the "grand bargain" deal that was nearly hammered out in 2011. Republicans have criticized him for ignoring long-term debt and entitlement reforms. But in his interview with The Huffington Post, Obama said it is circumstances, not he, who has changed.
"At that time, we were seeing significantly higher deficits, and the economy was just beginning to grow. We now know that we've got strong growth," he said. "As a consequence, as I argued at the time, the deficits have come down -- they are now below 3 percent of our GDP, our gross domestic product, which is a stable place for us to be."
Watch The Huffington Post's full interview with President Obama here.
Before You Go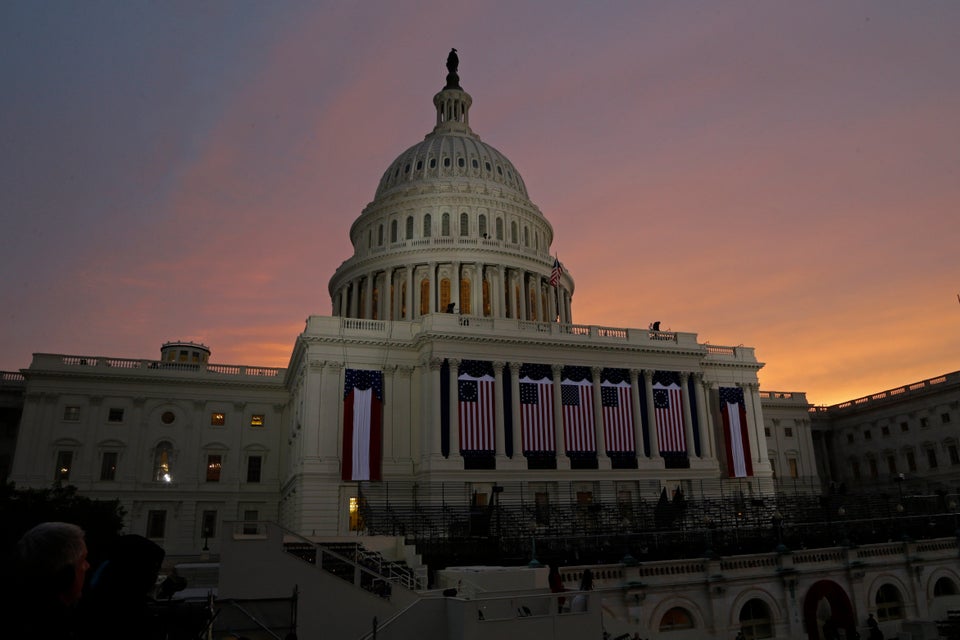 U.S. Capitol Photos
Popular in the Community