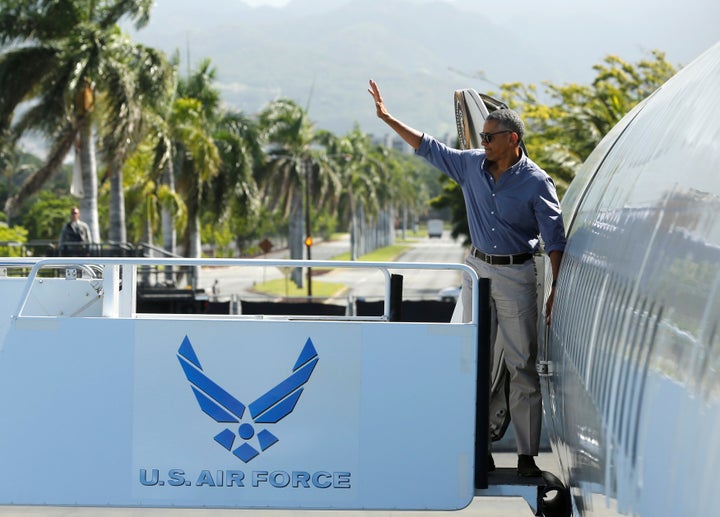 POIPU, HAWAII ― Bumper stickers for sale at the beachfront Nukumoi Surf Co. shop here offer pidgin English clues to this state's modest, tolerant — and exceedingly un-Trump like — version of 21st century America.
My favorite: "No ACK, bruddah." As the surfer dude behind the counter told me, the phrase reminds the world that Hawaiians don't tolerate egotistical, chesty douchebags. "It means don't be a showoff," he explained. (I bought one.)
These and other such tchotchkes were available long before a certain New York real estate mogul won the presidency. And ACK notwithstanding, Donald Trump's name is on a lavish hotel in Waikiki on the neighboring island of Oahu.
Yet the bumper strip seemed especially relevant now, one of many reminders here that Trumpism is but one strand of the American story ― and perhaps not the one that will prevail in the long term.
On vacation here during the final weeks of his tenure in the White House, President Barack Obama, a Hawaii native, seems determined to put his sunny state spirit on display. In one of his last public ceremonies, he will accompany Japanese Prime Minister Shinzo Abe to the memorial honoring the Americans who died in Japan's surprise attack at Pearl Harbor 75 years ago.
At a time when the incoming president-elect is tweet-threatening the world, Obama is using his hometown stage to send a message of peace and reconciliation to the country that savagely bombed us into World War II.
In many other ways, the Aloha State is a rebuke to Trump and his incoming administration. It is international in outlook, not nativist; a bouillabaisse of ethnicities, not a fearful xenophobic cult; admiring sharing rather than throat-cutting; more at one with the environment than at war with it; and valuing modesty more than bragging, cooperation more than combat.
Trump dismisses all this as weak and naive; Obama sees it as the shrewd and only route to the long-term survival of the country, the species and the planet.
For those who fear and despise Trump, Hawaii is like a seed bank of public life ― protecting valuable strands so they can be replanted when the time comes.
The state is no political or economic paradise. Taxes are high. Housing and food costs are suffocating. Income disparity is as real as elsewhere, with ramshackle rural stretches of the islands evoking a palm-treed Appalachia.
And of course, it has long been Democratic Party country. Hillary Clinton won the state with 62 percent of the vote. Democrats and their union allies control local politics, and have for most of the years since Hawaii became a state in 1959.
But Hawaii stands out in another key way. The reality of and the attitudes toward a multi-racial society here are utterly different from many places in the rest of the country.
Trump won in November by cherry-picking white voters in "blue" states. Such a strategy would be ludicrous in Hawaii, by far the most diverse of the country's four majority-minority states. (The others are California, New Mexico and Texas.) Whites retain substantial power in Hawaii from the days of missionaries and sugar planters, but today comprise less than a quarter of the population.
Asians ― Japanese, Chinese, Filipino ― and native Hawaiians of Polynesian descent predominate, and an astonishing one-fifth of the state's 1.4 million citizens identify themselves as belonging to two or more races.
This is America's future: Demographers estimate that by the middle of this century, the country as a whole will be majority-minority.
Race relations aren't utopian in Hawaii. But tolerance is real and routine. Ta-Nehisi Coates may find it a rare lucky break that Obama's white grandparents embraced him so fully. But that story is of the essence of Hawaii.
Health care is another sharp contrast. Hawaii was a pioneer of employer-mandated public health, the result of plantation-based care and union demands. Obama drew on his state's own experience to devise his health care overhaul. It remains controversial, to say the least. But the Hawaii model has to be one reason why the state's population is the healthiest in the country.
The profit motive is alive and well in Hawaii, and the tourism industry is as efficient at relieving visitors of cash as anywhere else in no-shoes, no-shirt, no-service America. But you can't get farther away from Trump's Midtown Manhattan — geographically or culturally. Hawaiians rightly think of themselves as close to the land and sea. Public parks are plentiful, and all beaches are open access below the "upper reaches of the wash of the waves," as the state law poetically puts it.
Hawaii defies the ethic of covetousness. Larry Ellison of Oracle may have bought most of a Hawaiian island, but he couldn't buy anything better or more soothing than a bowl of tuna poke and a six pack of beer at the beach.
"That's livin," another local told me. And it is No ACK, bruddah.
Popular in the Community