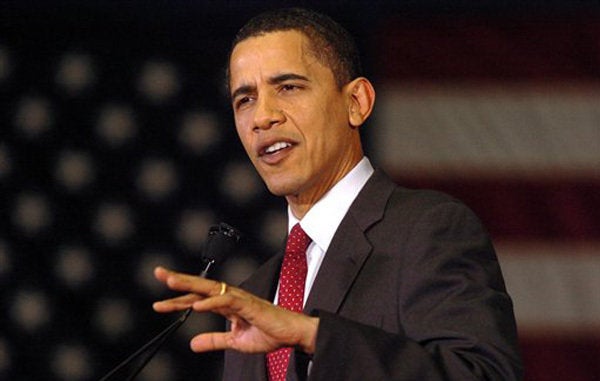 Sen. Barack Obama released seven years of prior tax return documents on Tuesday. And a review of the records reveals several newsworthy, albeit minor, disclosures.
Up until recent years when their income increased sharply from book revenues and a Senate salary, Obama's family donated a relatively minor amount of its earnings to charity. From 2000 through 2004, the senator and his wife never gave more than $3,500 a year in charitable donations -- about 1 percent of their annual earnings. In 2005, however, that total jumped to $77,315 (4.7 percent of annual earnings), and to $60,307 in 2006 (6.1 percent).
The money went to several organizations. More than $27,000 total was given to Obama's church, Trinity United Church of Christ, whose former pastor Jeremiah Wright has dominated recent news coverage. Other charity gifts included: Muntu Dance Theater, a Chicago-based company that performs contemporary and classic African dance, which received a $5,000 donation; The Rochelle Lee Fund, a literacy organization, which received a $20,000 donation; the Illinois Reading Council, which received a $25,000 donation, and CARE, the poverty fighting organization, which received a total of $31,000 in donations.
Obama also classified a $13,107 contribution to the Congressional Black Caucus as a charity gift.
Taken as a whole, these disbursements made up a small portion of Obama's annual income. According to TaxProf Blog, the Illinois senator gave "well short of the biblical 10% tithe for all seven years."
"As new parents who were paying off their large student loans, giving $10,000 to charity [from 2000 to 2004] was as generous as they could be at the time," said Obama spokesman Bill Burton.
The release of Obama's tax returns represents another step in the campaign's effort to push the issue of transparency in the nomination battle against Sen. Hillary Clinton. The New York Democrat has not released her tax return information from the years following her departure from the White House (she has released returns corresponding to the 20 years prior). Her campaign promised to make her tax information public at least three days prior to the Pennsylvania primary on April 20.
While political observers are eager to see how former president Bill Clinton's profited off his post-White House fame, the Obama disclosures underscore the story of a relatively obscure and unknown state senator rising rapidly to national prominence.
Indeed, perhaps the only other of interesting news to be gleamed from a review of the Obama tax returns is that Michelle Obama made $12,000 more than previously known from the organization Treehouse Foods.
Why is that significant? Treehouse, an Illinois food-processing company on which Michelle Obama served as a board member, is one of the biggest suppliers of pickles and peppers to WalMart, the retail giant that is often loathed in progressive circles.
According to Obama's 2007 tax returns, Michelle earned $51,200 from the company and 7,500 Treehouse stock options. This is relatively minor stuff considering the degree of separation from WalMart itself (Sen. Hillary Clinton, for one, served on WalMart's board while she was first lady of Arkansas), but already Obama's critics have used it against him.
"The Obamas would have us believe that, when it comes to money and ethics and compassion, he is a different kind of politician," Chicago political consultant Joe Novak said in a May 2007 article in the London Telegraph. "[But] defending Treehouse while attacking Wal-Mart is a blatant example of personal hypocrisy."
Popular in the Community