It was a dark and rainy night. A Tuesday. The semester was winding down. I only had two more classes left to teach. I had gone into New York that morning to get my hair cut and colored and then rushed uptown to have lunch with my oldest friend. D. and I used to work together. I have no idea how old she is but her son is in his early thirties and I know she had him when she was close to 40. She is tall, beautiful, funny, went to an Ivy League school at a time when many women didn't necessarily finish college, has gorgeous skin and has had various big writing jobs over the years. She has a couple of famous writer friends and her love life was the subject of a best-selling book that was made into a movie. During her maternity leave, she co-wrote a book proposal and helped a major columnist get a $750,000 advance for a book -- a lot now and exponentially more 30-some-odd years ago.
But by the time I met her, we were both adjuncts in the English department of a local state university. Neither one of us was at the top of our writing game. She was divorced and taking care of her ex-husband. We were both teaching variations on news reporting. She taught the class right before mine so whenever I arrived in class, there she was, collecting papers, rolling her eyes at the students and laughing at something one of them had said. In a room full of muscles, tattoos and piercings, there was my friend in her neat black pants, pumps, silk scarf and soft sweater. One day, she did the hugest favor anyone has ever done for me: She handed me an article about the rise of local, online newspapers. "Here," she said. "I thought you'd be interested in this." Back then, local, online newspapers were still a novelty. I read the story quickly and saw that this was something I might be able to do. Within a few weeks, I was writing a weekly on-line column. Five years later, my book came out, half of it based on those columns.
But today, she didn't ask me one word about my book. It was one of those lopsided conversations that happens when one of you has big news to share: I call it the "brag or the brood." If your friend is doing one of them, your job is to show up and listen. Her son, who had been a fledgling rapper, DJ and waiter, was in graduate school and doing very well. He had been living with her and finally had his own apartment. "He asked me to take off my shoes," D. said, laughing. One of her favorite nieces was marrying a wonderful guy. D. had started a new career teaching English as a second language, and typically, had invited all her students to Thanksgiving dinner in her sunny apartment.
We both ordered Greek salads, mine with anchovies, hers without. As we handed the dressing back and forth, she asked me about my kids. My older son was applying to college, my younger son was wrestling, my husband was traveling, blah, blah, blah. But I wanted to talk about me. Me, me, me! Instead, we talked about lifelong friends and new friends. D. noted how much she loves and depends on hers. "I like having a younger generation around," she said. I nodded. The rain was coming down hard. My hair was limp. At the salon, the mirror in the dark changing room had made me look young but fat. The stylist had parted my hair in the middle and flipped out the sides, making me look like a chubby middle aged sixteen-year old with Farrah Fawcett wings. The lining of my raincoat was ripped so I couldn't stash my subway card in the pocket. I was turning 50 in ten days. I asked for the check, put on my coat, rushed us out and then, standing at the corner of 86th and Madison, stuck my head under D.'s umbrella and kissed her soft cheek goodbye.
On the train ride home, I read some of Lorrie Moore's book of short stories, Bark. Moore is sharp and funny and measures out the relationships between adults in acerbic, precise tablespoons. But cheerful about the human condition she is not. You don't read her work and think, "I feel fabulous now." Mostly you think that probably everyone in fiction and real life is getting a divorce. By the time I got home, I wanted to put a bullet through my brain. My husband was on his way to the airport, my older son was driving home from school in the pouring rain, my younger son was watching "Family Guy." The only who came over to give me a kiss was my dog, and she would ditch me as soon as someone fed her dinner.
We had so many leftovers I didn't have to cook anything for our dinner, which is what I usually do when I'm in a bad mood. But there in the Lucite recipe holder on the counter near the microwave was a coffee cake recipe from one of my mom's oldest friends. J. and my mom had been young mothers together, both married to doctors and living in the suburbs. Eventually, they were both young divorcees, returning to work and making new lives for themselves, away from each other. J. remarried and moved down South. I hadn't seen her in decades. But she'd sent me a note and a coffee cake recipe after she'd read my book:
Do you remember the time I saw you smoking outside of Bloomingdales and you asked me not to tell your mom? I kept that secret until many years later when it didn't matter anymore. Even though I don't speak to your mom often, she is still my very best friend. We have many years of friendship to keep us company in our older years.
Here is an old recipe I used to make for a coffee cake. I haven't made it in years, but it was a favorite of mine and I kept it all this time. It is so yellow it is hard to read, but here goes. Hope you try it and that is as good as I remember. Do let me know.
I decided to let her know. The cake looked easy. There was no melting of butter or chocolate, no separating egg yolks from whites. There was no butter involved at all, just a cup of "salad oil." And look at those nice teaspoons of cinnamon and nutmeg and all that brown sugar! This was old-fashioned coffee cake, dense and sweet, perfect for winter and holidays of all kinds. The hardest part was sifting a few dry ingredients together and making buttermilk (add one tablespoon of lemon juice or vinegar to one cup of milk and let sit for ten minutes). As I measured out ingredients, I thought about women and friendship and how important we are to each other, especially as we move through middle age.
My kids came downstairs. The kitchen smelled divine, warm and full of spices. I offered them some cake. My younger son reminded me he was wrestling and had to make weight. My older son just shook his head and showed me an article he'd written. By the end of the night, I had dug what you could charitably call a large hole in the cake. A quarter of it was gone. I thought about all the women I knew, the recipes we've exchanged, the books we've traded, the writing we've discussed, the secrets we've shared, the help we have given and received, the web of friendship we have woven across states and years, marriages and careers. And I thought of my friend D. with love and immense gratitude because without her, I never would have written this column, or any other.
2 1/2 cups flour
3/4 cup sugar
1 cup brown sugar
3/4 t. salt
1 t. cinnamon
1 t. nutmeg
1 cup salad oil
1 cup buttermilk or sour milk
1 t. baking soda
1 egg
Sift sugar, salt and flour together. Add spices. Add brown sugar. Blend. Add oil and mix until crumbly. Reserve one cup of mixture for topping. To rest, add milk, soda and egg. Mix until smooth. Butter a bunt cake pan and pour batter in, before adding topping. Crumble topping over mixture. Bake in 350 degree oven for 50 - 60 minutes. Let cool before slicing.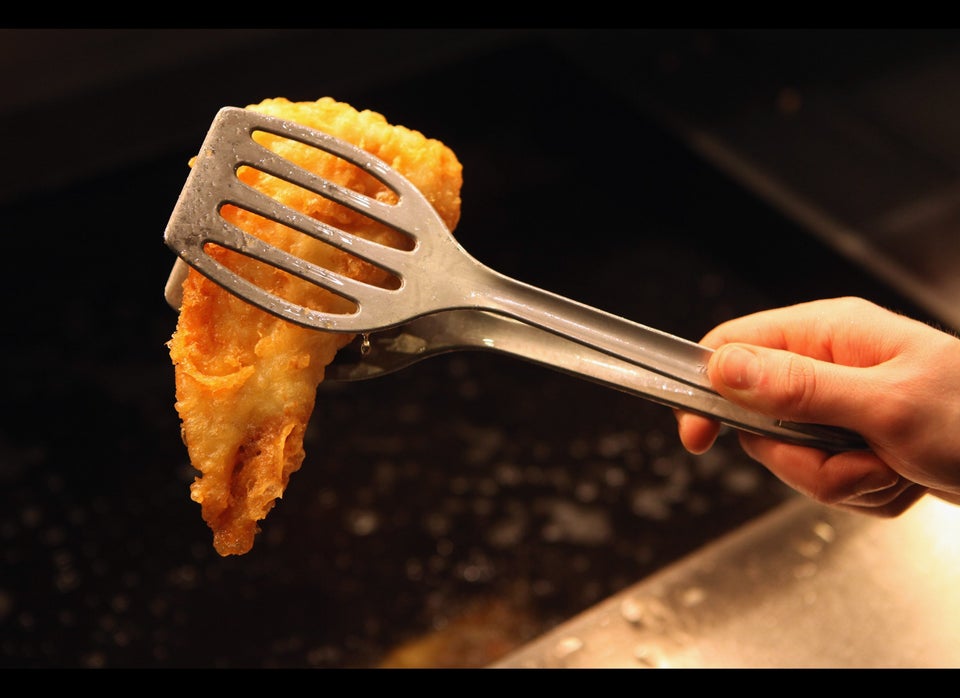 Five Things You Should Never Eat (And What To Eat Instead)
Related
Popular in the Community