Lisa Dougherty was inspired by her father, a four-time cancer survivor, to leave her job on Wall Street and pursue a career in helping others. In her 30s, she went back to school and started her own medical fitness business. That was the beginning.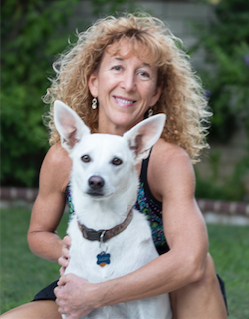 Dougherty is fulfilling a dream that sits squarely on her sculpted shoulders: to help people prevent and live productively with health challenges -- diabetes, heart and lung disease, MS, arthritis, cancer, morbid obesity, stroke, joint replacements, developmental disabilities -- through fitness.
And to promote the union of fitness, wellness and health care -- to providers. It's a new and growing field called "medical fitness."
Lisa Dougherty. Photo courtesy of Medical Fitness Network.

Dougherty's dream included leading an organization whereby people and companies contribute their talent and resources for the greater good.
It is how she structured and leads her company, Medical Fitness Network (MFN). Her website has grown since its inception to over 2000 pages and has recently been valued at $100,000.
Lisa Dougherty is the 20th change agent I've spoken with. I find it remarkable what one individual can do when committed to a quest.

Shortly after becoming a fitness professional, Dougherty felt to better help her clients, she had to understand the pathology and progression of disease. Many of her clients, like most Americans, lived with one. She quickly obtained further specialty training to assist people living with chronic illness and medical conditions.

As her business grew, Dougherty began receiving emails from people across the country asking if she knew someone "like her" to help them.
For 18 years now Dougherty has seen the benefits of medical fitness. She has helped people of all ages not just lose weight or become stronger, but increase their lung capacity, decrease their resting heart rate, improve their balance, flexibility and endurance, gain more confidence in their bodies, feel sharper and less depressed, and recover from surgeries, childbirth and cancer more easily.
We know activity is a cornerstone of diabetes care, yet it's rarely stressed. Plus, many who live with diabetes, or another chronic condition, can have challenges that make activity difficult. Also, I've never really heard people talk about "fitness" as it relates to diabetes management or health.
A trainer who understands your health condition can be key to designing for you a personalized progressive fitness program that can help create pivotal changes in both your health and your life. "No matter what shape you're in," says Dougherty.

Today most older adults live with one or more chronic illnesses. Shockingly, approximately 92 percent of older Americans are living with at least one chronic disease and 77 percent at least four. Conditions like diabetes, high blood pressure, heart disease, stroke, arthritis and depression are now common.

But while we're living longer, many of us are, and will, spend our last decade in poor fitness and poor health. Not only will our quality of life be reduced but our health will place a huge financial burden on us and our families.
"We have the power to take back our health," says Dougherty, "and prevent many conditions through medical fitness."

As Dougherty's dream included having people contribute for the greater good, and having a limited budget, her passion encouraged hundreds of people, and more than one hundred companies, to donate their time and resources to the creation and running of MFN.

A team of volunteers, whom she led, created MFN's "super registry." A free national online resource network of pre-screened fitness trainers and allied healthcare professionals. The registry includes acupuncturists, chiropractors, dietitians, fitness/yoga, health and wellness coaches, massage therapists, physical therapists and psychologists.
For its own act of goodwill, Medical Fitness Network donates its services as a database management company to medical and health organizations that do not offer their own fitness resources.
"To have more of our fitness professionals knowledgeable of more conditions we live with today is an ongoing project," says Dougherty. "Currently we're working with the Alzheimer's Research and Prevention Foundation to develop an Alzheimer's and Exercise Certification to be launched in the fitness industry.
We're also speaking with other medical organizations to help develop specialty certificate programs based on their research on prevention and rehabilitation and exercise."

Last summer I had a bone density test that revealed I have osteopenia, bone density loss. My endocrinologist, who gave me the news, first talked about putting me on a medicine for five years to strengthen my bones.

Seeing my aversion to adding more medicine to my day, she then asked if I'd be open to doing strength training. I was. I found a trainer in my neighborhood who specializes in functional fitness -- exercises and weightlifting that will increase my bone density and improve my flexibility and balance to help me age with more strength and also prevent and recover from falls.
I am grateful my doctor recommended strength training rather than insist I take another medication. Dougherty's dream of health professionals adding medical fitness professionals to their health team is happening, slowly, but happening.

Meanwhile, for those who can't yet find these professionals on their provider's team, or know one in their area, you can now find them with a click. Part of Dougherty's dream already come true.



Support HuffPost
A No-B.S. Guide To Life
Related
Popular in the Community