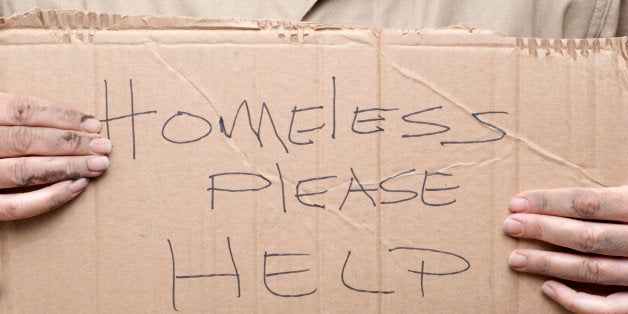 Yet, O Lord, you are our Father;
we are the clay, and you are our potter;
we are all the work of your hand. (Isaiah 64:8)
I went for so long, looking at a homeless person, and saying, "Get a job." I went for so long, looking at someone begging for food, and saying, "Go to a food kitchen. Quit begging." For so long, I didn't have a heart for the poor and the impoverished.
Then I got totally lost in life. That's when God gave me that heart and that understanding of what it's like. Now I look at people who are homeless or hungry, and I say, "Man. I know that pain. I feel that pain. I never want to be there again. And I don't want you to be there, either. So I want to help you out."
It's when you have that heart and that understanding that you start serving, right? That's why you serve somebody. You can't serve a person who is hungry, if you don't understand why they're hungry. Jesus had a full understanding of it, of our physical hunger, our emotional hunger, and our spiritual hunger. And He fed everyone.
We see what He did, and we want to do it too. We want to do our best to live like Him. But in order to do that, you have to let Him mold you. In the Bible He says, "I'm going to mold you and shape you. I'm going to let the Holy Spirit come and give you wisdom. I'm going to mold you and shape you into what you need to be. I need you to have the heart of a servant, because that's the only way that you can live like me and do the things I did."
Same as Jesus, you have to meet people in their needs. "Don't worry!" He says. "You're going to be able to lead. You're going to have vision, and push people to be great, by serving them just as I served. You will see someone that wants to be great, and you will want to try to create doors for them, and then open those doors up." That's what it's like to be a servant leader.
Sometimes these doors are literally doors. I've heard that some feminists object when men open doors for them. They think that the man is saying, "I have to do this for you, because I don't think you can do it for yourself." Of course women can open doors! That's not why men open doors for women. I know full well you can open a door for yourself. Men should be opening doors for women because they want to serve them. It's called chivalry, and it's not dead. Chivalry is still alive. When a woman wants to take it from us, we don't understand why.
Serving someone is not the same as saying, "You can't do this for yourself." That's not it. Being a servant is saying, "I serve you in order to honor you." I think our society is losing track of this idea of being a servant leader by loving and honoring our neighbor. We've lost our way in this regard. We need to figure out a way to get it back. We need to figure out a way to get people to understand that we can all serve. Male, female, child, teenager, whatever -- we all can serve each other. We just need to try to create understanding hearts. The more we do, the more understanding we'll create.
The only way to do it is to reflect Jesus, because He was the ultimate servant.
# # #
Jeremy Affeldt, pitcher for the three time Baseball World Champion San Francisco Giants and Major League pitcher for 14 years, recently retired. His streak of 22 consecutive scoreless appearances in the post season trails Mariano Rivera's mark by only one. He is an all-time leader in postseason ERA, with a minimum of 30 innings, with an 0.86.
Jeremy is a humanitarian, philanthropist, author, public speaker, and co-founder of Generation Alive. He works to end human trafficking, feed the hungry and end poverty. He is the author of To Stir A Movement, Life, Justice, and Major League Baseball. His second book is expected to be released in 2016. Follow him on twitter, Instagram and Facebook @JeremyAffeldt.
Calling all HuffPost superfans!
Sign up for membership to become a founding member and help shape HuffPost's next chapter