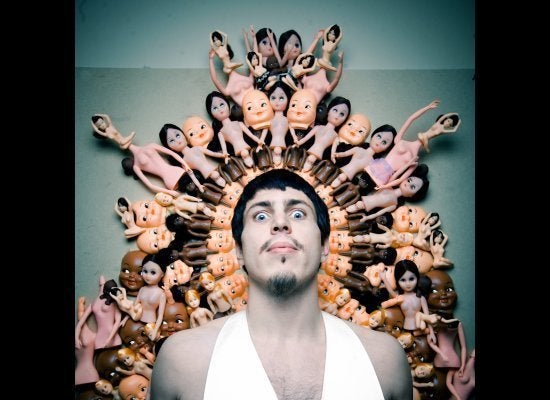 Miami's actual sound machine is Otto Von Schirach, a self-described "half Cuban Native Indian half German Anunnaki wolf," who makes what he calls "Miami bass booty drop/top-weirdo waltz."
Born in Miami, Von Schriach was raised on a heady diet of Santeria, Miami bass, and Cuban Tropical music.
He started DJing at school dances and house parties at age 12 and now tours with the likes of Skinny Puppy and Antari Teenage Riot. While on tour with Puppy, he made his 2009 album "Magic Triangle."
His new album will be a more controlled form of chaos, he says, a mix of surf punk rock, sexy house, and wobbly dub-step.
In 2008, he paired with Jose el Rey, El Tigre and Debbie D from Avenue D to create Miami Bass Warriors. See their "Going Back to Calle 8" video below.
Known as the Flamingo Prince, Von Schirach recently starred in a Borscht short called "Otto and the Electric Eel" (video below), and has collaborated with Miami artists TM Sisters and video artist Lindsay Scoggins.
HuffPost Miami spoke with Von Schirach about his Miami, a place he refers to as the third point on the Bermuda Triangle.
Who are you:
Grandmaster of the Bermuda Triangle, Otto Von Schirach, Prince of the Flamingo
If native, favorite childhood memory in Miami:
Yes, native! One of the favorites is watching "Miami Vice" being filmed while I was winking at Don Johnson.
Current Neighborhood:
Wynwood
Current Gig:
Being the de-brainwasher.
Favorite #OnlyinMiami moment?
Flamingo Plaza 1993 after the all-night rave at the Edge.
What's your idea of a perfect day in Miami?
Awaken from the 8th dimension, now inside Miami, then make sound wave magic on the coffee high, followed by sea adventures with doll and wolf dog.
Why do they call you the Flamingo Prince?
I am the human flamingo. I have a song called "The Dance of the Flamingo." I made it in 2005, but it still hasn't reached the surface of Earth and will be coming out later this year.
Describe your sound.
Electronic Thought Process, where we capture the audio available in the Universe.
But to most humans -- "Miami bass booty drop/top-weirdo waltz."
395 or 195?
Both, depends if I go get a bikini wax, or I want to go to my Cuba town.
Favorite place to hear live music?
Dorsch Gallery and the Triangle headquarters
Last big project you did:
Recording with Master Blowfly, smiling with Venetian Snares , being Evil Twin with Modeselektor and doing the triangle tag team with Mr. Feather.
Upcoming projects you're working on:
I'm finishing an album and building the Tropical Magic Studios with Nagib. Plus I'm doing a mini tour in April with Atari Teenage Riot.
What's a local meal you can't live without?
Normally I am 90% raw, but if I need to get back to Cuba 1943, I go to El Palacio de los Jugos (the Palace of Juice), the one on 7th and 57th is the first one.
Name five songs recently blasted from your speakers.
Bruck Haack: "Incantation"
Celia Cruz: "Chango"
Metro Zu: "Mink Rug"
Dj Wreck: "Culona"
Baconhead: "Wookie"
In a word, Miami is...
Home for me, and the center belly button of the Universe.
Click below for photos, tracks, and videos of this Flamingo Prince.
REAL LIFE. REAL NEWS. REAL VOICES.
Help us tell more of the stories that matter from voices that too often remain unheard.
BEFORE YOU GO