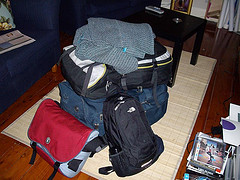 Photo By: Fiona Bradley / Flickr
Over packing for a vacation -- we're all guilty of it, whether we want to admit it or not. I'm definitely a culprit, but after living in Europe for over a year and going to new countries at a moment's notice, there are a few tips I've learned (some of them the hard way) on over-packing. A lot of them may be common sense, but to a person in suitcase mode, common sense can be hard to come by.
Running Sneakers / Workout Clothes

Unless you're running a marathon while on vacation, leave the running shoes home. Yes, we all picture ourselves going for an early morning jog along the Seine in Paris, but the reality is more like you sleeping off the excess wine and escargots consumed the night before. There's nothing wrong with indulging a little. You're on vacation. Run when you get home and your life is boring again.
Credit Cards with Foreign Transaction Fees

This is a big one. Apply for a Chase Sapphire card or a Capital One Venture card before you leave for vacation. These cards have great rewards points and also have no foreign transaction fees, a rarity for U.S. cards. This way, you won't be paying a new fee on top of the already high exchange rate for the dollar.
Blow Dryers and Hair Straighteners

Just don't. U.S. electrical products usually won't work in Europe (even with a converter). Chances are, you'll either blow a fuse in your hotel or break your product. Either way, the situation won't end well. Most hotels abroad have blow dryers in the room. Invest in a cheap, European product once you're over there. Take it from someone who's blown out one-too-many hotel rooms: It's better this way.
Nail Polish / Breakable cosmetics

Of course you want to look your best while abroad, but believe it or not, most of the cosmetics you find in the U.S. can also be found in any drug store in Europe. Leave the nail polish and liquid cosmetics at home and save yourself the trouble of having to buy a whole new wardrobe to replace your Essie-covered one. If you have to bring any liquid cosmetics, double Ziploc-bag them for caution in case they do break on the flight.
Every woman thinks she's going to be changing her earrings to go with her outfit every day of vacation. That is simply not true. Wear one pair of earrings, bracelet, necklace, etc. that will look good with all of your outfits and just leave them on the entire time. This will not only save space in your suitcase, but will also give you piece of mind when leaving the hotel room. You'll never have to worry if you "left your jewelry bag" out again.
Too Many Bags
This is a tricky one, because many people bring "empty" bags with them on vacation to fill with souvenirs. It's ok if you bring one extra empty bag, but try to remember, that each extra bag will cost you a fee on the flight back. Try to leave as much extra room in your suitcase for souvenirs rather than putting a bunch of bulky, empty bags. Oh and the same goes for pocketbooks. Bring one pocketbook. Not one per outfit, or one in each size. One total.
Excess Gadgets
You're on vacation, which means it's time to relax. Pick two gadgets to bring on the trip, meaning a cell-phone and a laptop. Not a cell-phone, laptop, iPod, tablet, etc. You don't need to be connected 24/7. The less technology you pack, the more enjoyable of a time you'll have.
Books and Magazines
Now's the time to invest in a Kindle. For $69, you can fit all of your vacation reading into one tiny device. Talk about saving space and weight in your suitcase. Buy your gossip mags abroad. Why carry extra paper when you don't need to?
These are just an overview of the items you should go without on your next trip. Before you even begin packing, make a list for yourself of needs, wants and excess items. It will save you time, money space and even sanity on your next adventure.