I was recently invited to the 90th birthday celebration of a Prince in Europe with a reception in the castle. The Prince is a collector and has been a supporter, along with his family, for many years. I am fortunate to have a number of paintings in private collections of well known European families such as the Prince Lobkowicz family.
I brought my paints with me and in between the week's events painted the wine village and surrounding area. I then flew to Provence for a week of painting -my last visit was during my exhibit at the Mona Bismarck Foundation. The exhibit, Barbara Ernst Prey: An American View was curated by National Gallery of Art Curator Sarah Cash. Simultaneously my painting God and Country was on exhibit at the U.S. Embassy Residence through the U.S. State Department's Art in Embassies Program. The U.S. Ambassador to France invited us to give a lecture on my artwork and American landscape painting.
In Provence, I chose the Luberon for its beauty, and for the most part, stayed in the villages to paint. The Chambres d'hotes were the most memorable and staying in the old farmhouses also provided painting material. I flew into Nice and headed toward St. Remy. I immediately went to the little center and painted the grape covered stonework which I had remembered from my previous trip. I often have ideas for paintings that stay in my mind for years and this place was one of them. There is a helpful guide of the spots where Van Gogh painting at the Tourist Office and painting in St. Remy certainly informed Van Gogh's views. The sunflowers were out, the cypresses are there and the nights are starry.
From St. Remy I went to Gourdes and spent a day painting there. When painting outside all the senses are in alert so it is not just the architecture (as in Gourdes) but the overheard conversations (my high school and Williams College French helped me out), the wind, nature, wildlife--all the other things that are playing out as part of the Gesamtwerk of the painting. From Gourde I went to Roussillon, where they mine ochre pigment, as ochre is often on my palette it was a very appropriate place for me to be. The buildings are more colorful than in the other towns because of this. From Roussillon I went to Lacoste (which seems to be mostly inhabited by Savannah College of Art and Design), a classic hill town with a castle.. Listening to the SCAD students finishing their semester on my Williams College and Harvard education versus art school. I miss some of the aspects of not having gone to art school, but I think much of that was made up for as I had a mother who was a great painter and also taught at Pratt Art Institute. I learned from her, not just by seeing her painting en plein air but through our museum visits and conversations about art and design. I am grateful for my rigorous academic training (I didn't realize how rigorous until my daughter attended Williams College) and for the art history background and classes I had at Williams College, The Clark Art Institute and Harvard and with the Professors with whom I was able to study including Lane Faison at Williams (dean of the Art Mafia) and Julius Held in the Clark Art History Graduate Program (where I took courses). This combined with my other academic studies from Political Science to Theology has helped inform my work and bring a different view and approach to the landscape when asking questions and approaching my work
I ended the trip with a visit to Cassis and the opportunity to paint from a villa garden perched high above the town, quite different from the stones of the Luberon and much more colorful. My trip ended as a gusty wind blew my sketchbook open and my loose watercolor was lifted up high above the blue/turquoise Mediterranean. I watched the painting slowly twirl down, heading for the ocean. It was painful to watch as I liked what I had accomplished in that painting and I knew it was headed into the ocean which would erase all of my work. As I followed the painting over the cliff the wind actually moved it closer to the rocky shore and it landed 100 feet below on the rocks right in the middle of a swath of young European sunbathers. A young Italian came to take the painting and I was fortunate to shout down and get his attention as everybody was wondering what is was and where it came from. I asked him to hold it for me and I found my way down to the public beach and then climbed up to the rocks. I found the young man sunbathing with a group of his friends and he gave me my painting-no water spots or damage. I've had wind knock over paintings into the sand (sand sticks to the oil paint) but this was perhaps the most unique experience of painting outside.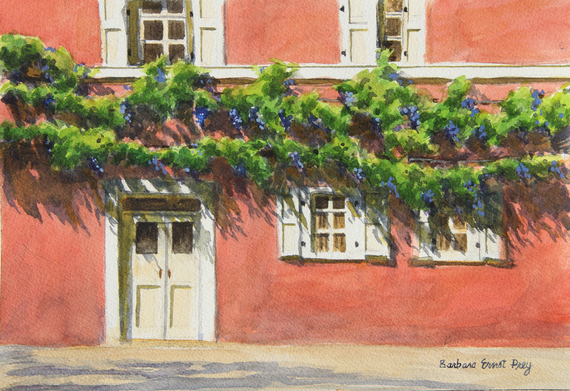 Calling all HuffPost superfans!
Sign up for membership to become a founding member and help shape HuffPost's next chapter