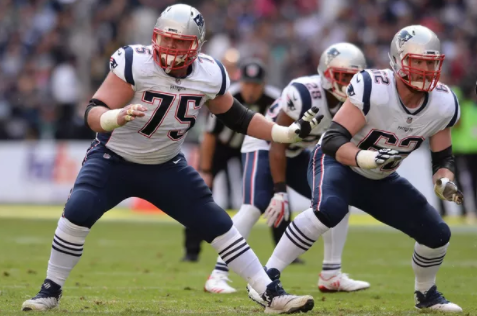 MINNEAPOLIS — When Ryan O'Callaghan played offensive lineman for the New England Patriots in 2006 and 2007, he was deeply closeted and a decade from coming out publicly as gay. The Patriots, with their emphasis on winning and attention to details, were a great fit for someone trying to blend in and not have undue focus on his personal life.
"All you are there to do is whatever it takes to win," O'Callaghan told Outsports of his time in New England, which included a Super Bowl trip to end the 2007 season. "Distractions were not allowed. Everyone on the team had a job, knew their job and really focused on doing that. As little comfort as it did bring, it did help."
While society has made great strides in LGBT acceptance in the time since O'Callaghan played for the Patriots — including legalizing same-sex marriage — the NFL and major men's pro sports remain a desert, bereft of out gay or bisexual athletes.
Since there has never been an active out NFL player (and only 11 who came out after retiring), straight allies in the locker room remain a crucial element should any player decide to take the plunge.
With that in mind, I asked seven current Patriots linemen — starters, subs and practice squad players — whether a Ryan O'Callaghan coming out in 2018 would be accepted. Their answers were a collective yes, such a player would be welcome. This was echoed by Patriots owner Robert Kraft who told me here in Minneapolis that "the only thing I care about is can they help us win."
The most tepid response came from center David Andrews, who said, "Whatever people decide to do in their personal life, that's their choice." When I followed up, he sounded like a mini-Bill Belichick: "I'm really focused on Philly. That's a bridge we'll cross when we get there. For me, I'm just focused on Philly."
To be fair to Andrews, I did talk with him during a media scrum, where it's hard to do follow-ups and have any depth. The other six I spoke with were in short one-on-ones, where they felt comfortable being a little more expansive.
It was clear that LGBT issues were not at the forefront for these players and I'm not sure any of them had heard of O'Callaghan's coming out. When I asked rookie guard Cole Croston whether he had gay friends or acquaintances growing up, he said "it really wasn't a part of my life as a kid." That's not surprising from someone raised in Sergeant Bluff, Iowa, population 4,227.
Yet Croston was clear that he would embrace an openly gay teammate. Only one of the players I spoke with, Ted Karras, had a teammate in high school or college he later found out was gay. "He was always a good teammate and it didn't change anything for me," Karras said.
The views of all the linemen I spoke with were pretty clear — for them, a gay teammate would be just one of the guys. Here is what they said.
"I don't think it would be an issue for me. It's a workplace like everywhere else. It definitely is a little bit different but I'd be fine with it and accept it."
"I don't think you'd know about [acceptance] until it happened. Different people have different opinions. I wouldn't care. It wouldn't matter to me."
"Everyone just wants to work for a common goal. Everyone wants to win and we want whoever can contribute to a winning effort. We just want to win. What can you do to help the team win that's the bottom line."
Ted Karras, guard, 2nd year
"I can only speak for myself and I think where we are in our society I think that would be absolutely OK. I would totally accept a teammate regardless of [his sexual orientation]."
David Andrews, center, 3rd year
"Whatever people decide to do in their personal life, that's their choice."
Cole Croston, guard, rookie
"I would absolutely not have a problem. I think he'd be accepted for sure. We're in the year 2018 where that kind of thing is happening all over the place so I don't think it'd be an issue. He's just another guy on the team."
James Ferentz, center, practice squad, 3rd year
"I think we've been ready for it. I think we live in a world where we're more focused on playing football vs. what you do in your spare time. We're more worried if he's a good teammate and football player, that's the biggest thing."
"I'm sure along the way [I've had a gay teammate]. I've been playing football for 12 years now, I'm sure somewhere along the way someone was. Does it even matter?"
"My understanding is it's not a choice, you're born a certain way. For anyone to have to hide what you are is wrong in my opinion and I'd like to think I play in a league where we're openly accepting of anybody. We're more worried about you as a teammate and a football player, that's really what's important."
For more from OutSports, check out these stories:
All 31 NHL teams are hosting a Pride or Inclusion Night this season
These eight NFL Pro Bowl players would support a gay teammate
Kraft Super Bowl commercial is featuring families. How many will be LGBTQ?
Popular in the Community