LOUISVILLE, Ky. -- Shannon Duncan has worked at Big O Tires for 17 years. Over time, he's become friendly with Randy Johnson, a customer who's always stopping by with his kids to have work done one of their five vehicles.
About a year ago, Johnson brought his husband, Paul Campion, to the shop. Until that moment, Duncan had had no idea Johnson was gay. In fact, he didn't even know that he knew any gay people. He grew up in a rural, conservative community that simply accepted that marriage is supposed to be between a man and a woman.
"It wasn't that I had anything against gay people," Duncan said. "It's just that maybe I didn't know anybody -- or I didn't know that I knew any."
"It was just really weird for me," he added. "It was like, 'Wow, I'm not as bothered as I thought I would be by this whole situation because they're not different than I am. They're just like me.' For me, it was kind of a big deal. I think that really changed the way I looked at gay people, I guess."
Duncan later saw Campion and Johnson on the local news while he was at home with his wife. They are part of a group of plaintiffs whose cases will be before the Supreme Court on April 28, when the justices are scheduled to examine the constitutionality of marriage equality bans.
Duncan said when he excitedly told his wife that Johnson was a friend from work, she was surprised he knew a gay couple.
"I'm like, 'It's not even like that. I don't even see him as a gay person. He's just a person,'" Duncan said.
"For them to have to go through all the crap that they have to do -- they went out of their way to [adopt] these children and to make sure these children have a place to live and grow and succeed," he added. "And it's not fair for the kids or for Randy and Paul to have to deal with what they have to deal with."
Watch an interview with Campion and Johnson above.
Johnson and Campion have been together for 23 years. They both grew up in religious households -- Campion as a Catholic in western New York and Johnson in the Southern Baptist Church in Kentucky -- and frequently cited "divine intervention" as the reason they found one another.
Randy Johnson and Paul Campion, 2012
During a recent interview at the couple's home, Johnson said he struggled with his sexual orientation until he was in college.
"I knew I was gay but never admitted to myself nor anyone else," he said.
The two met in a bar in August 1991, while Campion, who was a teacher in New York at the time, was visiting his brother in Louisville. He had to fly home the next day.
"I wasn't looking for a husband or anything of that nature," Campion said. "But when I walked in and I saw him, I mean it was -- I know it's kind of like one of those things like it couldn't be that, but it was love at first sight. … Obviously I thought he was the cutest guy I ever met. But also I just loved the way he worked hard. The way he talked about his family was a selling point to me. I was hooked."
By February, Campion had moved down to Kentucky to be with Johnson. They were cautious about their relationship at first, telling people they were just friends from school. But people soon understood they were more than that to each other.
They married in 2008 -- a last-minute decision while visiting Campion's brother in Palm Springs, California. His brother reminded them that same-sex marriage was legal there, so they decided to go for it.
When they saw a friend post on Facebook in 2013 that some lawyers were looking for gay couples to join the same-sex marriage lawsuit, they hesitated. They hadn't really been activists, but they felt like they were ready to take on a more prominent role in advocating for LGBT equality.
"We felt like it was a point in our lives when we could certainly share our story and we thought that it would be valuable to let people know of our 23 years of experience together in hopes of possibly making it a bit easier for other families like ours to come together," Johnson said.
But first, they needed to talk with their four children. It's obvious as soon as you enter their house that they're a tight-knit crew. Family photos -- big and small -- cover the walls of their home. Twins Tevin and Tyler, 20, are sophomores in college. DeSean, 16, is a sophomore in high school, and Mackenzie, 11, is in sixth grade.
The Johnson-Campion children: Tevin, Mackenzie, Tyler and DeSean, 2014
Campion and Johnson said they certainly had concerns about the amount of publicity that their family would have to face if they joined the lawsuit. But the kids were fine with their decision and gave them their blessing right away.
"They were with us when we got married in California," Campion said. "But they don't understand why we can't have the [marriage] benefits here in Kentucky. So they wanted to make sure we would be the face of that change, and they wanted to come along that journey with us."
The Johnson-Campion kids agreed that being put in the public eye wasn't a big deal for them.
"We've always kind of had media around us, ever since we were younger," Tyler said. "Like on Father's Day, the local newspaper would come and interview us and write stories about our family. So we've always been used to having a little bit of publicity and media."
The kids said they've gotten questions their whole life like, "Why do you have two dads?" or "Are you adopted?" But for the most part, it hasn't been an issue.
"My friends think my family's so fun because we're so crazy and really loud and have a lot of pets," said Mackenzie, referring to their two dogs -- one a tiny Yorkie puppy her dads gave her as a gift -- and a cat. "So they come over in the summer and hang out with me."
"We're just as boring and crazy and loud as any other family," Tevin agreed. "So people do see that we're normal."
While it seems clear to anyone who meets them that Campion, Johnson and their children are a family, the Commonwealth of Kentucky doesn't recognize them as one. Johnson is listed as Mackenzie's only legal parent, while Campion is the parent of the other three children.
The Johnson-Campion family, 2010
When Campion and Johnson started the adoption process in 1994, they were told they wouldn't be approved for a child because of their sexual orientation. But they eventually found a private agency that was willing to work with them.
Like others hoping to adopt, Campion and Johnson created a portfolio that would let women putting up their children for adoption learn more about them. Tevin and Tyler's mother chose the couple.
On Feb. 23, 1995, the twins were born, and their two dads were with them in the hospital the next day.
Although they took the babies home, Campion and Johnson had to wait for an official court date to seal the adoption. That didn't come until June. And on that important day, Johnson had to wait in the parking lot.
"We were living in a pretty conservative county at the time," Campion said, "so our attorney had instructed us to not both go into the courtroom. And that was difficult for us. … Randy's sister went into the courtroom with me, and Randy had to wait in the parking lot. But our goal was to get the children adopted."
"Of course, having to stand in the parking lot during the adoption, not knowing if I was to become a parent or not, was unnerving, I tell you," Johnson recalled. "But I remember Paul and my sister carrying the twins out with huge smiles on their faces, which allowed me to breathe a sigh of relief."
Campion and Johnson with Tevin and Tyler, 1995
The fact that both men can't be recognized as the kids' legal parents has caused a degree of anxiety along the way as well. Campion said he's "healthy as a horse" now, but at one point, he was diagnosed with prostate cancer.
They had to look for specialists who not only would provide the best treatment but also understand that Johnson needed to be included in any decision-making.
"When Paul was diagnosed with prostate cancer, that was pretty devastating," Johnson said. "Then on top of that, there was this additional devastation in the potential of legal discrimination. So not only did we have a life-threatening diagnosis, but we were also faced with the challenge of making sure that we were able to navigate a health care system that had the legal right to discriminate against us."
Planning for what would happen to the children if anything ever befell either of them also weighed heavily on the couple. Campion said he had a strained relationship with his family back in New York, but that his relatives would have had more legal right to claim custody of Tevin, Tyler and DeSean than Johnson would.
"When Mackenzie came along and Randy was the legal parent," Campion said, "I started to feel that insecurity of -- if something happened to him, I wouldn't have any legal connection to her. So it's very real, and we're hoping that the next generation doesn't have to experience any of that."
All six members of the Johnson-Campion clan are planning to go to Washington, D.C., this month for the oral arguments in their case before the Supreme Court. They're having to shuffle their schedules -- Tevin is taking his finals early and Tyler has to cut the trip a bit short because he's in a show at school -- but they recognize that it's a big deal for their family.
"We've always considered them married," Tevin said. "This is something they've been working for their entire relationship and building their lives as parents. … I think I'll speak for the four of us when I say we're proud of them beyond words."
Campion and Johnson with their four children, 2011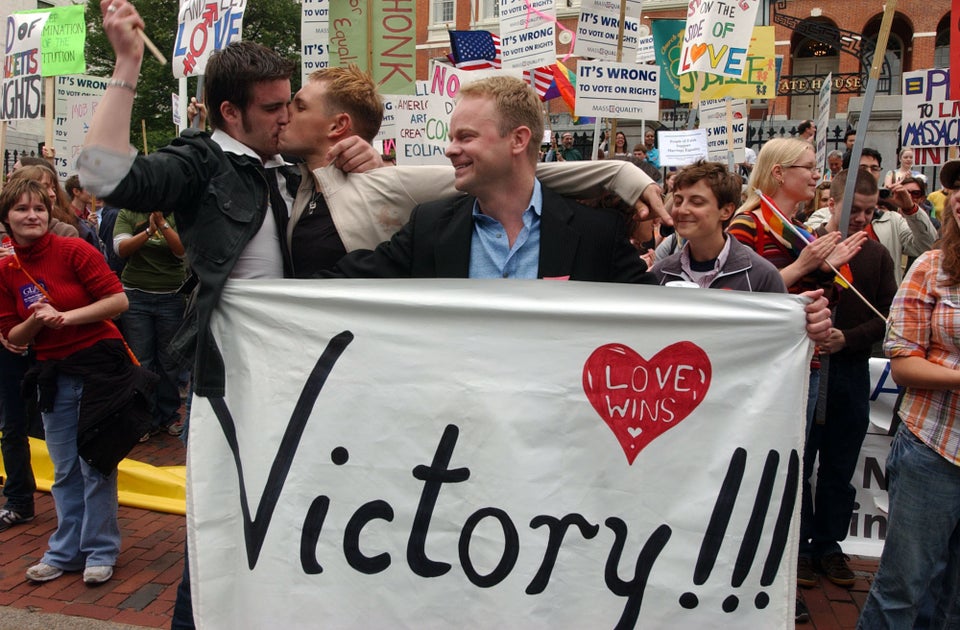 10 Incredible Improvements For LGBT People Since The First State Legalized Gay Marriage
Popular in the Community