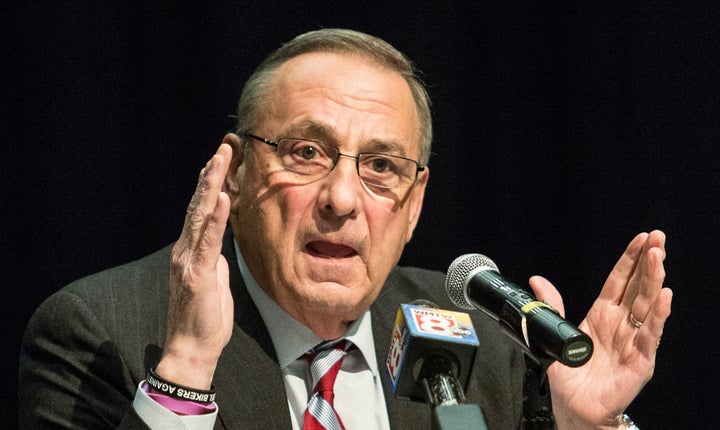 Maine Gov. Paul LePage (R) said he doesn't think congressional Republicans will actually repeal the Affordable Care Act, known as Obamacare, acknowledging that it would be too risky to upend the current system that people are already using.
"I'm not sure you're going to have anyone in Washington with the courage to repeal the ACA," LePage, an outspoken supporter of President Donald Trump, said at a town hall meeting on Tuesday, according to Seacoast Online. "I do not believe for a minute that now that we have exchanges they will take them away."
LePage's comments are an example of how much the talk around repeal has shifted since Republicans took control of both Congress and the White House. During the 2016 campaign, many Republicans called for an immediate repeal. Now, the party is dealing with the reality of putting a plan in place if Obamacare is scrapped so that people don't lose coverage.
"I don't think we can just repeal Obamacare and say we're going to get the answer two years from now," Sen. Tom Cotton (R-Ark.) said last month. "Look, this is a very complicated problem. Health care is a very complex issue. We haven't coalesced around a solution for six years, in part because it is so complicated. Kicking the can down the road for a year or two years is not going to make it any easier to solve."
Sen. James Lankford (R-Okla.) said his office has been flooded with calls from people who are anxious about losing their health coverage if Congress repeals Obamacare.
GOP governors are especially nervous, since their states have received significant federal resources under the Affordable Care Act ― most notably to expand Medicaid to more of their residents.
"There's room for improvement," Nevada Gov. Brian Sandoval (R) said recently, "but to repeal and not to replace, I just want to know what's going to happen to all those people who find themselves left out in the cold."
LePage, whose state did not expand Medicaid access, also said on Tuesday that he believed "a one-payer system" was most likely. He did not elaborate on how that would happen. A single-payer system, which would be run by the government rather than private health insurers, has long been a dream for progressives, but it has not had any real momentum in Congress.
The audience at the governor's town hall included some supporters of a single-payer system, and Seacoast Online reported that the crowd burst into "spontaneous applause" when he mentioned it. LePage clarified that he did not support such a system.
Want more updates from Amanda Terkel? Sign up for her newsletter, Piping Hot Truth, here.
REAL LIFE. REAL NEWS. REAL VOICES.
Help us tell more of the stories that matter from voices that too often remain unheard.
BEFORE YOU GO
PHOTO GALLERY
Paul LePage's Greatest Hits