 The Freeh Report was released Thursday morning, detailing the results of an independent investigation pertaining to the details of the Grand Jury Report and charges against Jerry Sandusky. It is clear that University leaders failed to stand up for those needing their help most.
In a press release issued in conjunction with the report, Freeh writes, "It is critical that Old Main, the Board and the Penn State community never forget these failures and commit themselves to strengthening an open, compliant and victim sensitive environment -- where everyone has the duty to 'blow the whistle' on anyone who breaks this trust, no matter how powerful or prominent they may appear to be."
As a current Penn State student, I urge my fellow Nittany Lions to follow Freeh's instruction. We must actively participate in the prevention of future injustices. Last November, I worked with Stuart Shapiro (another graduate student) and Therese Jones (a Penn State alum) to organize and promote a "Blue Out" -- the first and largest response to the Sandusky/Penn State scandal. This year, please join us on September 22, 2012 to once again show support for the victims and survivors of child abuse.
Stuart brought the Grand Jury Report to my attention the day after it was released. Almost immediately, I began thinking of ways to assuage my anger at the detailed allegations and the potential cover-up. I remembered that colored ribbons are used to represent particular causes. A quick Internet search revealed that one of the nationally-recognized colors of child abuse prevention is dark blue -- which, coincidentally, is also one of Penn State's colors.

The term child abuse covers physical, sexual, or emotional mistreatment as well as neglect. While teal is the awareness color associated with sexual assault, the children raped by Sandusky were also harmed by the negligence of University leaders. Blue encompasses both of these crimes.

Long before the allegations were made public, Penn State's Athletics Department asked fans to wear white to the November 12 football game against Nebraska. This tradition, called a "White Out," is intended to intimidate our opposing team. Stuart, Therese, and I began using print and social media to call for a "Blue Out" minutes after learning the color's significance.

Wearing blue was a direct contradiction of the Athletic Department's scheduled White Out. While some claim this to be an empty gesture, showing visible support for a cause is a compelling experience. Visual events and images are powerful. They can inspire fear (walking into a room of men wearing swastika armbands), provide relief (finding an icon indicating a public restroom), motivate faith (recognizing a cross, star of David, star and crescent, etc.), and much more. Blue Out participants showed their willingness to move beyond the safety of officially endorsed acts. Consequently, they demonstrated their opposition to silence and subordination.

More than 100,000 people wore blue that Saturday. The event also provided a platform for other areas of activism including charitable fundraising (collecting over $47,000) and distributing educational materials on child abuse and rape. Only six days passed between the event's inception and fruition.
Responsibility to our community is far from over. Instead of ignoring the scandal or trying to pass blame, the Penn State family must work together and cultivate change. One way to start this process is transitioning the first Blue Out into an annual event. Stuart and I have partnered with One Heart: Penn State Students Against the Sexual Abuse of Children to ensure student leadership long after we graduate. Blue Outs will not be punishments, but a way to reconcile our membership in this community and ensure that Penn State becomes a safer place for future generations. It is an occasion meant to foster engagement, compassion, and integrity.
Blue Out 2012: One Team • One School • One Heart • One Promise
This year's Blue Out is scheduled for September 22, 2012. We chose this date because it is "All-University Day" -- which was created to unite and recognize students from across the commonwealth campuses. In addition to working with One Heart, we have also joined forces with PCAR, the Pennsylvania Coalition Against Rape, for educational materials and other support. While nothing else is finalized, we are working to get approval to accept charitable donations through selling an event t-shirt and collecting contributions at the stadium.
In addition to wearing blue, this year's theme, "One Team • One School • One Heart • One Promise," calls on participants to make and share one personal promise that affirms their commitment to altruism. If you wish to join us, tweet your promises to @BlueOut using the hashtag #OnePromise, write them on our Facebook event wall, or find another way to share your commitment. Together, we will see the power of individual resolve multiplied on a grand scale.
Together, we will create the Penn State of tomorrow.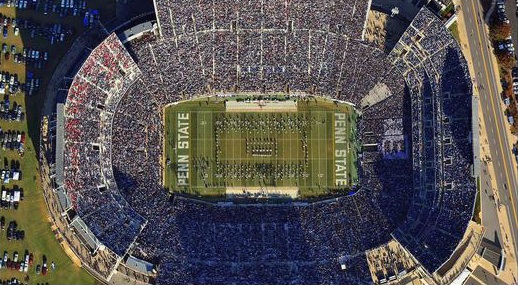 Credit: Kevin P. Coughlin/Flying Dog Photos
Support HuffPost
The Stakes Have Never Been Higher
Related
Popular in the Community